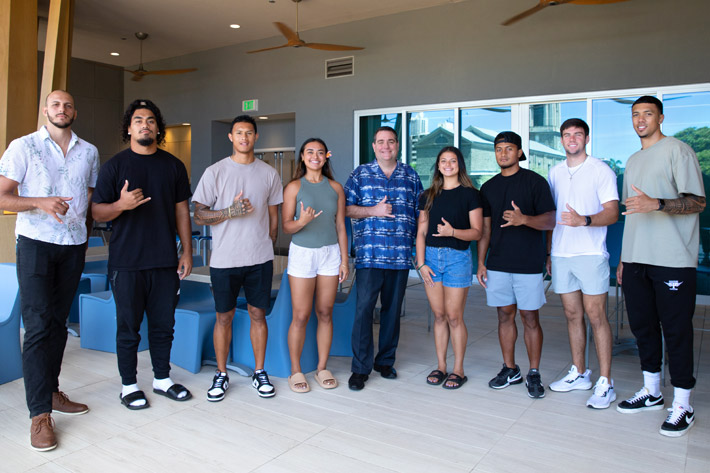 Hawaii Pacific Health (HPH) has partnered with 13 University of Hawaii at Manoa student-athletes for the 2022-23 school year. The student-athletes represent six different sports and were selected not only for their performances on the court, on the field and in the sand, but also for their dedication in the classroom and their community.
The group will help deliver important messages about preventive care and wellness as part of HPH's mission to create a healthier Hawaii. HPH President & CEO Ray Vara spoke with the group about the new partnership.
"When we think about our mission at Hawaii Pacific Health to create a healthier Hawaii, nothing says healthier more than investing in the young people of Hawaii," said Vara. "Partnering with these UH Manoa student-athletes creates an opportunity for us to work together to send the message of the importance of health to other young student-athletes and sports fans of all ages across our state. In a real tangible way, this partnership also supports the student-athletes and the things they need to be able to serve as role models and make an impact in the community."
The 13 UH Manoa student-athletes are:
Kanaʻi Akana, men's volleyball outside hitter.
Samuta Avea, men's basketball forward.
Kamaka Hepa, men's basketball forward.
Amber Igiede, women's volleyball middle blocker.
Tayli Ikenaga, women's volleyball libero.
Jovi Lefotu, women's basketball guard.
Tamatoa Mokiao-Atimalala, football wide receiver.
Jonah Panoke, football wide receiver.
Penei Pavihi, football linebacker.
Matthew Shipley, football placekicker/punter.
Brooke Van Sickle, beach volleyball.
Guilherme Voss, men's volleyball middle blocker.
Lily Wahinekapu, women's basketball guard.
This partnership is possible through the NCAA's new name, image and likeness (NIL) policy. The revised rules allow student-athletes to take advantage of NIL opportunities.