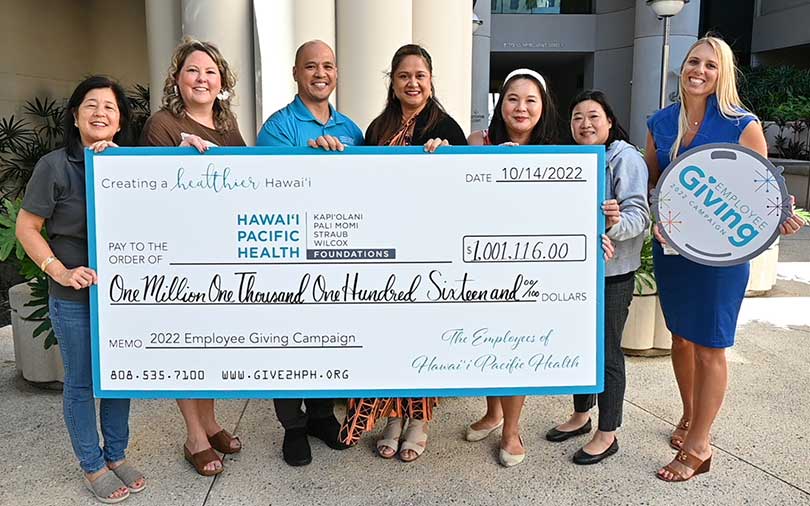 An opportunity to "pie" your boss in the face, pet talent shows, as well as baked goods, lumpia, chili, cupcake-decorating and plate-lunch sales. These are just a few ways Hawaii Pacific Health employees joined together to raise $1,001,116 during the 2022 Employee Giving Campaign.
The theme for this year's campaign was "Find Your Inspiration" and HPH employees were certainly inspired to give. More than 4,000 HPH physicians, nurses, medical staff, technicians, workers and leadership members donated during the month of September.
This is the sixth year in a row that the annual campaign raised more than a $1 million to fund programs and services at HPH's four facilities: Kapiolani Medical Center for Women & Children, Pali Momi Medical Center, Straub Medical Center and Wilcox Medical Center.
"We're always extremely proud and humbled by our employees' passion for contributing during this campaign," said Art Gladstone, HPH executive vice president and chief strategy officer. "Their generosity extends far beyond their daily commitment to providing the best medical care for patients within our walls. These donations will touch local families on an even broader scale as we continue our mission to create a healthier Hawaii."
Many of the campaign's 70-plus fundraising events injected doses of fun into this annual campaign. At Pali Momi, employees purchased opportunities to toss plates full of whipped cream at facility leaders. At Kapiolani, workers could buy Hawaii-made mozzarella cheese, with a portion of the proceeds benefitting the campaign. Wilcox employees hosted everything from bake sales to a pet pageant, while Straub held raffles and sold tasty treats, including boba and bentos.
As a not-for-profit organization, HPH medical centers treat all patients, regardless of their ability to pay. The majority of the money raised will go to programs and services that would not be possible without the philanthropic support of employees and the community, including:
Pali Momi Medical Center's Ohana Fund and Wilcox Medical Center's Malama Fund, which provide medication, medical equipment, transportation and more for patients in financial need in Central and West Oahu, as well as on Kauai.
Child Life, Chaplaincy and Teen Resilience programs at Kapiolani Medical Center for Women & Children, which support the emotional and social needs of young patients and their families.
Emergency Department funds at Straub Medical Center and Pali Momi that support urgent and lifesaving medical care.
Kapiolani Children's Miracle Network, which provides support for patient care, specialized medical equipment, emergency transport and other resources for children in Hawaii, no matter their illness or injury.
This is the 21st year of the annual HPH Employee Giving Campaign.
Photo (top): Hawaii Pacific Health employees (left to right):  Tracie Tancayo, administrative assistant; Beth Berry, employee wellbeing manager; Ronnie Ganoot, IT tech and operation support; Mary Henry, patient accounting supervisor; Lisa Harding, executive assistant; Dorena Wong, administrative assistant; and Amanda Price, director of philanthropy.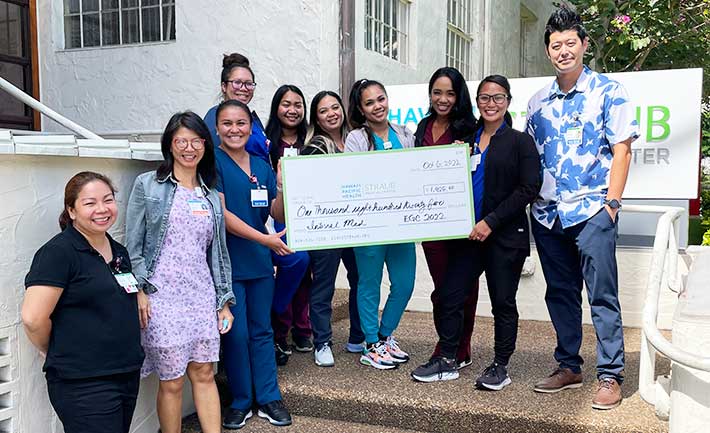 Straub Medical Center's Internal Medicine team with their donation to the Employee Giving Campaign.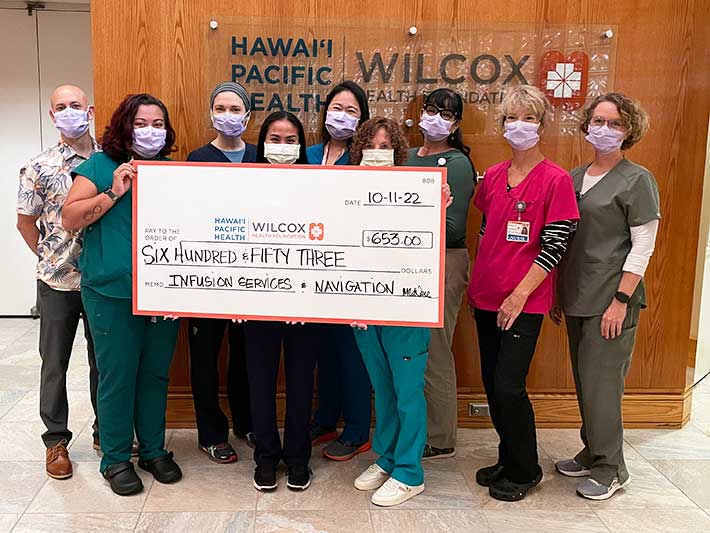 Wilcox Medical Center's Infusion Team raised money by holding a pet pageant, bake sale, Country Market and more.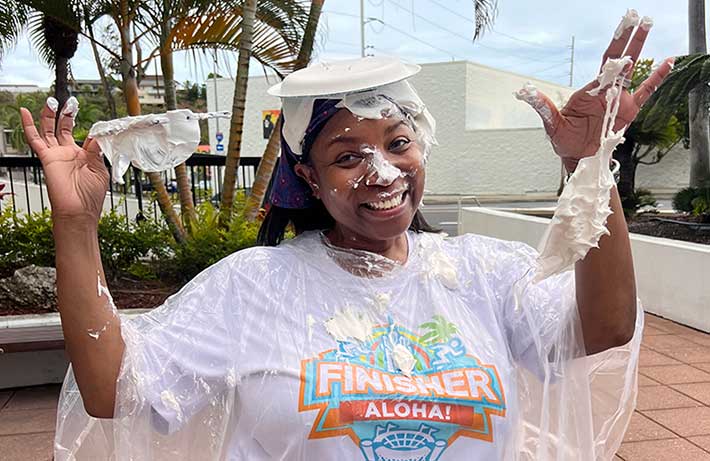 Gloria Brooks, Pali Momi Medical Center's chief operating officer, after the center's pie-in-the-face event.