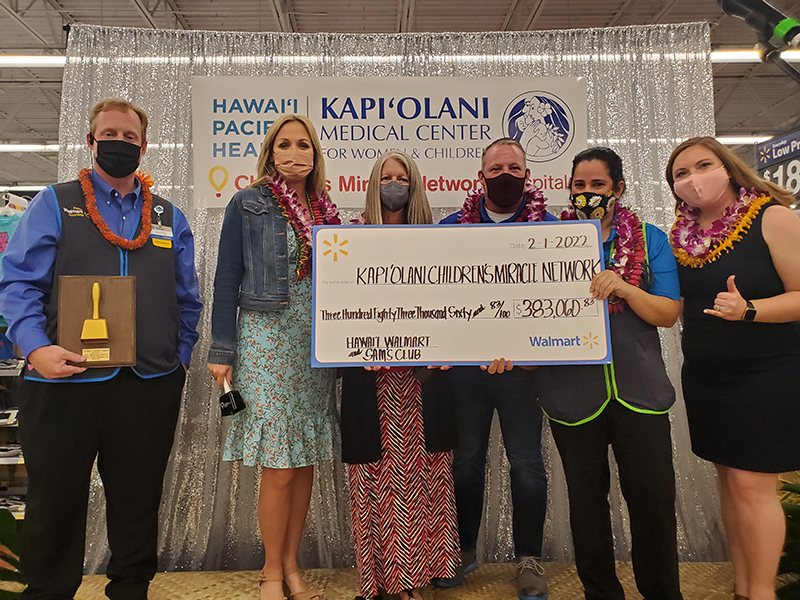 Cow bells, a pie-throwing event and generous local donors all helped Hawaii Walmart and Sam's Club stores raise more money for the Children's Miracle Network Hospitals than any other market in the country in 2021. Hawaii's 13 Walmart and Sam's Club locations raised $383,060.83 for Kapiolani Medical Center for Women & Children, Hawaii's only Children's Miracle Network Hospital.
Hilo Walmart raised $71,784, which makes it the most successful of the 4,670 Walmart stores nationwide for the fourth time in five years. One of its bigger fundraisers was an in-store parade featuring floats decorated by Walmart employees and led by 2020-2021 CMN Champion Haumea Friel in her own decked-out ride-on car. (She loved it so much that the Hilo Walmart team shipped it to Haumea's home on Oahu.) Teri Nestel, CEO of CMN Hospitals, visited Hilo to present a Golden Cowbell Award created specifically for the team known for ringing cowbells and shouting "mahalo" for every donation.
"It's so electric and fun. We really feel that's what generates the buzz in the building and makes everyone feel so inspired," said Hilo Walmart Store Manager Mark Roberts. "It's the perfect trophy for all the associates and it actually rang. They all yelled 'mahalo' after we shook it."
Four other Hawaii Walmart locations ranked in the top 15 in the nation, thanks to some creative campaigns. Kapolei Walmart (No. 4) held a "jar war" where managers promised to complete challenges like shaving a beard or dressing in a costume if their jars received the most cash. In exchange for their dollars, customers could throw a pie at managers at Walmart Mililani (No. 8). Pearl City (No. 5) and Keeaumoku (No. 15) held successful fundraisers as well. PepsiCo, Red Bull and Coca-Cola Bottling Company of Hawaii also hosted onsite product campaigns and donated a portion of the proceeds.
"Kapiolani relies on donations for the lifesaving care of local children, and Hawaii's generous spirit always amazes and inspires us," said Gidget Ruscetta, chief operating officer of Kapiolani Medical Center for Women & Children. "We are proud to be the state's only full-service children's hospital and are honored by the trust and support of our communities to help our keiki live happy and healthy lives."
In 2021, money raised helped Kapiolani purchase a portable ultrasound machine for the neonatal intensive care unit (NICU). The machine will allow the medical team to perform several procedures for newborns without moving them from their beds, including checking heart strength, performing brain scans, providing guidance for nurses doing blood draws and more.
Since 1994, Hawaii Walmart and Sam's Club stores have raised more than $4,054,746 for Kapiolani. The next campaign will be held June 13-July 10, 2022. People can still donate online at Give2Kapiolani.org.
PHOTO CAPTION:
Left to right: Mark Roberts, Hilo Walmart store manager; Julie Breckenkamp, vice president, national strategic partnerships, CMN Hospitals; Teri Nestel, president and CEO, CMN Hospitals; Shawn McCullum, market manager, Walmart Hawaii; Sharyn Richardson, Hilo Walmart store co-manager; Colette Forcier, program director, Kapiolani Children's Miracle Network.