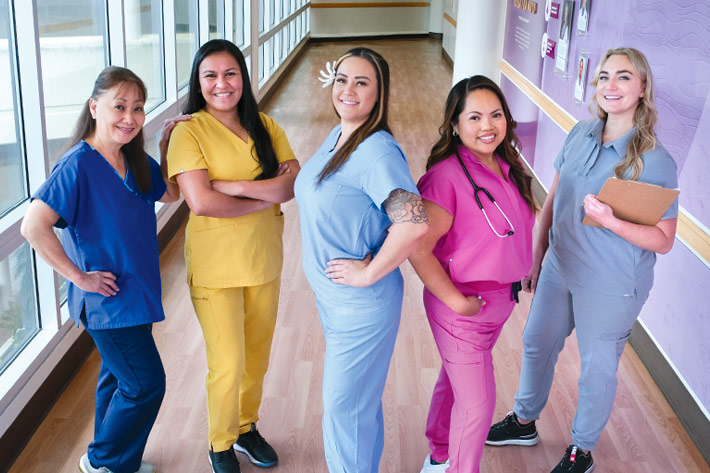 To honor National Nurses Week, the cover story of this week's issue of MidWeek (May 4, 2022) and next week's issue of MidWeek Kauai (May 11, 2022) shines the spotlight on a handful of Hawaii Pacific Health's dedicated nurses.
The article features a series of "Profiles in Nursing Excellence," sharing the stories of five compassionate Hawaii Pacific Health caregivers – all of whom embody the finest ideals in modern nursing.
Highlighted in the story are:
Jasmin Pacheco, perioperative nurse for Pali Momi Medical Center
Kawailehua Cornel, neuro progressive care nurse for Straub Medical Center
Lori Ikeda, radiology nurse for Kapiolani Medical Center for Women & Children
Noelani Comorposa, cardiac electrophysiology clinic nurse for Straub Medical Center
Tayler Rex, medical surgical nurse for Wilcox Medical Center
At Hawaii Pacific Health, we believe that working together enables us to make the greatest impact on individuals, families and our communities. Caregivers like Jasmin, Kawailehua, Lori, Noelani and Tayler – alongside our inspiring team of more than 1,600 other registered nurses systemwide – remind us that, together, we can achieve our mission of creating a healthier Hawaii.
Read the stories online now in MidWeek or MidWeek Kauai.
Photo courtesy Anthony Consillio/MidWeek.