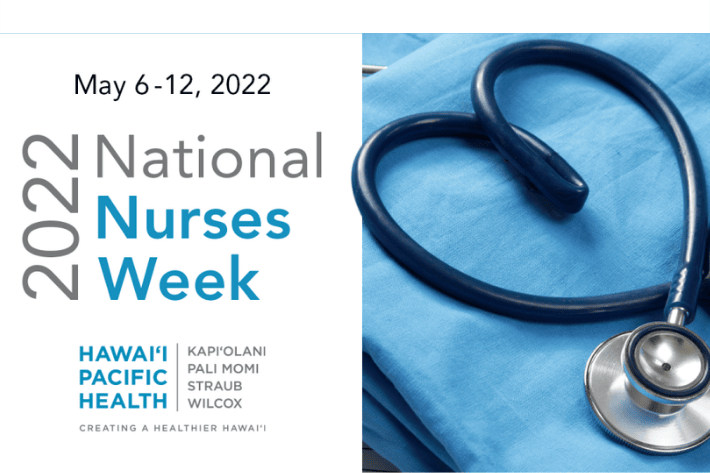 Hawaii Pacific Health and its medical centers and clinics are recognizing their nurses during National Nurses Week, which runs from May 6 through May 12, 2022.
Each medical center is honoring its nurses with special events and awards for patient care, leadership, continuing education and community service as a small token of thanks for the important roles they play in patients' experiences.
"Nurses are remarkable individuals. They are dedicated, resilient and compassionate care providers. They are on the frontlines daily, caring for our patients, comforting families, and supporting each other," said Ray Vara, HPH president & CEO. "Whether it's at patients' bedsides or in clinical education or administrative positions, our nurses serve crucial roles in providing high-quality care to our patients and helping us create a healthier Hawaii."
More than 1,600 registered nurses provide direct patient care at HPH medical centers and neighborhood clinics statewide, including Kapiolani Medical Center for Women & Children, Pali Momi Medical Center, Straub Medical Center and clinics, Wilcox Medical Center, and Kauai Medical Clinic. In addition, nearly 400 RNs serve in administrative, clinical and educator roles to ensure consistent excellence of health care.
More than 50% of HPH nurses have been with the medical centers and clinics for more than 10 years. About 15% of those have served HPH patients for more than 20 years.
"The dedicated people who pursue this career must possess great technical, academic and practical knowledge," said Amy Thomas, system chief nurse executive and director of clinical education, employee health and workers' compensation. "Our nurses strive to exceed the highest standards of clinical care every day, and Hawaii Pacific Health realizes part of achieving that is continuous professional growth and development. We offer extensive training in our organization so nurses can advance their careers and develop skills in new specialties, which empowers them."
HPH is committed to supporting and mentoring its nurses as well as training and recruiting future generations of local nurses through the following initiatives:
Professional development and tuition reimbursement programs for current HPH nurses and team members.
Partnering with Hawai'i university nursing programs to provide opportunities for local students and new graduates to learn about various specialties through HPH academies.
The Health Careers Summer Internship program, which offers high school and college students the opportunity to take part in a six-week, paid internship that provides first-hand experiences in a variety of different health care professions.
The Nurse Aide Training Program offered at no-cost to high school seniors who are training to enter the health care field after graduation. The education received through this program builds a foundation that can lead to nursing careers.
The idea to nationally recognize America's nurses was first proposed in 1953, but a National Nurses Week was not officially designated until the American Nurses Association did so in 1993. The observance falls between May 6 and May 12 every year in honor of the woman largely recognized as the founder of modern nursing, Florence Nightingale, who was born on May 12, 1820.