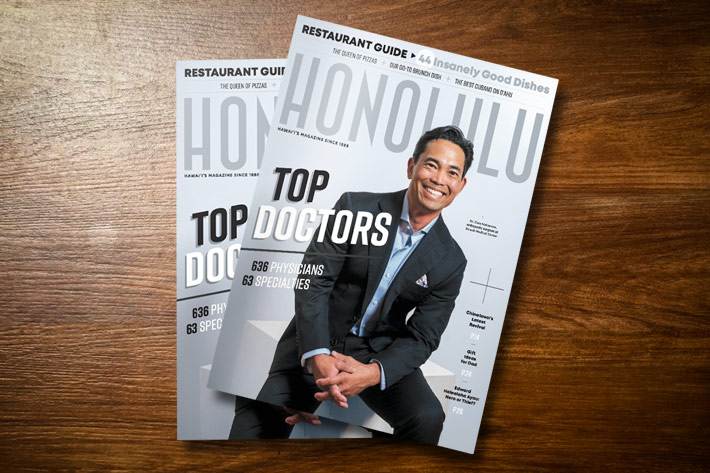 Each year, HONOLULU Magazine partners with Castle Connolly, an independent health care research company, to list the Top Doctors in Hawaii. The June 2022 issue of the magazine lists 636 Top Doctors in the state, and more than one third are Hawaii Pacific Health Medical Group (HPHMG) physicians or affiliated with our medical centers.
Among those included on the list this year is Dr. Cass Nakasone, an orthopedic surgeon based at Straub Medical Center, who is featured on the cover. Dr. Nakasone is also recognized as a "Castle Connolly Top Doctor – 5 Years" for meeting the selection standards for the Top Doctors list for at least five years.
A handful of HPHMG physicians have also been named to the Rising Stars list, which HONOLULU Magazine included this year for the first time. Rising Stars are early career doctors who are nominated by their peers and recognized as emerging leaders in the medical community, with clear contributions to the advancement of health care through clinical care, research, community service, education and leadership.
HPHMG physicians recognized as Rising Stars include:
Dr. Clyner Antalan, OB-GYN, Kauai Medical Clinic
Dr. Timothy Fei, Orthopedic Surgery, Pali Momi Medical Center
Dr. Jeremy Kort, Internal Medicine, Straub Medical Center – King Street Clinic
Dr. Jena Nakata, Family Medicine, Straub Medical Center – Kailua Clinic
Dr. Kamonkiat Wirunsawanya, Endocrinology, Straub Medical Center
The June 2022 issue of HONOLULU Magazine is available on newsstands now and to subscribers in print and digital formats. In July, a searchable database that includes each doctor's full listing, including special expertise categories and primary hospital, will be publicly available directly on HONOLULU Magazine's website.
Congratulations to all of the doctors who have been recognized as 2022 Top Doctors!