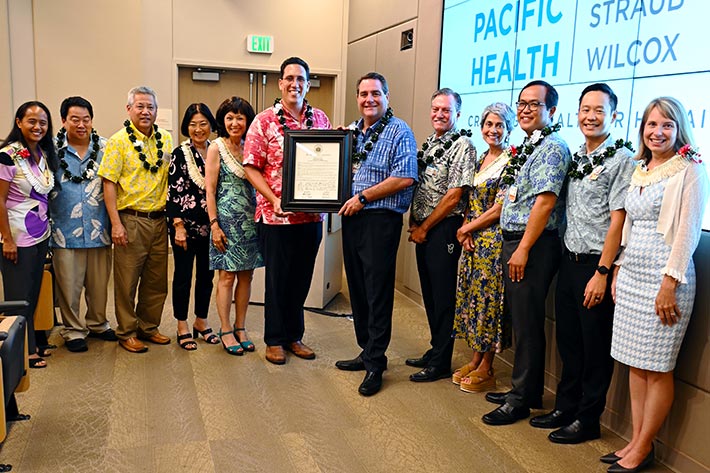 Hawaii Pacific Health was recognized for its invaluable and innovative work to keep Hawaii's people, as well as HPH physicians, nurses and staff, safe and cared for throughout the COVID-19 pandemic.
During a ceremony August 29, 2022 at Kapiolani Medical Center for Women & Children, state Sen. Jarrett Keohokalole, chair of the Senate Health Committee, presented HPH leaders with a certificate of recognition in honor of Kapiolani, Pali Momi Medical Center, Straub Medical Center and Wilcox Medical Center.
"People in the health care profession went through the same things that all the rest of us went through, whether it was concerns about the virus itself or managing the safety of their families," said Ray Vara, HPH President & CEO. "The recognition for our employees here at Hawaii Pacific Health – the folks who extended themselves to make an impact for the betterment of our community – makes me feel good, and I know it will make them feel good, as well."
When Hawaii confirmed its first case of COVID-19 on March 6, 2020, much was still unknown about the emerging virus. Still, HPH teams moved quickly to help identify cases, treat patients and protect communities. As information developed and federal guidelines shifted, the medical centers rapidly employed new programs and infrastructure to respond to the needs in their neighborhoods. These innovations included:
Respiratory evaluation clinics that were deployed 48 hours after inception. These specialized areas allowed specialists to safely see and screen 60-70 patients with respiratory problems for COVID-19 daily.
The state's first free drive-thru testing sites at all medical centers on Oahu and Kauai.
A free Employer Hotline that allowed employers and business owners to quickly reach physicians and medical experts for guidance on ever-changing COVID-19 workplace exposure guidelines.
The state's first mass vaccination center at Pier 2, which opened in January 2021. More than 184,000 vaccine doses were administered during the center's seven months of operation.
Mobile vaccination clinics in partnership with the Hawaii state departments of Education and Health that traveled to various schools and community centers.
The first certified vaccinations for children ages 5-11. This included the Keiki Vax Squad Drive-Thrus at Aloha Stadium and Kapolei High School where parents and kids could go through the process together from the comfort of their vehicles.
The first vaccinations for kids ages 6 months through 4 years in June 2022.
Photo: HPH Certificate Presentation Group: Left to right: Rep. Della Au Belatti, Rep. Ryan Yamane, Rep. Scott Saiki, Sen. Sharon Moriwaki, Sen. Donna Mercado Kim, Sen. Jarrett Keohokalole, HPH's President & CEO Ray Vara, Executive Vice President and Chief Strategy Officer Art Gladstone, Senior Vice President and Chief Quality Officer Dr. Shilpa Patel, Hawaii Pacific Health Medical Group (HPHMG) CEO Dr. Les Chun, HPHMG Vice President of Clinic Operations Terence Young, HPHMG Vice President of Clinic Operations Jennifer Jones.