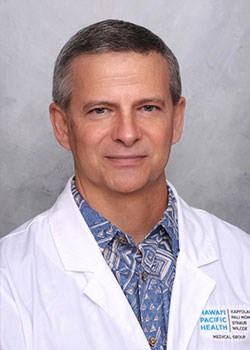 Hawaii Pacific Health Medical Group welcomes Dr. Daniel Muench to Straub Medical Center – Kahala Clinic & Urgent Care.
A family medicine physician, Muench attends to a broad spectrum of medical conditions in order to help address the health care needs of patients of all ages in the community. His professional interests include skin diseases, sports medicine and geriatrics.
"I see myself as a coach in helping patients manage their chronic conditions," Muench said. "Patients tend to be more comfortable bringing their concerns to their family medicine physician because they have an established relationship with the doctor and clinic staff."
Originally from Cincinnati, Ohio, Muench graduated from the University of Cincinnati College of Medicine and completed his residency in family medicine at the University of Hawaii John A. Burns School of Medicine.
He joined Haleiwa Family Health Center in 1997 and practiced there for 11 years before moving to Williamsburg, Virginia. He returned to Hawaii at the beginning of 2022 to join Hawaii Pacific Health Medical Group and the Straub team.
"We moved back home to be closer to our family, and I wanted to return to Oahu to provide primary care in the place where I completed my residency," Muench said. "I'm now working with a strong team in a great office at the Straub Kahala Clinic. I look forward to coaching my patients to help better care for their health needs."