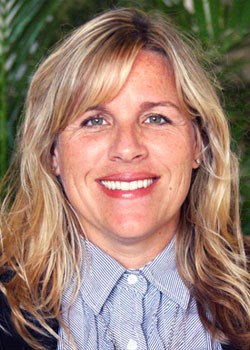 Amy Thomas, APRN, FNP, has been named system chief nurse executive for Hawaii Pacific Health. She will lead efforts to further nursing excellence within HPH medical centers and clinics in order to provide the highest quality care possible for the developing needs of the community. Thomas will also continue to oversee professional programs for nearly 2,000 registered nurses, including more than 1,600 bedside nurses, throughout HPH's system of medical centers and clinics.
The position is a natural fit for Thomas. She has more than two decades of experience as a nurse and educator – much of that within HPH – and works as an advocate for initiatives supporting nursing and education in Hawaii.
Thomas received her bachelor's in nursing from the University of Nebraska Medical Center. She earned her master's in nursing from Hawaii Pacific University, where she has served as an adjunct faculty member for the university's nursing program for the past 20 years.
She is also an advanced practice registered nurse (APRN) and family nurse practitioner (FNP).
"I am proud to be a nurse at Hawaii Pacific Health and am always inspired by the compassion and care our nurses provide," Thomas said. "Helping people is their passion, so to be able to help our nurses' continue to grow and develop is especially rewarding. It is an incredible privilege to support our nurses in the impressive work they do for our community every day."
Thomas has held leadership roles at HPH for 14 years. She developed HPH's nursing academies, which provide training for new graduate nurses and offer registered nurses a chance to learn different specialties. She will continue to also serve as director of clinical education, employee health and workers' compensation, which involves managing medical library services, educational opportunities and employee health, safety and well-being programs for HPH's more than 7,500 employees.
"Collaboration and partnerships are essential for providing excellence in patient care in an ever-evolving landscape of health care," Thomas said. "I look forward to continuing HPH's strong relationships with our state's community boards and committees, universities and colleges, lawmakers and more to help create a healthier Hawaii."