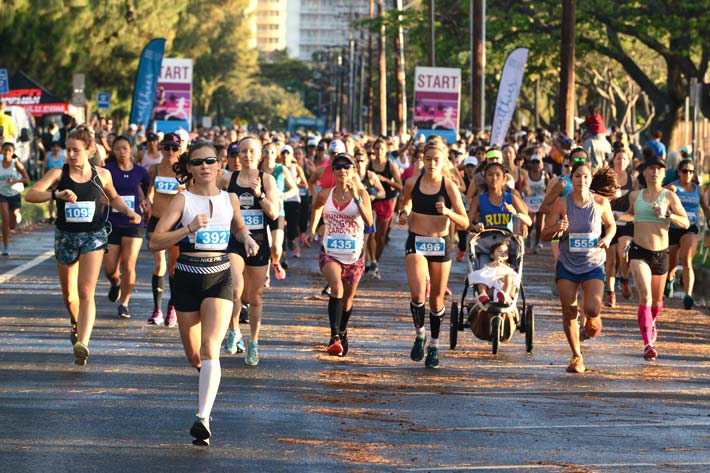 Thousands of women will run, jog and walk around their neighborhoods for the 2022 Hawaii Pacific Health Virtual Women's 10K & 5K Fun Run. This year, the 44th running of the state's premier race for women will honor a woman who blazed a trail for a healthier Hawaii – Martha B. Smith.
Smith set new standards for excellence throughout her career at Hawaii Pacific Health that spanned more than 30 years. Smith served as executive vice president of Oahu operations as the CEO of Kapiolani Medical Center for Women & Children, Pali Momi Medical Center and Straub Medical Center. Her dedication to the patients she served was apparent in everything she did, especially in her work with the state's youngest patients as Kapiolani's top executive for nearly a decade. Whether it was making time in her schedule to present a big check to children who raised $10 for Kapiolani or leading her team in the construction and development of the Diamond Head Tower, Smith was a respected leader throughout both the health care industry and the Hawaii community.
"Martha was driven and committed in all her actions, including her support of the Hawaii Pacific Health Women's 10K, which she ran regularly," said Ray Vara, HPH president & CEO. "Martha truly connected with patients and families, and their stories inspired her work at our medical centers. She was also a strong advocate for encouraging women to maintain an active lifestyle, which is why we're honoring her at this event that focuses on women's health and well-being."
This year's virtual format allows women to finish the race on their own schedules. Runners can begin as soon as they register and complete the 6.2 miles for the 10K, or 3.1 miles for the 5K, over several weeks or all in one day in their community, on a treadmill, or along the original race route.
Registration is required by 11:59 p.m. on Saturday, May 21. The entry fee is $45 for the 5K and $50 for the 10K. Participants must track their mileage and time through one of the race-approved GPS apps. Results must be uploaded by 11:59 p.m. on Sunday, May 22.
All 10K & 5K finishers will receive a:
Finisher T-shirt
Commemorative medal
Drawstring bag
Event sticker
To register or view additional race details, including a map of the original route, visit HPHWomens10K.org.