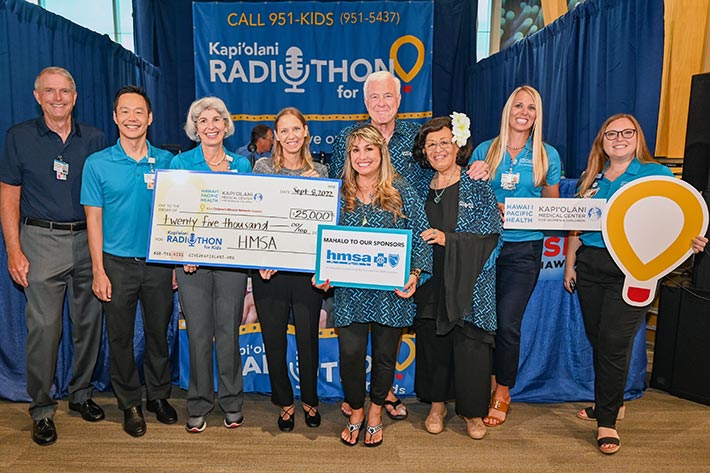 Several surprises were on the menu at Kapiolani Medical Center for Women & Children as the medical center welcomed back KSSK's Michael W. Perry and The Posse, Curt Williams, Scotty B and generous community partners to its Dining Room for the 16th annual Kapiolani Radiothon for Kids.
$25,000 Donation from HMSA for Teen Resiliency Program
First up, an unexpected $25,000 donation from the Hawai'i Medical Service Association (HMSA) to go toward the creation of a Teen Resiliency Program at Kapiolani.
"The $25,000 that we received this morning from HMSA for the Teen Resiliency Program means everything to the children in Hawaii," said Kapiolani Chief Operating Officer Gidget Ruscetta. "Kapiolani is so fortunate to have the community we have here in Hawaii. We have a great opportunity to receive gifts, big and small."
According to Mental Health America, Hawaii experiences the highest percentage of teens who report thinking about or planning suicide. The Teen Resiliency Program will be an extension of the Kapiolani Behavioral Health Group and will have a lasting impact on the local community by enabling staff members to engage families, educators and primary care physicians in efforts to identify and prevent youth suicide.
"As the hub of pediatric care in Hawaii, Kapiolani has witnessed the rise in youth suicide," said Dr. Bart Pillen, Hawaii Pacific Health Medical Group clinical psychologist and chief of behavioral health. "The Teen Resiliency Program will ensure patients have access to timely, comprehensive care in one place, with resources to meet their routine and emergent needs."
HMSA has been a long-standing supporter of the Kapiolani Radiothon both as a sponsor and by providing volunteers to take phone bank donation calls that help generate much-needed funding for Kapiolani.
"HMSA is a proud supporter of the 2022 Kapiolani Radiothon for Kids," said HMSA President and CEO Dr. Mark Mugiishi, F.A.C.S. "We understand how COVID-19 has physically and mentally affected Hawaii's keiki, and we all need to come together to support the overall health of Hawaii's youngest generation. HMSA congratulates our partners at Hawaii Pacific Health on their efforts, and we extend our appreciation for everyone who called in to donate to their cause today."
HMSA is one of nearly 20 local community groups, companies and sponsors who stepped forward in support of keiki and the annual Kapiolani Radiothon. This year's sponsors include D. Suehiro Electric, Inc., UHA, Island Insurance, American Savings Bank, Hawaiian Electric, Aloha Petroleum, First Insurance, AlohaCare, Windward Auto Group, Clinical Labs, Elite Mechanical, GEICO, Islands Hospice, Motiv8 Foundation, L&L Hawaiian BBQ, Swinerton, Raising Cane's and Rx for Miracles.
Other Radiothon First-Day Highlights
The Kapiolani Radiothon for Kids is an annual event that helps support the exceptional care and innovative research at Kapiolani. Over the course of two days, Kapiolani patients share their compelling stories with KSSK's thousands of listeners across the state who can then donate in support of specialized care for women and children in Hawaii and the Pacific Region that only Kapiolani can offer.
This year's event held extra-special significance. After two years of broadcasting virtually, KSSK radio personalities got their first taste of hosting the Kapiolani Radiothon from the medical center's new Dining Room.
"The last time we held the Radiothon in person was in 2019, and it's amazing to be back," said Sweetie Pacarro, KSSK radio personality who also is a mother and grandmother with personal ties to Kapiolani. "We're back here in this beautiful, new state-of-the-art cafeteria. It's absolutely gorgeous. It's great to be back – to have it back in person is 10 times way better! I'm so grateful just to be a part of it, just a little fraction of it. So we can help the community and help the keiki."
Other surprises revealed during the Kapiolani Radiothon's first day included:
The unveiling of the Team Haumea Family & Friends Room in the Kapiolani Rehabilitation Department. The room is named after Kapiolani's 2022 Children's Miracle Network (CMN) National Champion Haumea Friel in honor of the Friel ohana's cumulative fundraising and volunteer commitments to the medical center. Local surfboard shaper Rex Godinez and daughter Megan Godinez also presented Haumea with a custom pink-and-purple surfboard, complete with sparkle finish.
The granting of several Wish List items, including car seats for the Injury Prevention Program, Beads of Courage, distraction cart toys and gaming equipment for Child Life.
A visit from Ruby, Kapiolani's hospital facility dog.
Giveaways of plush Ruby dolls to hospitalized pediatric patients in honor of every continuous monthly Miracle Maker pledge. As a bonus, every Miracle Maker donor will be sent a collector's pin designed by Kapiolani 2022 CMN Champion Xander Cabales.
Updates on previous Kapiolani Radiothon families and inspiring stories from current patients and their families about how Kapiolani cares for some of the most medically fragile children and supports many keiki who require specialty services.
Community Rallies as Volunteers Give Back
"My children are just about to turn 7, but I hope that one day I and all my kids can be answering phone calls to help and do anything we can really to help the medical center because they took such good care of us while we were here," said Marcie Dela Cruz, who gave birth to quintuplets at Kapiolani in October 2015.
Dela Cruz has participated in the Kapiolani Radiothon with her six children – quintuplets Kapena, Kupono, Kaolu, Keahi and Kamali'i, and big brother Makaio – since 2016, but this year helped answer phone bank calls with her coworkers from American Savings Bank.
"We were able to raise enough money to donate some car seats to patients and people in need," Dela Cruz said. "We're really big on making an impact on the community, so it's just a good opportunity for me, in a very small way, give back to the medical center and volunteer my time for an organization that I truly believe in and appreciate."
Event organizer iHeart Media Honolulu is proud of the Kapiolani Radiothon's impact on the local community as Kapiolani fulfills its mission of creating a healthier Hawaii. All donations support Kapiolani, Hawaii's only Children's Miracle Network hospital, with 100% of every dollar raised staying in the islands to support programs and services that would not otherwise be possible.
These gifts help support exceptional care and innovative research at Kapiolani that can keep Hawaii families close to home for their care. As a not-for-profit medical center, Kapiolani treats kids no matter their illness or injury regardless of a family's ability to pay.
To make a donation to the 16th annual Kapiolani Radiothon for Kids: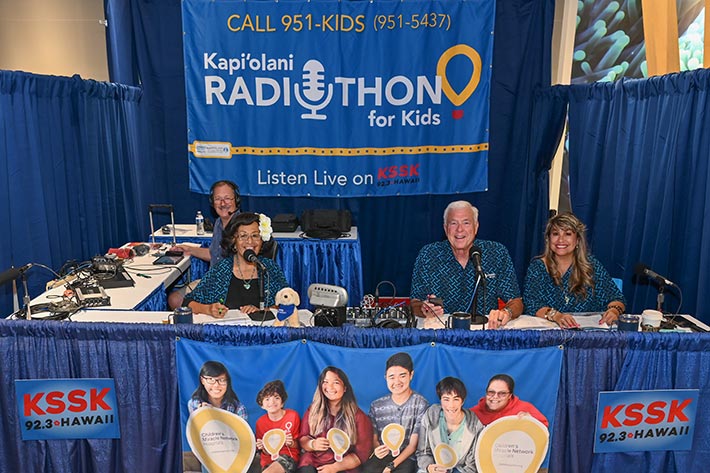 Photo: The KSSK team in action on location at the Kapiolani Medical Center for Women & Children.
Photo (top of page): HMSA surprised Kapiolani Medical Center for Women & Children with a $25,000 donation to go toward the new Teen Resiliency Program. Pictured (from left) are David Underriner, Hawaii Pacific Health executive vice president of Oahu operations and chief executive officer of Kapiolani Medical Center for Women & Children, Pali Momi Medical Center and Straub Medical Center; Terence Young, Hawaii Pacific Health Medical Group vice president of clinic operations; Gidget Ruscetta, Kapiolani COO; Jennifer Diesman, HMSA senior vice president of Government Policy and Advocacy; Sweetie Pacarro; Michael W. Perry; Karen Keawehawai'i; Amanda Price, Hawaii Pacific Health director of Philanthropy; and Colette Forcier, Kapiolani Children's Miracle Network program director.