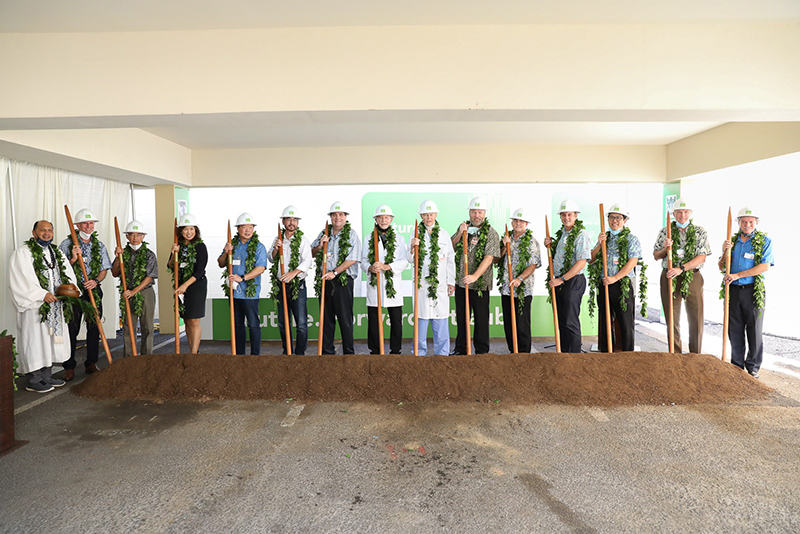 Straub Medical Center, which is celebrating its 100th anniversary, held a groundbreaking today to officially kickoff a comprehensive, redevelopment project for its current campus.
The project will be more than just a rebuilding of the Straub campus. It will create a health care campus of the future that will reflect the not-for-profit organization's vision to transform health care by providing the space, tools and resources necessary to impact all aspects of patient health – prevention, treatment, access and affordability.
"Straub's centennial celebration has provided us with a renewed sense of appreciation for Straub's legacy of providing high-quality, patient-centered care, and the inspiration to move forward purposefully on a new state-of-the-art campus that will truly reflect the quality of care Straub is known to deliver," said Ray Vara, Hawaii Pacific Health President and CEO. "It will be a facility designed for the future with the flexibility to support our patients and care providers as we address the ever-changing health care needs of our community."
Straub's future health care campus will be nearly triple the existing size at 760,000 square feet and will be a multi-year project. The first phase of construction will begin with the parking garage. The second phase is the new medical center building, and the third phase will focus on the outdoor space with the creation of the porte cochere and landscaping. The final phase will be the renovation of the existing Straub Medical Center and the Strode Medical Building.
The Straub Medical Center redevelopment will be the largest undertaking of its kind by Hawaii Pacific Health. A Certificate of Need (CON) was approved by the State Health Planning and Development Agency of the Hawaii Department of Health for this project in April 2020. The CON was based on Straub's investment in equipment and services for this new development and how those will benefit the health care needs of Hawaii. The project received unanimous approval by the Honolulu City Council earlier this month.  
The site for this new health care campus, which is more than five acres, has been decades in the making. Land acquisitions for this project, which began when the Straub Clinic was established, have been secured piece by piece dating back to 1926. Straub's future, city-block campus will be bordered by South King Street, South Hotel Street, Ward Avenue and Kealamakai Street.
Highlights of Straub's new health care campus include:
A new medical center building that is more spacious and flexible, with larger patient and operating rooms, as well as additional space for the Emergency Department.
Increased efficiencies aided by the addition of new equipment and clinical technologies that will support quality patient care and result in shorter hospital stays and lower patient costs.
Design elements that will provide flexibility so the needs of patients in various circumstances can be addressed. This is reminiscent of the medical center's response during the pandemic surge to expand hospital capacity.
State-of-the-art ambulatory facilities that will support care providers as they deliver outstanding results for patients.
Team-based care settings with telehealth rooms to provide patients with multiple alternative methods of care, which will increase access.
Space for complex care and chronic disease prevention programs that include comprehensive education and coordination of care.
A new parking garage with 1,650 stalls, replacing the existing 400-stall parking structure. It will be designed with the flexibility to convert up to six of the floors for expanded clinical services, if the need arises. It will also be user-friendly with one-way traffic, all full-size stalls, no columns, and digital signage showing the number of available parking spaces on each floor.
The creation of 400 estimated construction jobs during the 15-year project, along with approximately 100 additional full-time positions at Straub, when the new campus is completed.
Straub's patient-centric approach and the future health care campus are reflective of Hawaii Pacific Health's mission to create a healthier Hawaii. They also are in line with the vision of Straub's founding physician, Dr. George F. Straub, who said: "I had a vision that we could create a clinic where patients always come first and where the health needs of the entire family could be met under one roof."
Community engagement and responsiveness have been a priority during the planning process. The Straub project team has considered and incorporated various measures into the campus designs, such as:
The Thomas Square/Honolulu Academy of Arts Special Design District and related guidelines.
Minimizing the obstruction of mountain views of the neighboring properties.
Planning elevated pedestrian walkways between the buildings.
Identifying green space throughout the property.
Studying ways to mitigate noise and traffic.
Sharing plans with neighbors throughout the planning process and hosting meetings with neighboring condominiums in the area.
About Straub Medical Center
Founded in 1921, Straub Medical Center includes a 159-bed medical center in Honolulu, a network of neighborhood clinics and a visiting specialist program that reaches throughout the state of Hawaii. Straub has:
Ranked as the best medical center in the country for clinical outcomes (2021, Lown Institute). Of the 3,012 hospitals in the ranking, Straub was the most successful in maintaining low mortality rates and readmission rates.
The distinction of being the only hospital in Hawaii to receive America's 250 Best Hospital Award two years in a row in 2020 and 2021, as well as finishing in the top five percent nationally in clinic excellence (Healthgrades).
Received the Outstanding Patient Experience Award; top 10 percent nationwide for 12 years in a row (2010-21, Healthgrades).
Received the Excellence Award for General Surgery; top 10 percent nationwide for seven years in a row (2015-21, Healthgrades).
Been named one of America's 100 Best Hospitals for Gastrointestinal Care; top five percent nationwide in 2021 (Healthgrades).
Received the Excellence Award for Stroke Care; top 10 percent nationwide in 2021 (Healthgrades).
Received "A" Hospital Safety Grade for 10 years in a row (2012-21, Leapfrog).
The distinction of being the first hospital in Hawaii to receive the CMS 5-Star rating and continually receiving it in subsequent years (2016, 2017, 2019, 2020 and 2021).
Received the 2021 American Heart Association/American Stroke Association "Get with the Guidelines-Stroke Gold Plus with Honor Roll Elite and Target."
With over 500 physicians who are leaders in their fields, Straub provides its patients with diagnoses and treatments for more than 32 different medical specialties, including bone and joint, heart, cancer, endocrinology/diabetes, family medicine, gastroenterology, geriatric medicine, internal medicine, vascular and urology. Straub is home to the Pacific region's only multidisciplinary burn treatment center. The hospital consistently brings new technologies and innovative medical practices to Hawai'i, such as minimally invasive cardiac surgery and total joint replacement. Straub is an affiliate of Hawaii Pacific Health, one of the state's largest health care systems and a not-for-profit health care organization with over 70 locations statewide including medical centers, clinics, physicians and other caregivers working together to create a healthier Hawaii. In addition to Straub, Hawaii Pacific Health includes Kapiolani Medical Center for Women & Children, Pali Momi Medical Center and Wilcox Medical Center. Learn more at StraubHealth.org.