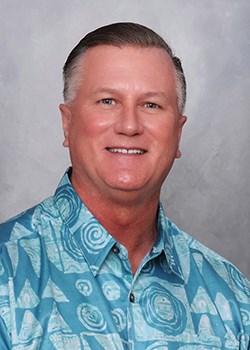 John McNamara will join Hawaii Pacific Health (HPH) as senior vice president for marketing and communications on Monday, November 1.
McNamara has spent the last six years as president of CommPac, a Honolulu-based public relations agency, overseeing the day-to-day operations of the company and providing strategic counsel to local, mainland, and international clients on media relations, marketing, crisis management and community engagement.
"We are excited to have John join Hawaii Pacific Health as he brings a wealth of knowledge and experience with him, not only in the areas of marketing and communications but also in partnership development and community engagement," said HPH Executive Vice President & Chief Strategy Officer Art Gladstone. "John will lead our marketing and communications team as our organization moves forward on important initiatives to help our state recover from the COVID-19 pandemic and make the greatest impact on the health and well-being of our community."
Prior to CommPac, McNamara spent 11 years as associate athletics director at the University of Hawaii at Manoa where he oversaw UH's external affairs, including marketing, media relations, advertising, sponsorships, television and radio partnerships, and licensing.
"I'm excited and humbled by the opportunity to lead HPH's marketing and communications department," McNamara said. "HPH is an outstanding health care organization with dedicated physicians, nurses, staff and visionary leaders. I appreciate the faith that Ray Vara and the HPH executive team have placed in me and I look forward to working collaboratively with both internal and external stakeholders to promote HPH's mission of creating a healthier Hawai'."
Before coming to Hawaii in 2004, McNamara spent 15 years in senior-level management positions in Chicago, Denver and Toledo, where he worked with 41 different universities on marketing, media relations and advertising campaigns that were local, regional and national in scope.