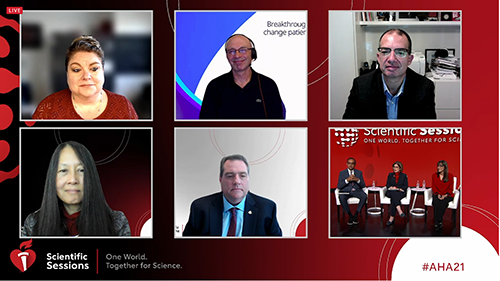 The American Heart Association recently wrapped up its annual international research conference, Scientific Sessions, showcasing late-breaking and specialty-focused science and research on cardiovascular disease.
As national chairman of the Association, Hawaii Pacific Health President and CEO Ray Vara helped moderate one of the highlighted sessions of the three-day virtual event with American Heart Association CEO Nancy Brown and leaders from Pfizer and Moderna.
The Fireside Chats with Pfizer Chief Scientific Officer and President of Worldwide Research Dr. Mikael Dolsten and Moderna CEO Stéphane Bancel included a review of the state of the science behind vaccine development and how the COVID-19 vaccine impacts cardiovascular disease, as well as a discussion of future directions and applications for vaccine technology.
"It was an insightful discussion with these individuals as they shared how their companies and thousands of scientists working together were able to develop these COVID-19 vaccines so quickly using technology that has existed for years," said Vara. "They also shared their thoughts on potential applications for mRNA technology beyond vaccines, such as therapeutic treatments for cancer or heart failure. The impact this research can have on the health of our population beyond COVID-19 is exciting."
See the U.S. News & World Report article for a full recap of the discussion.