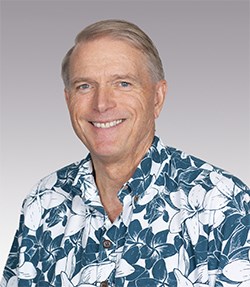 David Underriner has been named executive vice president of Oahu operations for Hawaii Pacific Health, one of the state's leading health care organizations. Underriner has extensive experience in the health care industry, with more than 35 years serving in various administrative and executive leadership roles in Hawaii and Oregon.
Underriner is currently executive vice president and chief health officer at Hawaii Medical Service Association (HMSA), one of Hawaii's largest health insurance companies that covers more than half of the state's population.
As executive vice president of Oahu operations, Underriner will serve as chief executive officer of Hawaii Pacific Health's three medical centers on Oahu – Kapiolani Medical Center for Women & Children, Pali Momi Medical Center and Straub Medical Center.
"David's experience in health care operations and management in both the provider and insurance sectors are considerable and incredibly valuable in an industry undergoing tremendous change while also responding to a global pandemic," said Ray Vara, president and CEO of Hawaii Pacific Health. "We are excited to have David join our Hawaii Pacific Health team and look forward to his leadership and contributions as we continue to support Hawaii's COVID-19 recovery efforts and work toward creating healthier communities across the state."
Underriner has served as chief health officer at HMSA since 2020 and oversees clinical integration, health management operations, medical management, quality, community outreach, communications, strategic network development and provider contracting. Prior to his role at HMSA, Underriner served as president of Kaiser Foundation Health Plan and Hospitals for the Hawaii Region of Kaiser Permanente.
He came to Hawaii from Oregon where he was executive vice president and chief executive of Providence St. Joseph Health – Oregon, which includes more than 20,000 employees, 1,200 employed physicians and clinicians, more than 3,650 active medical staff members, 8 acute care hospitals in 5 service areas, 90 medical clinics, and a health plan with more than 620,000 members. He held various positions in the Providence system throughout his career before becoming chief executive for its Oregon region.
"This is an incredible opportunity for me to contribute to improving the health of the people of Hawaii on a new level," said Underriner. "I am inspired by Hawaii Pacific Health's mission to create a healthier Hawaii and its work delivering excellent care and service, and it's an organization that is uniquely positioned to achieve this while also leading the changes needed to create a more sustainable health care system. I look forward to being part of this effort."
Underriner will join Hawaii Pacific Health in his new position on August 1.