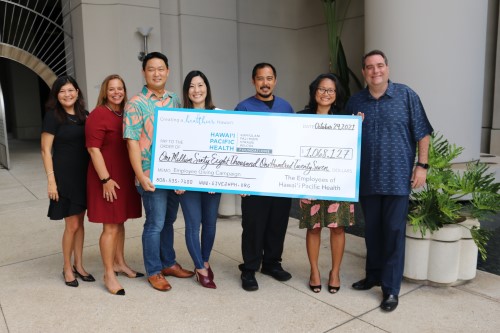 Hawaii Pacific Health (HPH) employees are committed to their patients' health and well-being above and beyond the care provided in the organization's medical centers and clinics across the state. As part of the 2021 HPH Employee Giving Campaign (EGC), nearly 4,000 employees raised a total of $1,068,127 through generous donations of either gifts or pledges, which will go toward HPH medical programs and services that directly benefit the local community. 
This is the fifth straight year that HPH employees have raised at least $1 million to support the organization's mission to create a healthier Hawaii. 
"Every year, I am inspired by our employees as they demonstrate how truly selfless they are through their donations and fundraising efforts in support of our Employee Giving Campaign," said Hawaii Pacific Health President & CEO Ray Vara. "I am particularly inspired by their level of giving this year as everyone has faced their own personal challenges due to the COVID-19 pandemic. Employees at all levels and at all of our facilities contributed in some way toward this year's results." 
As a not-for-profit health care system, HPH relies on philanthropic support from the community. The results of this year's EGC is a great example of how the month-long campaign has grown to be a significant source of that public support. This year's campaign, which was a milestone in itself as it marked the 20th anniversary, featured a giving tree with the theme, "One gift grows into many when we all donate." 
"This year's Employee Giving Campaign theme is a message of how we are stronger together, and the results certainly demonstrate that," said Hawaii Pacific Health Senior Vice President of Human Resources and Organizational Effectiveness Sunshine Topping. "HPH employees are engaged in an organizational culture based on collaboration, compassion, kindness and goodwill. They have shown time and again that giving is really second nature for them. Our leadership is extremely grateful for their generosity, especially during a time when they have experienced a challenge unlike anything they have seen in their careers with the COVID-19 pandemic." 
Asterlou Raquel, surgical clinical reviewer and registered nurse at HPH, was a powerful voice and inspiration for the EGC. The breast cancer survivor and her husband, Oscar, a nurse for Straub Medical Center, both work and donate to HPH. Aster received her cancer care at Pali Momi Medical Center. 
"I think it's very important that the donors understand the impact they are creating," said Asterlou Raquel. "Cancer doesn't just affect the person, it affects the entire family." 
In addition to inspiring gifts, fun and creative fundraising events were organized as part of the campaign by staff and provided additional donation opportunities for employees. Departments across the health care system hosted virtual fundraising events, creativity contests, pre-packaged food sales, and craft fairs. The most successful virtual fundraising event was the COVID Creativity Contest. For the contest, employees shared videos of how they repurposed plastic containers originally used to store COVID-19 vaccine vials and people voted for the most creative item by making a donation. In total, the virtual events held as part of the campaign raised $52,178. 
The 2021 EGC funds raised will support the following projects and services:
Kapiolani Medical Center for Women & Children's Child Life, Chaplain Services and Palliative Care programs, which support emotional, social and spiritual care for patients and their families.
Pali Momi Medical Center's Emergency Department Fund, which supports emergency medical and
trauma care for Central and West Oahu. The Ohana Fund supports patients in need of financial
assistance for medication, medical equipment, and transportation.
Straub Medical Center's Emergency Department Fund, which supports urgent and often lifesaving
medical care for patients.
Wilcox Medical Center's stroke care and stroke education program, which provides the highest
standard of stroke care for Kauai.
Kapiolani Children's Miracle Network, a program that provides support for patient care,
specialized medical equipment, emergency transport, and preventive education.
HPH employees also donated to Aloha United Way and Kauai United Way.