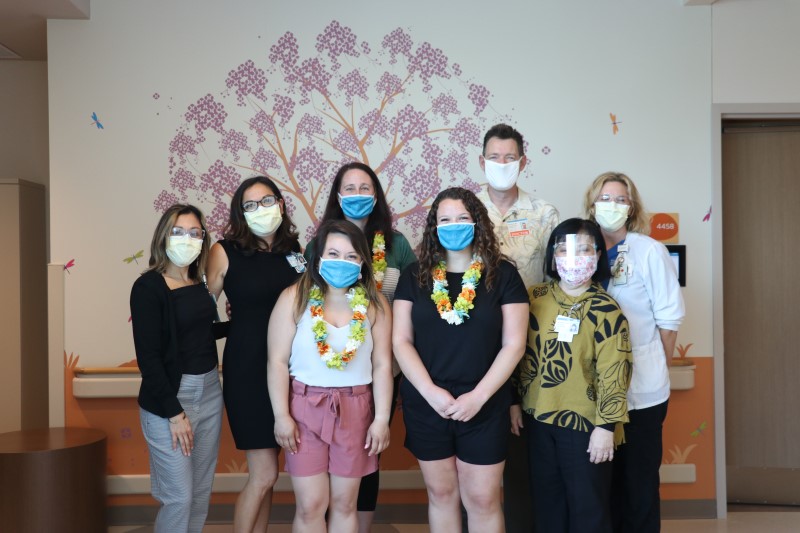 Newborn baby Raymond Mounga has some new aunties and an uncle for life, according to mom Lavinia "Lavi" Mounga, who unexpectedly delivered Raymond on a Delta Airlines flight from Salt Lake City, Utah, to Honolulu on Wednesday, April 28. Luckily for mom and baby, Hawaii Pacific Health Family Medicine Physician Dr. Dale Glenn and North Kansas City Hospital NICU Nurses Lani Bamfield, Amanda Beeding and Mimi Ho were also on board the flight to help with the delivery and provide care for mom and baby until the flight landed in Honolulu.
Upon landing in Honolulu, medical response teams were waiting to help get mom and baby to Kapiolani Medical Center for Women & Children.
"About halfway through the flight, there was an emergency call, and I've experienced this before and usually they're pretty clear asking if there is a doctor on board," recalls Dr. Glenn. "This call was not like this and it was fairly urgent. I let the flight attendant know that I'm a physician and she said we have a woman having a baby, so I hurried over to see what I could do.
Bamfield, Beeding and Ho, nurses specially trained to care for premature or ill babies needing intensive care, were already on the scene helping mom and baby, who had arrived early at just 29 weeks.
"We were about halfway through the flight and we heard someone call out for medical help," says Bamfield. "I went to see what was going on and see her there holding a baby in her hands, and it's little."
"That definitely means something to us because we work in the NICU," added Ho.
For the remainder of the flight, Bamfield, Beeding and Ho worked together with Dr. Glenn to take care of mom and baby.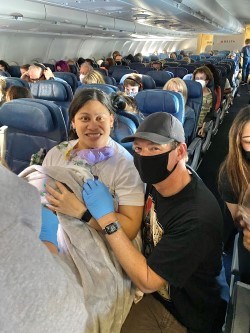 "I don't know how a patient gets so lucky as to have three neonatal intensive care nurses onboard the same flight when she is in emergency labor, but that was the situation we were in," says Dr. Glenn, who is pictured at left with new mom Lavi Mounga. "The great thing about this was the teamwork. Everybody jumped in together and everyone helped out.
"Basically, you need somebody to watch the mom too because we have two patients, not just one. So someone's got to help cut the cord, someone's got to help deliver the placenta, we've got to check vital signs on mom. Meanwhile we're trying to resuscitate baby, make sure baby's breathing, get baby warmed up. That's a lot of work to do, and we're all trying to work in a very small, confined space in an airplane, which is pretty challenging. But the teamwork was great."
Given that airplanes also aren't equipped to provide care for a premature baby, Dr. Glenn had to rely on previous wilderness medicine training. He and the nurses used a couple of shoelaces to tie and cut through the umbilical cord, made baby warmers out of bottles that were microwaved, and used an Apple Watch to measure the baby's heart rate.
"We didn't have the usual tools found in a neonatal intensive care unit, so there were a lot of vital signs we couldn't track," adds Dr. Glenn.
The team improvised with what they did have available and worked together to keep baby stable for three hours until the plane landed.
"I was literally counting down the time on my watch, between where we are in the flight to when we can get this child to Kapiolani," said Dr. Glenn, who is a physician at Straub Medical Center, which along with Kapiolani is part of the Hawaii Pacific Health system. "As soon as we got him on board the ambulance, we headed straight for Kapiolani. And once he arrived there, the emergency room took great care of him, moved him up to the NICU, and baby and mom are both doing great."
Dr. Glenn and the nurses had the opportunity to visit with mom and baby at Kapiolani for an emotional reunion on Friday.
"We all just teared up. She called us family and said we're all his aunties, and it was so great to see them," said Ho.
"It has been very overwhelming, and I'm just so lucky that there were three NICU nurses and a doctor on the plane to help me, and help stabilize him and make sure he was ok for the duration of the flight," said Mounga.
Mounga has since been discharged, but baby Raymond will remain in the NICU until he's ready to go home.
"The experience here has been so good," said Mounga, a resident of Orem, Utah, who was traveling to Hawaii with family on vacation. "Everybody's so nice and the aloha spirit you feel here is very different from the mainland. It just feels comforting and everyone's willing to help and always checking in on us."
MAIN PHOTO CAPTION: Hawaii Pacific Health Family Medicine Physician and North Kansas City Hospital NICU Nurses Lani Bamfield, Amanda Beeding and Mimi Ho (center with lei) reunited at Kapiolani Medical Center for Women & Children after helping to deliver baby Raymond Mounga on a flight from Salt Lake City, Utah, to Honolulu. Kapiolani Medical Center's NICU team met with Dr. Glenn and the nurses to congratulate them on their amazing teamwork and care they provided to mom and baby.
About Hawaii Pacific Health
Hawaii Pacific Health is a not-for-profit health care system with over 70 locations statewide including medical centers, clinics, physicians and other caregivers working together to create a healthier Hawaii. Its four medical centers – Kapiolani, Pali Momi, Straub and Wilcox – specialize in innovative programs in women's health, pediatric care, cardiovascular services, cancer care, bone and joint services and more. Hawaii Pacific Health's employed physicians and advanced practice providers are unified under the Hawaii Pacific Health Medical Group, which includes nearly 700 health care providers brought together under one operational structure to provide consistency and excellence in patient outcomes and patient experiences across the system. Hawaii Pacific Health is recognized nationally for its excellence in patient care and the use of electronic health records to improve quality and patient safety, including being recognized as the nation's only three-time winner of the prestigious HIMSS Davies Enterprise Award of Excellence for outstanding achievement in health information technology. Learn more at HawaiiPacificHealth.org.
About North Kansas City Hospital and Meritas Health
For over 60 years, residents in North Kansas City, MO, and surrounding communities have trusted North Kansas City Hospital with their healthcare. Every day, more than 3,000 employees and over 500 physicians handle emergencies, deliver babies, treat cancers, heal hearts, rejuvenate joints, and promote health and wellness. As they care for patients, they provide hope and healing to every life they touch.
NKCH is a Magnet® hospital, meaning it has earned the highest achievement for nursing excellence. In addition to earning The Joint Commission's Gold Seal of Approval® and certification for Comprehensive Cardiac Center, Advanced Total Hip and Total Knee Replacement, and Primary Stroke Center, NKCH has a Level III neonatal intensive care unit and regionally recognized home health program. Additionally, the hospital's oncology partnership with The University of Kansas Cancer Center provides patients access to clinical trials only available at the nation's leading cancer centers.
Meritas Health, the hospital's wholly-owned subsidiary, offers the largest network of physician practices in the Northland. Together, NKCH and MH serve the community through 35 convenient locations, including a 451-licensed-bed facility, express and urgent care clinics, and several primary and specialty care clinics.
Explore North Kansas City Hospital's full range of services at nkch.org, and discover all the services Meritas Health offers at MeritasHealth.com.