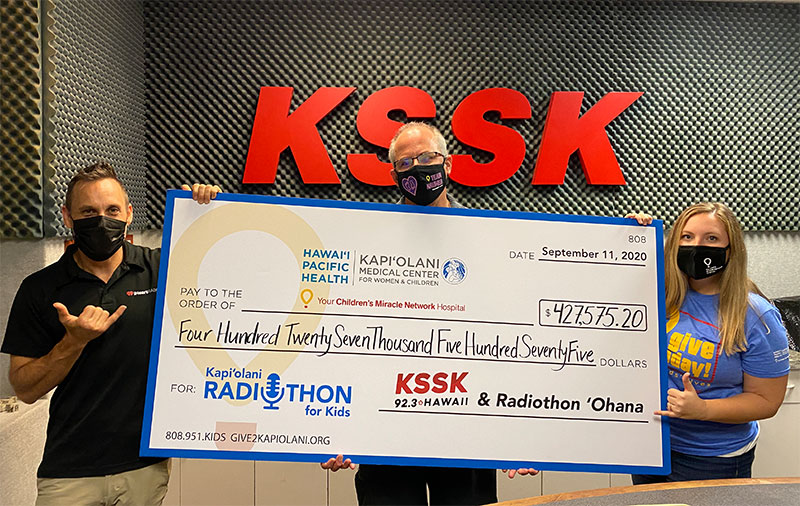 A record $427,575 in donations for the 2020 Kapiolani Radiothon for Kids showed how much the community is pulling closer together this year to support Kapiolani Medical Center for Women & Children. Virtual volunteers were even more driven by the distance to help. The overall effort included one of the largest participant pools in the event's 14-year history with the commitment of iHeartRadio, KSSK 92.3 radio personalities, sponsors, online phone bank teams, Kapiolani patient families and staff members taking donor calls.
"We couldn't be more grateful," said Martha Smith, CEO of Kapiolani Medical Center, Pali Momi Medical Center and Straub Medical Center. "Kapiolani is a one-of-a-kind resource in Hawaii for women and children and this outpouring of support really allows us to continue to be here for the community."
"To be honest during these troubling times, we had no idea what to expect from this year's virtual Radiothon but this is wonderful," said Michael W. Perry, KSSK 92.3 radio personality. "KSSK has a great radio audience who is very generous, and they never let us down. They know Kapiolani relies on donations to make things happen. Kapiolani is every bit as good as any hospital on the mainland and makes sure of it with the Children's Miracle Network."
A sincere appreciation for the specialized services at Kapiolani was the sentiment behind some very significant gifts. Presenting sponsor D. Suehiro Electric, Inc. returned for the fourth straight year to support pediatric care. "D. Suehiro Electric, Inc. is all about helping Hawaii's keiki in any way we can," said Jobelle Kamealoha, project manager for D. Suehiro Electric, Inc.
They definitely went above and beyond for 2020. For the second year in a row, the Suehiro Radiothon team led the way in donation collections from friends, family members and business partners, shattering its own record in online pledges and phone bank calls. "The excitement of being given the opportunity to come together as a team to help our keiki in need is overall the most memorable part of the Radiothon," said Jobelle. "Our keiki are our greatest treasure."
This year's Radiothon sponsorship by D. Suehiro Electric, Inc. is funding in action. A cart stocked with specialized science, technology, engineering, arts and math (STEAM) items, named the Imagination Station, was donated and will be utilized by Kapiolani's Educational Services, which helps patients keep up with school while in the hospital. The Imagination Station cart provides a starting point for students and includes supplies for STEAM projects, kits that can introduce new interests, and educational games and resources. "Having the Imagination Station on wheels also allows us to reach students beyond the (physical) classroom and engage patients in learning opportunities at the bedside," said Shay Chun, a hospital-based teacher at Kapiolani.
UHA Health Insurance was also inspired to be a sponsor because the Radiothon resonates so much with its employees. "This is my third year volunteering," said Nalani Ponce, UHA provider outreach liaison and Radiothon virtual volunteer team captain. "As parents, extended ohana and community members, I think many of us at UHA have our own 'Kapiolani' connection. The Radiothon allows us an opportunity to extend our mahalo and give back in a meaningful way."
Giving to Kapiolani is personalized throughout the organization. "We were founded by physicians so helping our partners who provide medical services to our members and the community at large, like Kapiolani Medical Center, was an easy decision," said Howard Lee, UHA president and CEO. "We are also very proud of our staff volunteers who over the last couple of years have stepped forward to help raise money for the Radiothon."
The 2020 Radiothon sponsors include D. Suehiro Electric, Inc., UHA Health Insurance, AlohaCare, Clinical Labs of Hawai'i, HMSA, American Savings Bank, Enterprise Rent-A-Car, Mike Sapp Fitness and GEICO. 
Hawaii's Children's Miracle Network Champion Haumea Friel and her family surprised everyone during their scheduled phone bank hour by announcing a donation of $10,000 for this year's Radiothon, the largest donation ever by a Kapiolani Champion family. Haumea has undergone nearly a dozen surgeries on what she calls her "super leg" at Kapiolani. Her progress with her prosthetic leg also requires regular visits to the medical center for physical therapy.
"Kapiolani Medical Center and Children's Miracle Network have done so much for Haumea that we wanted to give too," said Kainoa Friel, Haumea's mom.
"It's like the busiest and best Radiothon finish and very overwhelming," said Curt Williams, KSSK 92.3 radio personality, during an emotional moment on air as he started his shift. "I've done this all 14 years and we've never had $10,000 gifts from individuals or families like Haumea's. I just started my broadcast and I'm already crying."
As a not-for-profit medical center, Kapiolani relies on community support to further its mission of caring for Hawaii's families and creating a healthier Hawaii. Kapiolani is committed to providing advanced, quality care to all patients, regardless of their ability to pay. As always, 100% of all gifts made through the Radiothon stay local benefiting Kapiolani and all of Hawaii's keiki.
With consideration to COVID-19 and the safety of everyone, the Kapiolani Radiothon was not held on-site at the medical center for the first time in the event's 14-year history. Community support, especially during this pandemic, is vital to ensure Kapiolani's medical teams have the resources needed to provide the best possible care now and in the future. Despite the challenges so many people are facing right now, the community was generous in its support for Kapiolani during this year's event.
The two-day Radiothon for Kids started with a big boost. Panda Express inspired a lot of good fortune to Kapiolani in a fitting and fun way. KSSK's Perry & The Posse broke open supersized fortune cookies to reveal a gift of $50,000 from Panda Express to support programs and services presented at Radiothon. The Kapiolani Children's Miracle Network and Panda Express are longtime partners, and the restaurant chain recently named a specialized space at the medical center to promote healing and inspire hope. The "Playroom" as it was known by Kapiolani's patients is now the Panda Cares Center of Hope.
Kapiolani has had a partnership with Children's Miracle Network for over 35 years.