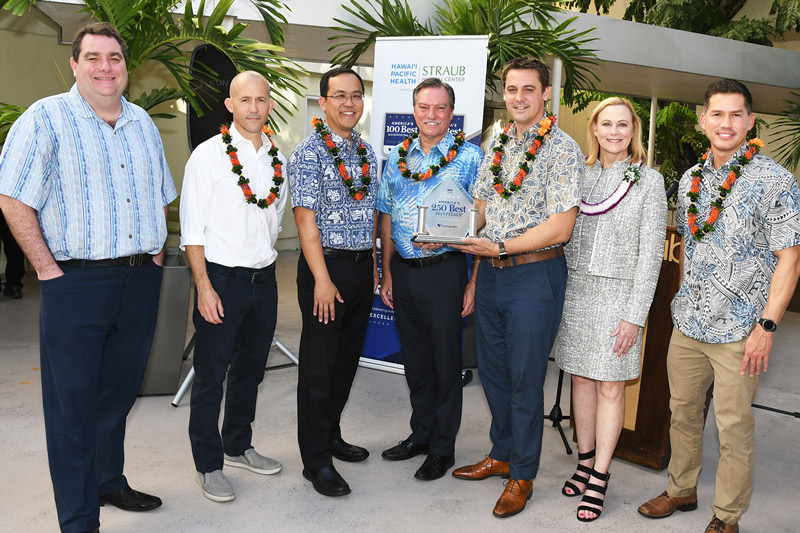 Straub Medical Center has achieved the Healthgrades 2020 America's 250 Best Hospitals Award™, placing it in the top 5% of nearly 4,500 hospitals assessed nationwide for its superior clinical performance as measured by Healthgrades. Straub is the only hospital in Hawaii to be recognized as one of America's 250 Best Hospitals in 2020.
Hospital executives and staff accepted the award at a special presentation by Healthgrades today at the medical center.
"Our Straub team is dedicated to delivering the highest levels of patient care, and this recognition affirms their passion, performance and commitment to excellence," said Straub Chief Operating Officer Travis Clegg. "The award also provides our patients with the assurance that they can be confident in the quality of care they receive at Straub."
"Hospital quality varies significantly from hospital to hospital, so it's important for consumers to do their research and select a hospital that provides the best level of care for their specific needs," said Healthgrades Chief Medical Officer Brad Bowman, MD. "We congratulate the recipients of Healthgrades America's 250 Best Hospitals Award for their commitment to improving clinical outcomes for patients."
Recipients of the Healthgrades America's 250 Best Hospitals Award stand out among the rest for overall clinical excellence across a broad spectrum of care. During the 2020 study period (2016 through 2018), these hospitals showed superior performance in clinical outcomes for patients in the Medicare population across at least 21 of 32 most common inpatient conditions and procedures – as measured by objective performance data (risk-adjusted mortality and in-hospital complications).
Straub is also the only hospital in Hawaii to receive the Healthgrades 2020 America's 100 Best Hospitals for Gastrointestinal Care and General Surgery Awards.
In addition, Straub was recognized with the Healthgrades 2020 Pulmonary Care Excellence and Stroke Care Excellence Awards.
To learn more about how Healthgrades determines award recipients, and for more information on Healthgrades Quality Solutions, please visit Healthgrades.com/Quality.
Celebrating its 100th anniversary in 2021, Straub has a history of health care innovation as the first medical center in Hawaii to offer many new and advanced medical procedures and techniques for patients.
These firsts include techniques for the removal of skin cancers, arthroscopic knee surgery, minimally invasive joint replacements and coronary bypass, mitral valve surgery, cardiac ablations, endoscopic surgery, and laser surgery for cataracts, among others.
In line with the organization's mission of creating a healthier Hawaii, Straub is also focused on preventive care and providing patients with convenient and comprehensive access to primary care services for regular check-ups, screenings and overall health management.
Recently, Straub opened two new clinic and urgent care locations in Kapolei and Ward Village, and will open a new location this summer in Kahala. These clinics offer primary care and urgent care, as well as select specialty care services and on-site imaging and laboratory services.
Straub is a not-for-profit medical center that does not turn anyone away regardless of a patient's ability to pay. It raises funds through Straub Foundation to provide the people of Hawaii and the Pacific region with specialty medical care, lifesaving services, community outreach and education, and to further local research.

*Statistics are based on Healthgrades analysis of MedPAR data for years 2016 through 2018 and represent 3-year estimates for Medicare patients only
PHOTO CAPTION: Celebrating the presentation of the Healthgrades 2020 America's 250 Best Hospitals Award to Straub Medical Center are (from left) Ray Vara, President & Chief Executive Officer of Hawaii Pacific Health; Michael Taylor, Chair, Straub Medical Center Board of Directors; Dr. Leslie Chun, Chief Executive Officer, Hawaii Pacific Health Medical Group; Art Gladstone, Executive Vice President & Chief Strategy Officer, Hawaii Pacific Health; Travis Clegg, Chief Operating Officer, Straub Medical Center; Martha Smith, Executive Vice President of Oahu Operations, Hawaii Pacific Health; and Andrew Moats, Chief Nurse Executive and Director of Hospital Operations, Straub Medical Center.