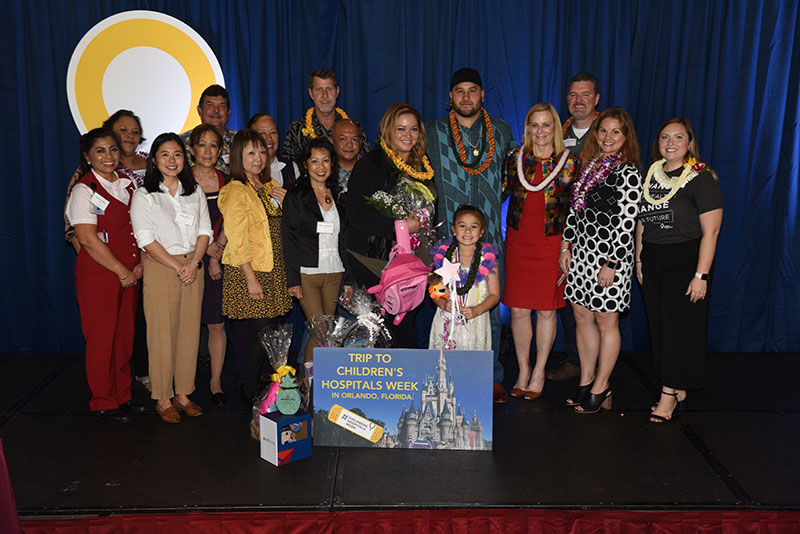 Since birth, Haumea Friel has continuously defeated the odds and triumphed over adversity when it comes to what she calls her "super leg." Throughout her journey, the 5-year-old continues to spread her message of courage and strength. Today, Haumea was announced as the Children's Miracle Network (CMN) Champion for Kapiolani Medical Center for Women & Children in front of hundreds of supporters from across the state at the inaugural CMN Partner Celebration.
Friel, who was born with one leg shorter than the other, personifies the very essence of the fighting spirit. She has shown tremendous tenacity as she has undergone 10-plus surgeries and continues to progress every single day.
In her role as Kapiolani CMN Champion, Haumea will share her courageous story throughout the year, inspiring countless community partners and supporters committed to the health and well-being of Hawaii's keiki.
During a prenatal appointment, Kainoa Friel and her husband, Calen, received unexpected news. The 3D sonogram revealed that their unborn daughter, Haumea, had a birth defect called proximal femoral focal deficiency (PFFD). The uncommon condition, which affects about 1 in every 200,000 children, causes the upper part of the femur bone to be either malformed or missing.
"We have been with Kapiolani since Day 1, and her 'dream team' has always been there for us," said Kainoa.
In Hawaii, CMN funds help to support key programs and services at Kapiolani, such as the Child Life program and critical care transport team, as well as lifesaving equipment. Gifts made in Hawaii stay in Hawaii, with 100 percent of the funds going to help local keiki.
Haumea's rare condition required an experienced multidisciplinary team at Kapiolani to create a customized plan of care. Most recently, Haumea underwent a rare and complex 16-hour surgical procedure called rotationplasty.
"Haumea came in with a very complex problem," said Dr. William Burkhalter, Kapiolani pediatric orthopedic surgeon. "The rotationplasty basically turns the limb around so that the knee that she has functions as a hip for her and the foot that she has functions as a knee for her that can be fitted for a prosthesis."
"She got her prosthetic leg and named it 'Sparkle,'" said Kainoa. "Haumea is proud of who she is. She is one of the strongest people I know."
Haumea's journey continues through physical therapy appointments at Kapiolani where she is learning to walk on her own. Her ultimate "favorite person" is Aunty Stacie, who leads Haumea's physical therapy at Kapiolani's Rehabilitation Department.
"She's having to deal with her foot now in a new position facing the other way," said Stacie Kellinoi, Kapiolani physical therapist. "But Haumea just overcame, she showed up twice a week to do new things every time with a great attitude. Haumea's now walking on the treadmill saying, 'Auntie Stacie, I want to learn how to run.'"
Haumea's Champion launch was extra special with CMN fundraising partners from across the state there to cheer her on while also celebrating their successful support of Kapiolani in 2019. Local fundraising partners Costco, Panda Restaurant Group, Walmart, Ace Hardware, Marriott Vacations Worldwide, various Hawaii credit unions, Marriott, KSSK with iHeart Media, D. Suehiro Electric and more helped raise nearly $3 million for Kapiolani CMN last year. Kapiolani has had a partnership with CMN for over 35 years.
CMN partners at the celebration were also the first to receive Haumea's Champion pin. The custom pin that was designed by Haumea is a purple heart outlined in pink, as pink and purple are her favorite colors. The glittery purple matches the color of Haumea's prosthetic leg that she named "Sparkle." On the heart are two feet facing opposite directions, which represents her rotationplasty surgery that rotated the lower leg 180 degrees, enabling the foot to function like a knee that can be fitted for a prosthesis. The heart also represents the love that surrounds Haumea from her ohana.
Haumea will certainly be an impressionable ambassador for Kapiolani with her "never give up" attitude. "Sparkle is my prosthetic leg that can help me walk and run and bounce; nothing can stop it," said Haumea.
As a not-for-profit medical center, Kapiolani relies on community support to further its mission of caring for Hawaii's families and creating a healthier Hawaii. Kapiolani is committed to providing advanced, quality care to all patients, regardless of their ability to pay.
The event also featured speaker Martha Smith, Hawaii Pacific Health Executive Vice President of Oahu Operations and CEO of Kapiolani Medical Center, who shared the impact of CMN funding. On behalf of CMN Hospitals, Maureen Carlson presented on the future of corporate social responsibility.