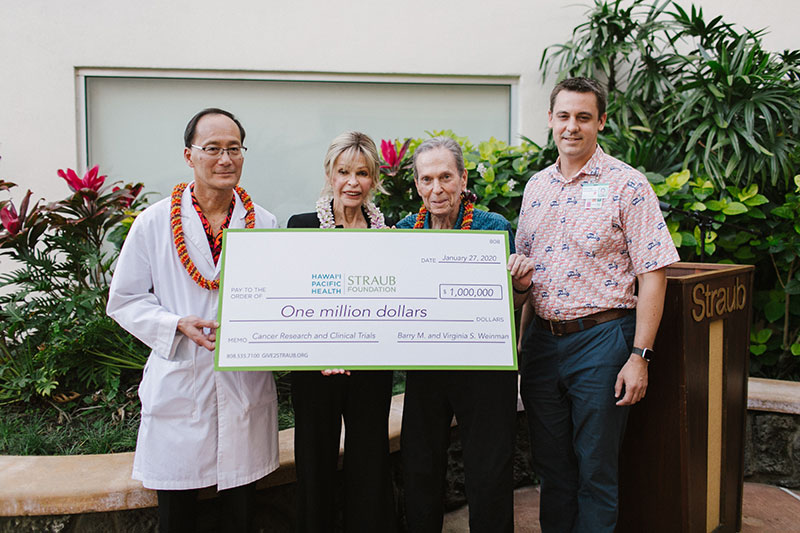 Straub Medical Center will further develop its cancer care research and clinical trials with a $1 million gift from Barry M. and Virginia S. Weinman. This gift is the most significant donation to cancer care at Straub in the history of the medical center, and will help expand local clinical trials at Straub while improving access for more cancer patients in Hawaii to receive experimental treatment.
Approximately 6,700 people are diagnosed with cancer each year in Hawaii. The Weinmans are committed to funding cancer treatment in Hawaii and strongly believe that clinical trials are the key to making progress against cancer. The donation will afford a more diverse population the opportunity to be included in these studies. Hawaii is made up of an ethnic community of underserved minority groups who are not often represented in mainland trials.
"Clinical trials in Hawaii are very important to the people of Hawaii," said Virginia S. Weinman. "Sufferers of cancer often need to leave the islands to participate in clinical trials on the mainland that sometimes will determine the outcome of their cancer. Not only does this inconvenience burden cancer patients financially, but it also takes them away from their family and support groups for weeks, months or longer."
"This funding will give Straub and our cancer care team the ability to engage in more complex trials unlike anything we've done before," said Dr. Ian Okazaki, Straub's Department Chief of Medical Oncology. "I am honored to have the confidence and support of Barry and Virginia. Ongoing research improves prevention, detection, treatment and quality of life for the cancer community. We want to be at the pulse of that research for an ethnic population that might get missed and an island community that doesn't want to go far away for care. We know there is a need for this and we want more local people to have options."
Part of the goal is to provide multifaceted care, medical team coordination and research in one location at Straub. Dr. Okazaki will be the principle investigator for this cancer treatment expansion. In the process of supporting Dr. Okazaki's research and clinical trials, a portion of the Weinmans' funding will establish operational resources at Straub including advanced training for the medical staff, pharmacy upgrades and dedicated space in the infusion center for patient testing and monitoring.
As this gift reflects, the Weinmans are passionate about investing in the future of cancer care and taking the critical steps to finding a cure. The cancer research this funding is supporting at Straub will also strengthen and grow Hawaii Pacific Health's ongoing partnership with the University of Hawaii Cancer Center.
"People are living longer lives from successful cancer treatments that are the results of past clinical trials," said Virginia. "Through clinical trials, doctors determine whether new treatments are safe and effective and work better than current treatments. Clinical trials also help us find new ways to prevent and detect cancer. And they help us improve the quality of life for people during and after treatment."
The Straub Cancer Center team consists of board certified oncologists and specialists, registered and oncology certified nurses (RN, OCN), a dedicated chemotherapy pharmacist, a navigator and compassionate support staff. The oncologists provide care to patients on Oahu and travel to Maui. The Straub Cancer Center is an ACoS-Approved Community Hospital Comprehensive Cancer Program and works collaboratively with the University of Hawaii Cancer Center. Treatments administered in the Straub Outpatient Treatment Center include standard chemotherapy and biotherapy regimens while also providing current clinical trial therapies.
Celebrating its 100th anniversary in 2021, Straub has a history of health care innovation as the first medical center in Hawaii to offer many new and advanced medical procedures and techniques for patients. These firsts include techniques for the removal of skin cancers, arthroscopic knee surgery, minimally invasive joint replacements and coronary bypass, mitral valve surgery, cardiac ablations, endoscopic surgery, and laser surgery for cataracts, among others.
Straub is a not-for-profit medical center that does not turn anyone away regardless of a patient's ability to pay. It raises funds through Straub Foundation to provide the people of Hawaii and the Pacific region with specialty medical care, lifesaving services, community outreach and education, and to further local research.
For more information or to make an online donation to Straub, visit Give2Straub.org.