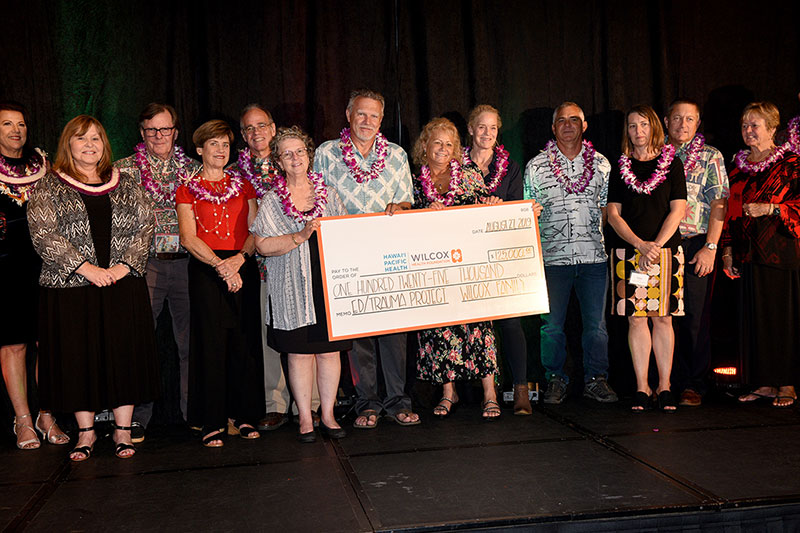 As part of Wilcox Medical Center's 80th anniversary celebration, descendants of its founder George Norton (G.N.) Wilcox are donating $125,000 in his honor. Wilcox family members – who include Kelley Carswell and family, Dr. Richard Goodale and family, David Pratt with sons Sam and Bill Pratt, and Kathy Richardson and family – are using this milestone anniversary to embark on a campaign to raise funds to upgrade the medical center's Emergency Department and expand its trauma services for the Kauai community.
"The majority of people come through the emergency room and people are definitely going to need it at some point, so improving its space or capabilities is just huge," said Kelley Carswell, a Wilcox descendant through her mother Gale, who recently passed away.
In August 2019, Wilcox medical staff leadership hosted the family for an intimate check presentation so family members could share their gratitude with employees as well as speak to G.N. Wilcox's vision for the medical center. The family was also honored by the Wilcox Health Foundation and publicly recognized for contributing to the campaign at the annual general membership meeting of the Kauai Chamber of Commerce on Dec. 12, 2019.
Dr. Richard Goodale, a Wilcox descendant who practiced with the Kauai Medical Clinic for 33 years, said, "With this gift, Wilcox Medical Center can recruit physicians and continue to provide quality care to the community. The goal is to provide top-notch care that you can get in a big city here in a small community. That's what makes me most proud."
The Emergency Department construction project involves creating two trauma resuscitation suites as well as renovating specialty spaces for behavioral health, infectious control, pediatric rooms and OB-GYN care. There are also plans to convert semi-private observation bays to private treatment exam rooms. The Kauai community has successfully raised $4.3 million toward the $5 million goal for this project. The Wilcox Health Foundation board is encouraging businesses and residents to give what they can to raise the remainder of the funding.
A successful entrepreneur, G.N. Wilcox established a trust fund to help advance public health in the early 1900s. After his death, the Wilcox family decided to build a hospital in his honor. The 94-bed G.N. Wilcox Memorial Hospital opened in 1938, funded by the family trust's gift of $200,000.
"I can't imagine that those involved from the beginning could have imagined what Wilcox Medical Center is today," said Sam Pratt, a member of the Wilcox family and president of the Grove Farm Museum. "It has come so far in technology and treatment. It's rewarding to know that our family had an opportunity to play a part in that work."
For the Wilcox ohana, supporting the medical center comes in many forms, from major gifts to leadership roles. A Wilcox family member has actively served on the medical center or foundation board ever since it opened more than 80 years ago. David Pratt, husband of the late Deborah Wilcox Pratt, was the hospital board chair for 20 years and positively impacted Wilcox's future planning.
"For the merger of the clinic and the hospital, which took about five years to negotiate, we had to bring all the doctors together," David said. "The big capital campaign for a major expansion was a $20 million project that led to a three-story building that included additional long-term care beds. I also started the conversations to join Kapiolani Medical Center [now part of Hawaii Pacific Health], which they finalized when I retired. It was a good move."
Dr. Goodale's sister, Kathy Richardson, also found her place at Wilcox Medical Center. She ran the gift shop from 1986 to 2014.
"We made it a gift shop that carried things that nobody else on Kauai did," Kathy said. "We went out of our way to create a unique shop with everything from clothing to artwork, homemade goods and baby things."
Every purchase added up to support patient care. "Every year between the gift shop and thrift shop, we would give over $100,000 to the hospital to purchase needed equipment," she added.
Wilcox is Kauai's only Level III Trauma Center and was the first neighbor island medical center to achieve that designation. It is also Hawaii's first Level III Trauma Center to be verified by the American College of Surgeons. Wilcox's Emergency Department averages 25,000 visits annually and sees an average of 450 trauma activations per year. 
"If you live on Kauai, chances are you or someone you love is going to end up at Wilcox Medical Center someday so you want it to be the best place it can be," said Wilcox Health Foundation Board Chair Paula Chihara. "By giving, you help make Wilcox that much better for everyone."
As a not-for-profit medical center, Wilcox cares for every patient that walks through its doors regardless of their ability to pay, and relies on community donations to help its health care team provide the best care for patients and their families. Gifts to the Wilcox Health Foundation support these efforts and directly fund programs, services, equipment, advanced technology and facility improvements.
For more information about the campaign, contact Andy Bestwick at 808-245-1157, or make an online donation to the Wilcox Health Foundation at Give2Wilcox.org.