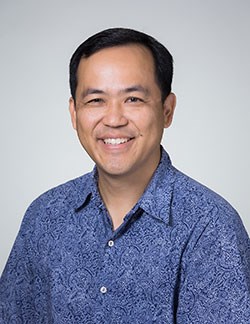 Dr. Leslie B. Chun, a local physician and health care leader, has been named chief executive officer of the Hawaii Pacific Health (HPH) Medical Group. The medical group will officially be formed on December 15, 2019, and will bring together over 600 HPH employed physicians and allied health care professionals under one operational structure. The announcement was made by Raymond P. Vara, president & CEO of Hawaii Pacific Health.
"We see a real benefit for our patients and our physicians with the formation of this new medical group," Vara said. "Dr. Chun will work in concert with existing HPH leadership and physicians to deliver a consistent, high-quality patient experience across the organization. Although the individual brand of our four medical facilities will not change, the new group structure will serve to facilitate better communication, collaboration and coordination among physicians across the system to ensure that HPH continues to be a great place to receive care and to practice medicine."
"I am pleased to join a health care provider that cares deeply about the quality of the experience for its patients and physicians," Chun said. "Health care today is changing at a rapid pace with a clear focus on value as defined by high-quality care at an affordable price. I look forward to working with the Hawaii Pacific Health team to ensure that we provide our community with world-class health care."
Chun has 15 years of experience over a wide range of the health care industry both in Hawaii and across the country as a practicing internist, educator, medical director for an international health care analytics company, and hospital administrator. He is currently the chief medical and quality officer at another Oahu-based health care system. Prior to that he served as the chief of clinical and medical affairs at Maui Memorial Medical Center. Before returning to Hawaii, he served in various capacities in the health care industry across the country where he focused on quality, safety, patient experience and physician relations.
Chun grew up in Honolulu and graduated from Iolani School. He received a bachelor's degree in biological sciences with honors from Harvard University, as well as an MBA and medical degree from UCLA. He completed his internship and residency in internal medicine at Massachusetts General Hospital, one of Harvard's major teaching hospitals. He served on the faculty of Harvard Medical School and currently serves as an assistant clinical professor at the University of Hawaii at Manoa John A. Burns School of Medicine.