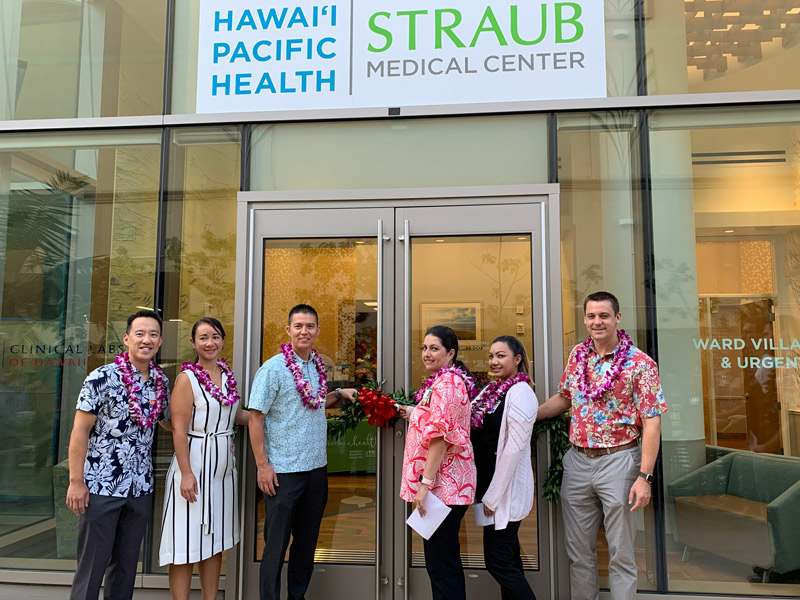 Straub Medical Center celebrated the opening of its new clinic in Kakaako as it opened the doors to patients Monday, July 15.
Straub Medical Center – Ward Village Clinic & Urgent Care is located in the Aeo residential tower, providing primary care, urgent care, imaging and lab services in the heart of the growing Kakaako community.
Straub's Ward Village Clinic & Urgent Care is the second new Straub clinic to open this month as its Kapolei clinic opened July 1.
"We're very excited to be bringing convenient, high-quality, personalized health care to the people living and working in this vibrant community of Kakaako," said Art Gladstone, CEO of Straub Medical Center and Pali Momi Medical Center. "Straub is a leader in primary care services and we are growing our presence in this area to create even greater access to care as we work toward our mission of creating a healthier Hawaii."
"At Ward Village, we are curating a holistic community that promotes a lifestyle centered around wellness and convenience," said Simon Treacy, president of the Howard Hughes Corporation Hawaii. "Straub's Ward Village Clinic & Urgent Care furthers our mission to develop an all-inclusive neighborhood where residents and visitors have access to everyday essentials all within walking distance. Straub is a leader in delivering high-quality health care in Hawaii and we are proud to welcome them to our community."
Three family medicine physicians are based at the new 4,800-square-foot medical clinic and accepting new patients, both children and adults. The medical staff also includes one urgent care physician. More than 25 support staff were hired for the new clinic, including medical assistants, patient service representatives, nurses, radiology technologists and others.
Straub's new Ward Village clinic is located at 1001 Queen Street, Suite 102. It is on the street level of the Aeo tower between Whole Foods and Rinka Japanese Restaurant.
The clinic is open Monday-Friday, 7:30 a.m.-5:30 p.m., and offers urgent care services daily from 10 a.m.-8 p.m. To schedule an appointment at the Ward Village clinic, call 643-4DOC (4362).
The Ward Village clinic is the second of two new Straub clinics to open this month.
Straub Medical Center – Kapolei Clinic & Urgent Care is a 16,000-square-foot medical clinic located in The Grove at Ka Makana Alii. The convenient location for Central and West Oahu residents offers primary care, urgent care, pediatric sports medicine, OB-GYN and other pediatric and adult specialty services. The clinic also has on-site imaging and laboratory services.
For more information about Straub's primary care services and clinic locations, visit HawaiiPacificHealth.org/PrimaryCare.
PHOTO CAPTION: 
Pictured left to right are Drs. Jimmy Chen, Akolea Ioane and Katsuya "Andy" Iizuka, family medicine physicians at the new Ward Village clinic; Tracy Damitio, clinic manager; Shy Hirai, RN, clinic supervisor; and Travis Clegg, COO of Straub Medical Center.