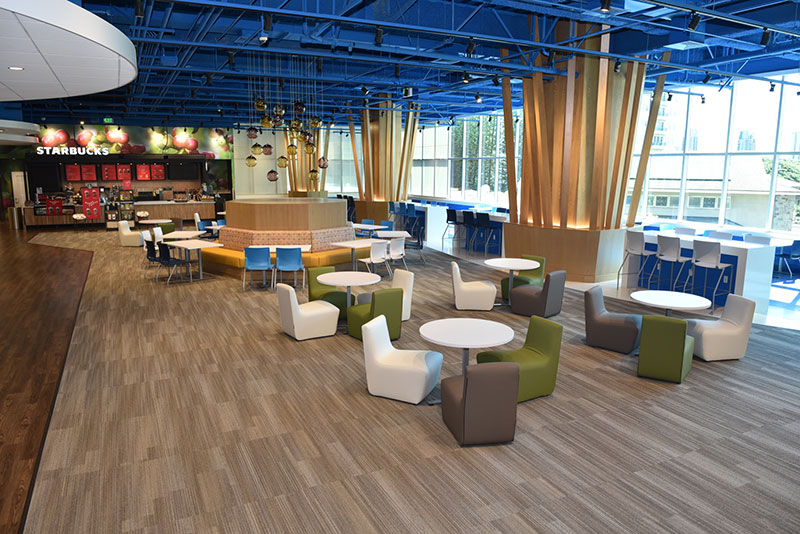 As part of the continued build-out of the Diamond Head Tower, Kapiolani Medical Center for Women & Children opens its new Kobayashi & Kosasa Family Dining Room to the public on Tuesday, Nov. 26, 2019. Located on the second floor, the new space features a 9,000-square-foot kitchen and 14,000-square-foot dining room.
The new Dining Room offers triple the capacity of the existing cafeteria, with seating for up to 227 people. The space features seven new serving areas:  Pizza, Grab & Go, Salad Bar, Entrée, Grill, Deli Bar and Action Station. In addition, a full-service licensed Starbucks is located within the Dining Room.
"The new Kobayashi & Kosasa Family Dining Room is an important next step in completing our Diamond Head Tower," said Martha Smith, chief executive officer of Kapiolani Medical Center. "The Dining Room is often a place that patients, families and visitors spend time in to unwind and relax, and it was important for us to create a welcoming and comfortable place of respite that did not feel like a typical hospital cafeteria. We're very excited to have this new space and new menu items to enhance the dining experience for our patients, families, visitors and staff."
Designed by Peter Vincent Architects and built by Constructors Hawaii, Inc., the new Dining Room also includes three new conference rooms, 1,800-square-foot outdoor lanai, an interactive Keiki Zone play area, free WiFi and cellphone charging stations.
The design elements of the space reflect the sustainability of the Hawaiian land division concept of an ahupuaa, the wedge-shaped land sections that run from the mountains to the sea. The design features the three main elements of the ahupuaa – mauka (mountain), kula (plains) and makai (sea) – in the selection of natural materials, which transition from one zone to the next, yet harmonize in a sophisticated, yet playful manner.
The new Kapiolani Dining Room is named in honor of the Kobayashi and Kosasa families; both of which have a giving history at Kapiolani that spans more than two decades. A generous gift from the Kobayashi and Kosasa family helped to build the kitchen and dining facility, which is in addition to their contributions to the Campaign for Hawaii's Children that funded the construction of the Diamond Head Tower.
Dr. Thomas Kosasa is a leading obstetrics and gynecology specialist in Hawaii having delivered more than 10,000 babies over his career at Kapiolani, and he also serves as a board member for the Kapiolani Health Foundation. Bert Kobayashi is the founder and senior advisor of the Kobayashi Group, a privately owned and managed real estate development/investment firm in Hawaii.
The Diamond Head Tower at Kapiolani Medical Center opened in July 2016. The 200,000-square-foot building consists of five floors and a lower level for support services. It houses expanded Neonatal Intensive Care and Pediatric Intensive Care Units, Rehabilitation Services Department and Emergency Department, as well as conference rooms, an auditorium, and teaching space to train Hawaii's future health care professionals in obstetrics and gynecology, pediatric and other specialty areas of care.