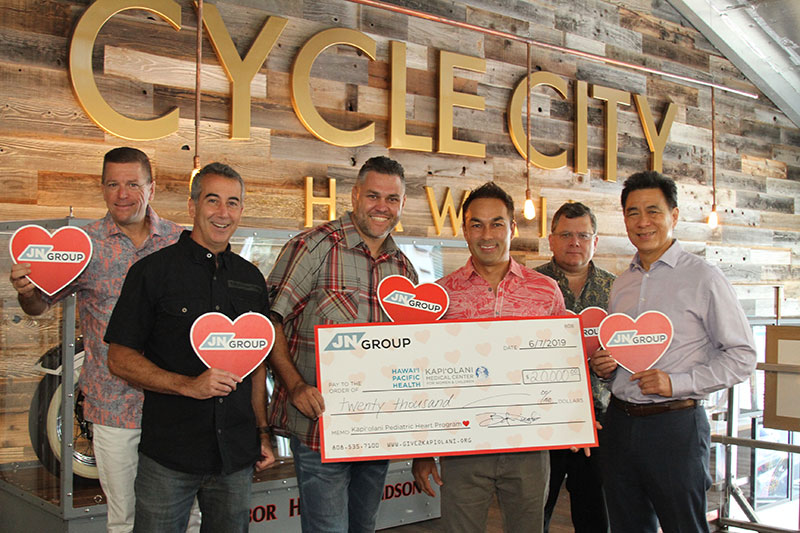 JN Group, Inc. revved up its fundraising engines and showed support for a cause close to the hearts of employees and customers by presenting a $20,000 gift to Kapiolani Medical Center for Women & Children. For the check presentation, staff members held up 20 red hearts signifying every thousand dollars raised for Kapiolani's pediatric heart care program. The donation was made up of a portion of sales during JN Group's "Drive for Heart Care" campaign.
"Our company and team are driven to make a difference," said Brad Nicolai, President of JN Group, Inc. and Kapiolani Health Foundation board member. "We are so fortunate to have customers embrace this campaign. Kapiolani plays a vital role in ensuring the health and well-being of Hawaii's families. We are grateful to our employees for their heart and passion to help others and sincerely thank the community for making this gift possible."
During the month of February, JN Group donated $100 to Kapiolani for every new vehicle or motorcycle purchased at all JN Group facilities, including Velocity and Cycle City. For this local fundraising effort, JN's message was simply "you drive, we donate."
This year marks JN Group's fifth annual fundraising campaign in support of Kapiolani. This year the funding focuses on pediatric patients with heart conditions. Heart defects are the most common birth disorder affecting nearly 1% of babies born annually. About one-third of these babies will need surgery or other types of medical treatment during their initial weeks or months of life.
As a not-for-profit medical center, Kapiolani provides care for all patients regardless of their ability to pay. Community support allows Kapiolani to provide specialty care and programs for women, infants and children like no other facility in the state and the Pacific region.
"Brad Nicolai and the JN Group consistently support our efforts to expand programs to help our patients maintain as healthy of a lifestyle as possible," said Martha Smith, CEO of Kapiolani Medical Center for Women & Children. "Research shows that one in every 100 babies born will have heart disease. Our vision is for Kapiolani to have a heart center on campus to perform catheterization procedures."
In 1995, Kapiolani initiated a pediatric heart program that partners mainland pediatric cardiac specialists with our local heart team. For one week, five times per year, these visiting specialists work alongside the pediatric cardiologists and surgeons of Kapiolani Medical Center and its sister facility, Straub Medical Center, to perform surgeries for children with heart conditions. Kapiolani performs an average of 80 catheterization lab procedures annually at Straub.
PHOTO CAPTION:
JN Group employees joined JN Group President and Kapiolani Health Foundation Board Member Brad Nicolai (third from right) in presenting a check for $20,000 to Kapiolani in support of the medical center's pediatric heart care program.