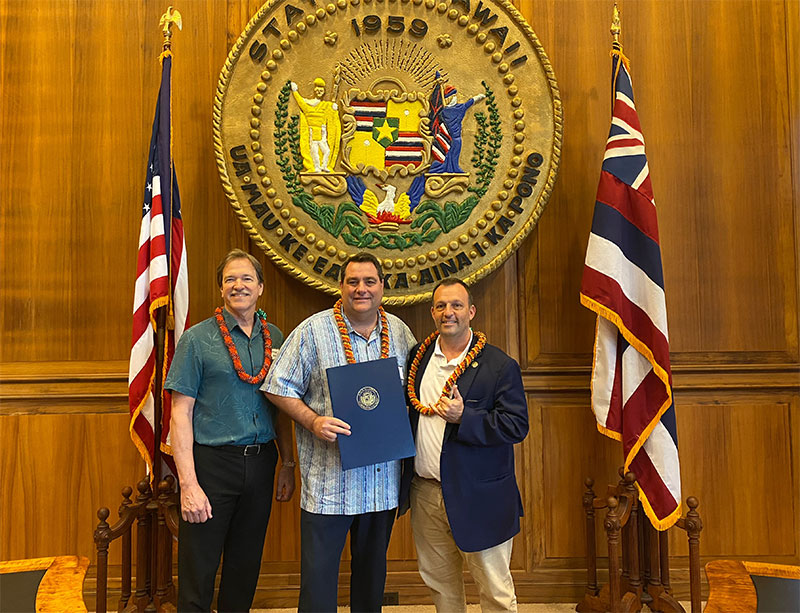 Hawaii Pacific Health (HPH), one of the largest health care systems in Hawaii, has once again been named a recipient of the Healthcare Information and Management Systems Society (HIMSS) Davies Enterprise Award of Excellence, which recognizes outstanding achievement by organizations who have utilized health information technology (IT), process improvement and organizational culture to substantially improve clinical outcomes and drive operational and financial value.
HPH is the first three-time winner of the Davies Enterprise Award of Excellence since the program's inception in 1994.
"We are both humbled and gratified to win the prestigious HIMSS Davies Award for the third time," said Steve Robertson, executive vice president and chief information officer for Hawaii Pacific Health. "Health care today is a blend of clinical teamwork and quality standards combined with the latest technology to provide a superior patient experience. That is our aim, and it's all part of our mission to create a healthier Hawaii."
HPH submitted three case studies demonstrating how it has leveraged health IT to improve patient and business outcomes. The case studies highlighted projects relating to communication among nurses at shift change, population health management and decreasing average lengths of stay. The projects all used electronic health record (EHR)-based tools and data to make positive improvements in employee workflows and engagement, and patient outcomes and satisfaction. Additional benefits included cost savings and efficiencies in system operations throughout the organization.
"As the first three-time Davies Award winner, Hawaii Pacific Health continues to find new, thoughtful ways to apply information and technology to combat the population health and acute clinical challenges of their patient population," said Jonathan French, CPHIMS, SHIMS, senior director, quality and value-based care, HIMSS. "Hawaii Pacific Health's work leveraging information and technology to improve care transitions, better risk stratify patients to ensure they receive the appropriate standard of care across the care continuum, and significantly reduce length of stay demonstrates continued innovation and thought leadership."
Established in 1994, the Davies Awards program promotes EHR-enabled improvement in patient outcomes through sharing of case studies and lessons learned across a wide range of efforts, including implementation strategies, workflow design, best practice development and adherence, as well as engagement that has improved care outcomes for patients.
HPH will be recognized for its accomplishments and honored as the first three-time winner of the award during the 2020 HIMSS Global Health Conference & Exhibition, which takes place March 9-13, 2020, in Orlando, Florida.
PHOTO CAPTION:
Hawaii Pacific Health was recognized for being the first three-time winner of the HIMSS Davies Enterprise Award of Excellence by Hawaii Lt. Gov. Josh Green during a recent proclamation ceremony celebrating Hawaii Health Information & Technology Week. Representing Hawaii Pacific Health in accepting the honor from Lt. Gov. Green (r) were HPH Executive Vice President & Chief Information Officer Steve Robertson (l) and HPH President & CEO Ray Vara (middle).