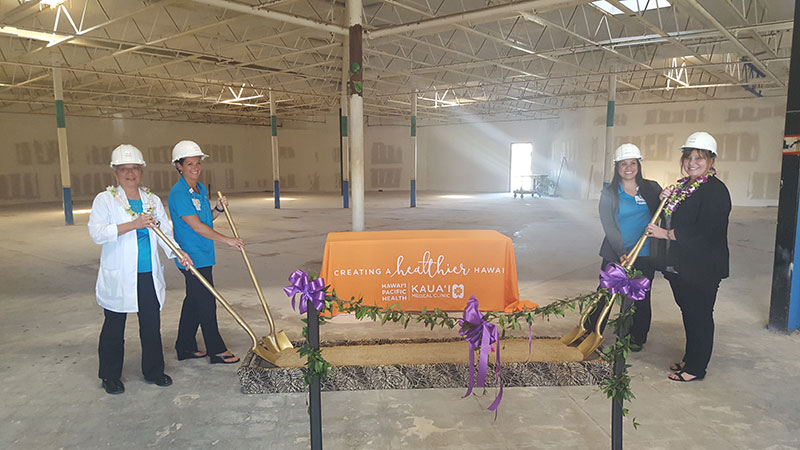 Kauai Medical Clinic recently held a groundbreaking ceremony for its new Kapaa clinic location at the Kauai Village Shopping Center. The new 7,900-square-foot clinic, which is nearly four times the size of the current Kapaa clinic location, is expected to be completed by fall 2019.
"Our mission is to create a healthier Hawaii, and this new clinic will help us achieve that by providing more space to help us expand our primary care services so we can support more patients," said Jen H. Chahanovich, president and CEO of Wilcox Medical Center and CEO of Kauai Medical Clinic. "By focusing on preventive care and providing greater access to medical care and services when and where our patients need it, we can help Kauai residents live healthier, happier lives."
The new Kapaa clinic will feature 16 exam rooms, two procedure rooms, a larger waiting room and additional support staff. Staff at the current location, which includes eight total staff and one primary care physician, will relocate to the new location when completed and expand to include additional staff.
The contractor for the project is Shioi Construction and the architect is Marc Ventura.
The Kapaa clinic currently provides primary care services, including family medicine, internal medicine and pediatrics, Monday-Friday, 7:30 a.m.-4 p.m.
The new clinic is a major component of Wilcox Health's efforts to expand access to primary care services on the island. Kauai Medical Clinic recently hired five new primary care physicians that are accepting new patients at the Koloa clinic and the main clinic in Lihue.
In addition, the Lihue clinic recently completed renovations to its facility and will implement central registration in February. The new clinic layout will make the check-in process quicker and easier with a central registration area on the first floor for patients to check-in for appointments.
PHOTO CAPTION: (l to r) The Kauai Medical Clinic team including Chief Medical Officer Dr. Geri Young, Main Clinic Manager Sarah Darby and Operations Supervisor Amber Santos joined Wilcox Medical Center President & CEO and Kauai Medical Clinic CEO Jen H. Chahanovich to break ground for the new Kapaa clinic at Kauai Village Shopping Center.