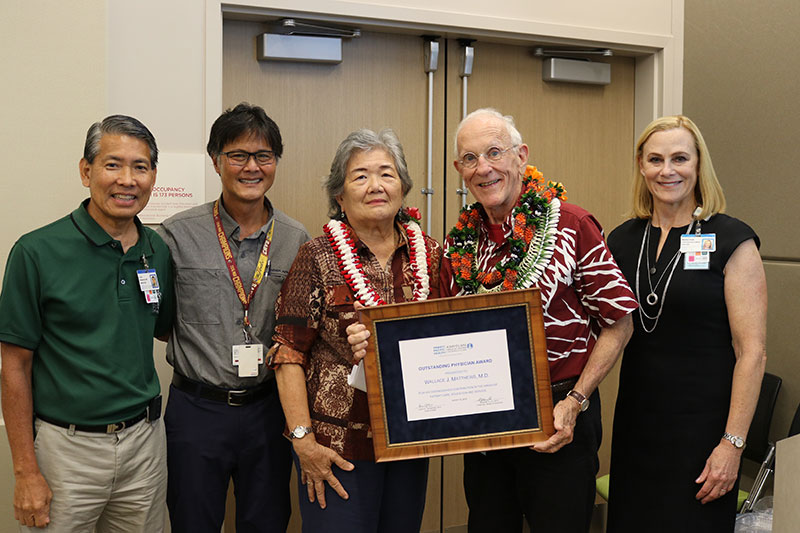 Kapiolani Medical Center for Women & Children recently honored pediatric pulmonologist Dr. Wallace Matthews with its Outstanding Physician Award. Only four physicians have received this prestigious award since it was established in July 1992.
Recognized for his outstanding and distinguished contributions in the areas of patient care, education and service, Matthews has been a member of Kapiolani's medical staff for more than 35 years. For 25 of those years, he served as the only pediatric pulmonologist at the hospital. He also served as the Respiratory Care Medical Director responsible for bedside care treatment, management and control.
"We are very honored to recognize Dr. Wallace Matthews with Kapiolani's Outstanding Physician Award," said Martha Smith, chief executive officer of Kapiolani Medical Center. "He has contributed greatly to both the hospital and the community, as a champion of high standards and patient safety, a respected mentor to medical students and residents, and a leader in credentialing and medical staff policy and procedure. Beyond that, he is a wonderful person who truly cares for his patients and the mission of our organization."
Matthews has held several leadership roles at the hospital, serving as the Department of Pediatrics Chair, Vice Chief of Staff and Chief of Staff. He has also served as the Credentials Committee Chair since July 2000, ensuring a high level of professional performance by all providers authorized to practice in the hospital, including nurse practitioners, midwives, dentists, doctors and surgeons of all types. He was also tasked with developing a single Medical Staff Bylaws for all four Hawaii Pacific Health facilities.
A staunch supporter of medical student and resident teaching, Matthews has consistently participated in the clinical skills program for first-year medical students at the University of Hawaii's John A. Burns School of Medicine.
In nominating him for the award, colleagues noted his many contributions to Kapiolani and the community, calling him a "true expert" and "an excellent role model."
"As a result of his work, the hospital has become one of the shining examples of clinical competency in the eyes of the Joint Commission," said one nominator.
Kapiolani's Outstanding Physician Award recognizes members of the Kapiolani Medical Center for Women & Children medical staff who have made an outstanding contribution in at least one of four key areas:  patient care, education, service and research. Candidates are nominated by their peers.
PHOTO CAPTION:
Kapiolani physicians Dr. Loren Yamamoto and Dr. Michael Sia join Dr. Wallace Matthews and his wife, Dr. Sherry Loo, and Kapiolani CEO Martha Smith for a special presentation to honor Dr. Matthews with Kapiolani's Outstanding Physician Award.
About Kapiolani Medical Center for Women & Children
Kapiolani Medical Center for Women & Children is Hawaii's only maternity, newborn and pediatric specialty hospital. It is well recognized as Hawaii's leader in the care of women, infants and children. With 243 beds, the not-for-profit hospital delivers more than 6,000 babies a year, and is also a medical teaching and research facility. Specialty services for patients throughout Hawaii and the Pacific region include intensive care for infants and children, 24-hour emergency pediatric and adult care, critical care air transport and high-risk perinatal care. Over 1,600 employees and more than 650 physicians provide specialty care at Kapiolani. The hospital is home to the Kapiolani Women's Center and the Women's Cancer Center, and offers numerous community programs and services, such as specialty pediatric clinics and the Sex Abuse Treatment Center. Kapiolani is an affiliate of Hawaii Pacific Health, one of the state's largest health care providers and a not-for-profit health care system with over 70 locations statewide including medical centers, clinics, physicians and other caregivers serving Hawaii and the Pacific region with high quality, compassionate care. In addition to Kapiolani, Hawaii Pacific Health includes Pali Momi Medical Center, Straub Medical Center and Wilcox Medical Center. Learn more at Kapiolani.org.