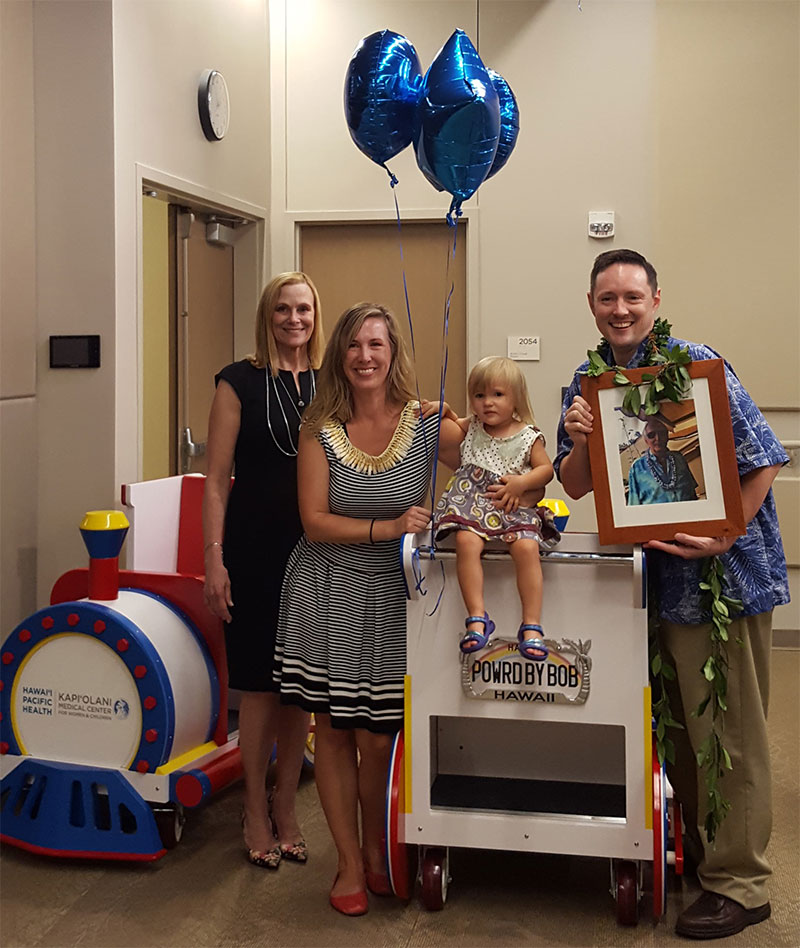 Pediatric patients at Kapiolani Medical Center for Women & Children and Levine Children's Hospital in Charlotte, North Carolina, now have miniature trains to ride in when leaving the hospital. These discharge trains were the vision of Bob Douglas who thought children deserved a special sendoff to celebrate their road to recovery on their way home. While the trains at the two medical facilities are 4,677 miles apart, they are forever connected in the spirit of aloha of Bob's dying wish and the personalized Hawaii license plates he created that read "Powered by Bob." Unfortunately, the 82-year-old from Maui was not able to see his dream come true as he died of cancer two months before the scheduled launch.
Kapiolani and Levine were both working with Bob to fulfill his wish to have both of these trains completed and simultaneously launched in two different states on the same day at the same time. He was part of all of the details including the train being equipped with a button that says "the last stop – home." His motivation was to help kids with cancer because he felt that no child should have to experience the cancer battle he was fighting. He thought these trains would give kids a positive experience and a confidence boost as staff members cheer them on as they leave the hospital.
Bob initially reached out to Kapiolani to make a significant donation to the hospital for children and women's care. He was inspired to give after his best friend's son, Barry Wurst, and his wife, Julia, experienced first-hand the lifesaving care at Kapiolani with the premature birth of their daughter, Beatrice, in 2015.
"My father kept his friend Bob informed of the great work the staff of Kapiolani was providing Julia and Beatrice," said Barry Wurst III. "These conversations inspired Bob to make a contribution to Kapiolani and encouraged his dream of providing trains to children. We remain forever grateful for the extraordinary care we received at Kapiolani. My gratitude lives on in Bob's gifts, which we hope will provide joy and escape for children of all ages."
Levine Children's Hospital was gifted its first train from Bob in 2016 for its Neonatal Intensive Care Unit. He connected with the facility in Charlotte as he was a big NASCAR fan and former stock car racer himself. After seeing the discharge train bring so much joy to the families of newborns, and soon after being diagnosed with cancer, he wanted to extend the train experience to other children in hospitals across the country.
"Every day, the discharge trains will chug through our hospital, celebrating victories big and small," said Callie Dobbins, Vice President and Facility Executive at Levine Children's Hospital. "Bob's memory will live on in the joy he will bring to countless children and their families, both at Levine Children's and Kapiolani Medical Center."
Bob chose to buy another train for Levine and two trains for Kapiolani. He introduced the hospitals to each other and had them working to coordinate the combined launch. In following his dying wishes, the trains are going to have the same start date and will connect live via webinar so they can honor Bob's gift together. There was also a state-to-state souvenir exchange – Kapiolani's staff sent lei and chocolate-covered macadamia nut candies to the Levine staff. Levine's staff sent over Carolina Panther hats and scarves to represent their NFL team for the Kapiolani staff. The Wurst family was at the train reveal celebration and Beatrice became the first child to ride in Kapiolani's train.
"Bob will always be remembered for this unique gift. His overall contributions will have a lasting impact on our care of women and children in Hawaii," said Martha Smith, CEO of Kapiolani Medical Center for Women & Children. "Bob also allowed us to share the aloha spirit with Levine Children's Hospital. Both of our facilities are focused on helping kids get healthy, and these discharge trains set the tone of being on the right track when they leave us."
Bob leaves quite a legacy at Kapiolani and in Hawaii. Bob was legally blind and an advocate for the blind and disabled in the islands. He started the Christmas Cheer Project on Maui in 1994 by giving away 10 Christmas trees and holiday food baskets to families in need. The program grew over the years to support Molokai families as well, with as many as 100 trees and baskets donated annually in the final years of the project.
PHOTO CAPTION:
Kapiolani Medical Center for Women & Children CEO Martha Smith with the Wurst family – Barry, Julia and 2-year-old Beatrice. The Wursts were family friends of Bob Douglas, and Beatrice was born at Kapiolani Medical Center, spending 5 weeks in the Neonatal Intensive Care Unit.