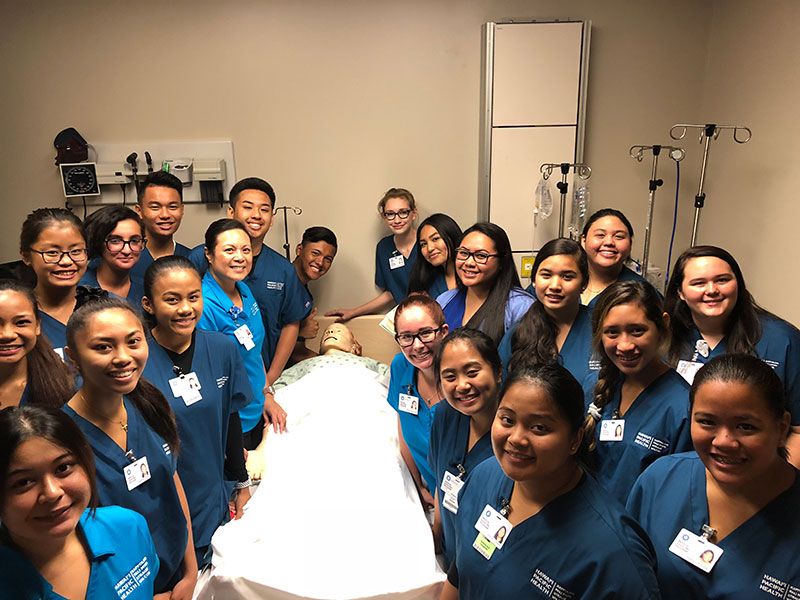 Recognizing that there is a large need for trained medical clinicians in Hawaii as well as an ongoing desire to provide more professional job opportunities for local youth, Hawaii Pacific Health (HPH) worked with Kapiolani Community College and five local public high schools to create the HPH Medical Assistant Program.
The unique partnership, believed to be the only one of its kind in the country, is a joint program between HPH and the local high schools to create a curriculum for high school juniors and seniors to prepare them for a career as a medical assistant in the health care industry. Students who graduate from the program will be given primary consideration for employment at an HPH facility. To date, five local high schools have signed up for the innovative 15-month program. They include Aiea High School, Campbell High School, Kapolei High School, Pearl City High School and Waipahu High School.
"At Hawaii Pacific Health, we believe that there is no greater investment we can make than in our young people who represent our greatest asset," said Raymond P. Vara, president and CEO of Hawaii Pacific Health. "This unique program will give a greater portion of our population a viable career in health care and also addresses a community need for more qualified medical professionals."
"We are extremely grateful to Ray and the entire Hawaii Pacific Health ohana for helping us conceive this outstanding program, including putting the rigorous curriculum together," said Keith Hayashi, Waipahu High School principal. "Most recently, 50 percent of our students chose college as an option. An innovative program like this provides professional career choices our other students may not have had otherwise."
Medical assistants play a critical role on the patient care team, working closely with physicians, nurses and other health care professionals in the clinic and hospital setting. They perform administrative and clinical duties that can include greeting patients, scheduling appointments, updating and filing patient medical records, preparing patients for exams, and explaining treatment procedures and physician's instructions to patients.
Kapiolani Community College assisted in developing the curriculum for the HPH Medical Assistant Program, and their instructors will teach the classes with assistance from staff from the high schools and HPH. Initially, the program will be available only at the five Oahu high schools, but it could be expanded over time depending on student receptivity and job demand. Additionally, the program could be further expanded to include training in other entry-level clinical positions over time.
PHOTO CAPTION:
The first cohort of students in the HPH Medical Assistant Training Program gather in the Pali Momi Medical Center Simulation Lab with program instructors Mae Dorado, Kapiolani Community College associate professor, and Cheyrelle Supnet, Straub medical assistant.