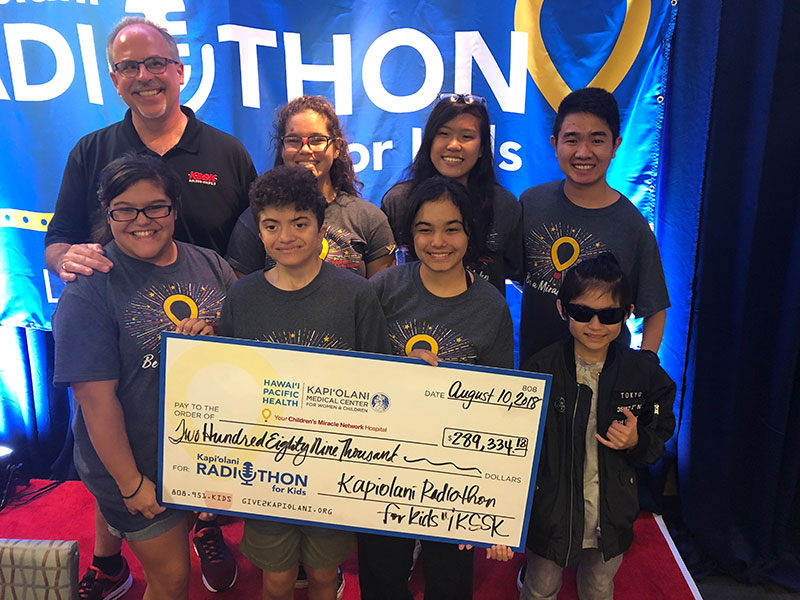 The phones kept ringing and the donations kept coming till the very last second of the 2018 Kapiolani Radiothon for Kids to reach a total of $289,334.18, the highest amount ever raised in the 12-year history of the event. The benefit for Kapiolani Medical Center for Women & Children in partnership with KSSK 92.3 FM/AM 590 was one of the most memorable and featured the unveiling of two animal-themed wagons for pediatric patients from its Miracle Moments Wish List, a Bruno Mars ticket lucky drawing, a surprise $30,000 gift and a bike challenge live on the air. The Radiothon for Kids has now raised a cumulative total of $1.4 million, with 100 percent of every dollar donated to the Kapiolani Children's Miracle Network (CMN) staying in the islands to support programs and services at Kapiolani.
"The Kapiolani Radiothon for Kids is becoming a fundraiser that has also turned into a truly feel-good experience," says Kapiolani CEO Martha Smith. "KSSK radio personalities are engaging listeners to help our keiki, donors are making an incredible difference, families are celebrating their children and our staff is feeling the impact of their work. It's rewarding for everyone involved. Kapiolani is very fortunate to have the support of the community."
Today, Holokai Catamaran owner Soo Stover helped make more miracles happen with two big ticket items from the Miracle Moments Wish List. While Stover was being interviewed live on KSSK, she had two brand new wagons wheeled in with Kapiolani patients riding in them. The sea animal-themed wagons included a blue whale and a red turtle. The wagons, which include seatbelts, will be used for playful transports of patients who want to get out of the room or are interested in a fun way to get to the dining room or play room.
"We are so happy we can do this for Kapiolani," says Stover. "On a day-to-day basis people don't really realize all that it takes when you are caring for a child with needs in a hospital. This Radiothon is a great reminder for all of us, to take a step back and think about what we can do to help out."
Shelley Wilson, President and CEO of Wilson Care Group, presented a check for $30,000 to inspire others to give to the Kapiolani Radiothon for Kids. The money donated by the Wilson Care Group helped pay for some Miracle Moments Wish List items. The wish list includes simple needs like computer tablets that are used to distract and calm children during long treatments or baby swings that bounce, sway and comfort infants. There are also more technical items for some hospitalized children who have a difficult time playing with their toys because they can't move and interact like other children their age do. Assistive technology, such as adaptive switches, helps Kapiolani patients "just be kids." Another way donations help is it funds medical milestone celebrations like end-of-chemotherapy parties.
There were creative fundraising ideas that made the two-day broadcast. During Scotty B's time on air, he took on a bike challenge to benefit Kapiolani. Mike Sapp Fitness donated $100 for every calorie the KSSK radio personality burned in one minute on the "assault bike." Scotty B burned 20 calories for a total of $2,000. Mike Sapp then personally challenged some friends to also donate and raised an additional $2,000.
While KSSK's Curt Williams interviewed Dr. Angela Pratt, Kapiolani Department of OB-GYN Chair and Kapiolani Health Foundation board member, she drove in donations by giving her personal Bruno Mars tickets to KSSK to give away. Her 10th row seats were up for grabs for any donor who contributed $100 or more to the Radiothon during a set hour Friday afternoon. Williams encouraged people to give no matter what motivates them to help.
"Any fundraising event for Kapiolani Medical Center for Women & Children is near and dear to my heart," says Williams. "Since I have experienced first-hand the miracle working that happens at a hospital that we are very lucky to have. As a parent who had his newborn son in the Neonatal Intensive Care Unit for his first month of his life, and almost lost him twice during that time, I know the importance of having such an awesome facility such as Kapiolani for our keiki and the lives that they save every single day."
As a not-for-profit medical center, Kapiolani relies on donor support from across the state and events like the Radiothon for Kids make a difference. "When we look at the expansion that we've done in recent years, building the Diamond Head Tower and the new Emergency Department in that tower, that really is a gift to the community from the community," says Ray Vara, President and CEO of Hawaii Pacific Health.
The live radio broadcast features dozens of patients and caregivers who share their miracle story live on air, showing what makes the lifesaving care provided by Kapi'olani so extraordinary. Listeners tuned in to KSSK on both Thursday, August 9 and Friday, August 10 from 5 a.m. to 7 p.m.
Since 2006, Kapiolani, CMN and KSSK have been working together to bring awareness and funding to Hawaii's only full-service children's specialty medical center through Radiothon for Kids. Each year, this event connects patients, families, volunteers and donors for a shared cause – the health and well-being of the children of Hawaii. Kapiolani's dining room turns into KSSK's studio for 28 broadcast hours over two days raising awareness and funds for CMN, which solely benefits Kapiolani as Hawaii's only Children's Miracle Network hospital.
iHeartRadio Honolulu is proud of Radiothon's impact on the local community as Kapiolani fulfills its mission of creating a healthier Hawaii. Kapiolani treats kids no matter their illness or injury regardless of a family's ability to pay. All donations made during the event go toward providing exceptional care and innovative research at Kapiolani that can sometimes save families from having to travel to the mainland for treatment.
"I think it's the most important thing I do all year in my job, maybe in my life because of the real impact that can be made," says KSSK radio personality Scotty B. "A lot of us drive past this amazing facility, and we don't really know what goes on. Until I started doing this Radiothon, I really didn't fully understand. To put faces to these challenges, to hear the emotions of the parents, to realize the helplessness and hopelessness you must feel during those times of challenge, and then a miracle happens for you. To see the gratitude of those families as they come back and either give back by donating time or come back and financially give back to the hospital to say thanks for this beautiful child, it makes it all worth it."
Online giving and more information about Kapiolani and Children's Miracle Network are available at Give2Kapiolani.org and KSSKRadio.com.