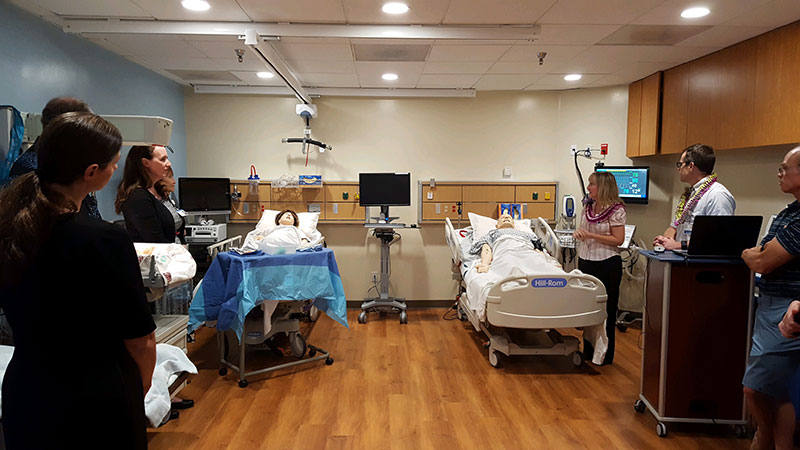 Wilcox Medical Center today unveiled its new simulation lab with a blessing ceremony and tours for invited guests, physicians and staff. The new lab, which is the only training facility of its kind on Kauai, features high-tech manikins to play the role of patients in various medical scenarios for education and training.
"We're very grateful to everyone who was involved in helping us open the doors to this new simulation lab, including our generous donors, construction partners and staff," said Jen H. Chahanovich, president & CEO of Wilcox Medical Center and CEO of Kauai Medical Clinic. "This lab and the technology within it will enhance our education and training program, and allow our staff to experience the most complex medical situations so they can be prepared for it if and when it actually happens."
The lab will allow Wilcox staff to practice comprehensive clinical situations in a realistic and risk-free environment. As the designated trauma center for the island, Wilcox is equipped with the physicians, staff and technology to respond to various trauma situations. The new simulation lab will allow opportunities to train and practice for unusual situations that they may not experience regularly, such as high-risk and complicated deliveries.
The highlight of the lab is five simulation manikins, including a child, a Sim Man and a woman known as SimMom that simulates various birthing situations and includes a newborn manikin. The manikins are part of a state-of-the-art computerized training system that nurse educators can use to control the manikins to exhibit various symptoms and conditions, and respond to the care being provided.
The manikins can speak, breathe, bleed, display a pulse, physically react to the administration of medication, and in the case of SimMom, provide a complete birthing simulation experience before, during and after delivery. The simulated births can include multiple life-threatening complications that can occur with labor and delivery, including shoulder dystocia (when a baby's shoulders get stuck inside the mother's body during delivery), umbilical cord problems, automobile accident trauma and other various pregnancy complications. A newborn warmer available in the lab will also allow staff to practice newborn care and resuscitation.
In addition to the manikins, the lab features a classroom for staff to debrief following simulation exercises. There is a capability to film the scenarios to give an opportunity to reflect on the actions taken and optimize learning for participants. New computer workstations are also available in the lab, which can be used by staff to complete education modules and annual competencies.