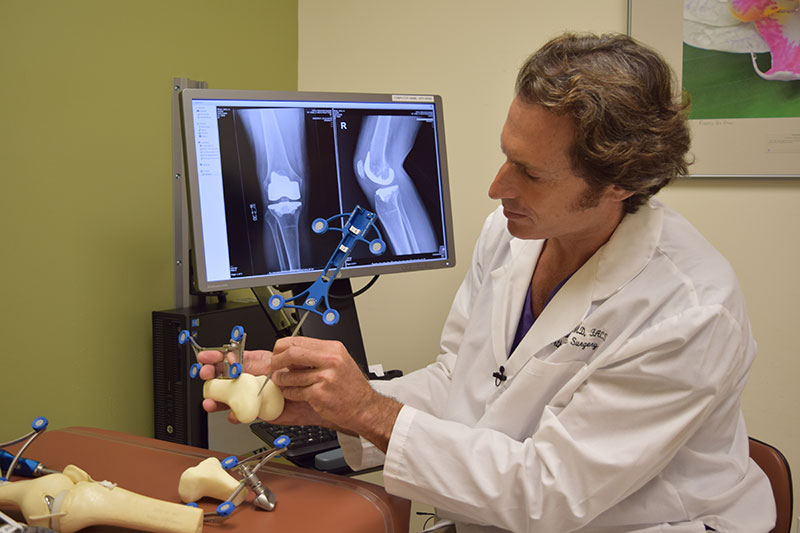 Wilcox Medical Center now offers knee replacement surgery using the latest technology for robotics-assisted surgery. The leading-edge, robotics-assisted platform used by orthopedic surgeons with the Wilcox Bone & Joint Center is designed to deliver accurate and precise results for patients, which is crucial to the long-term success of knee replacement procedures.
The technology used at Wilcox integrates a handheld surgical smart tool with an intuitive computer system, allowing each patient's knee surgery to be individualized for accurate results in the operating room.
During the procedure, the system is used to create a 3-D model of the patient's knee to develop a computer-guided surgical plan, eliminating the need for a preoperative CT scan or MRI. The system is compatible with the latest knee implant technology designed to restore a patient's unique anatomy for a more natural feeling knee with better function, motion and durability.
"This new robotics technology that we are using enables us to perform real-time planning incorporating soft tissue balancing, which results in a knee that feels more natural and helps patients get back to their favorite activities sooner," says Dr. David Rovinsky, orthopedic surgeon at the Wilcox Bone & Joint Center.
Using robotic assistance, Rovinsky and Drs. Derek Johnson and Daniel Judd, also part of the Wilcox Bone & Joint Center team, are now able to offer patients more surgical options based on their individual anatomy and activity level. These options include total knee resurfacing, total knee replacement and minimally invasive partial knee replacement.
"We are very excited to offer the latest in orthopedic surgery technology to our patients," said Jen H. Chahanovich, president & CEO of Wilcox Medical Center and CEO of Kauai Medical Clinic. "Our Wilcox Bone & Joint Center team includes physicians who are highly respected in their field and trained in some of the most advanced procedures. We're proud to offer this level of expertise and specialty care in orthopedics right here on Kauai."
For more information about this new robotics technology available through the Wilcox Bone & Joint Center, visit WilcoxHealth.org/Robotics.
PHOTO CAPTION:
Dr. David Rovinsky, orthopedic surgeon with the Wilcox Bone & Joint Center, demonstrates how a robotics-assisted handpiece is used for knee replacement procedures as part of new robotics-assisted surgery technology now available at Wilcox Medical Center.