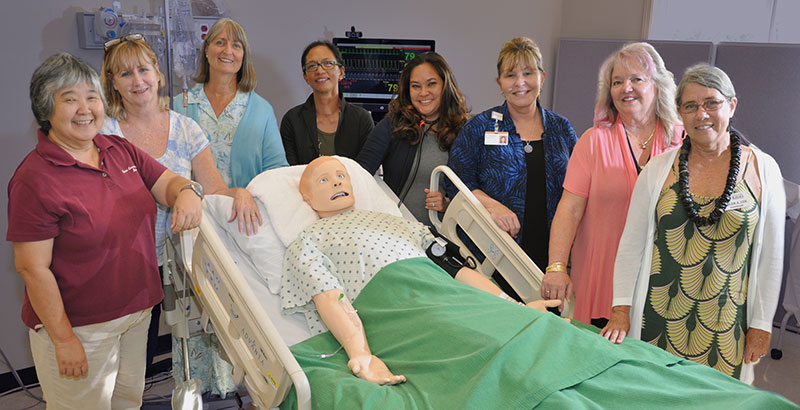 Kauai Community College (KCC) Nursing Program students will have a new 3G simulation manikin this year due to donations from HMSA ($45,000) and Wilcox Medical Center ($30,000). Two other foundations and the KCC Nursing Department also contributed funds. The program's previous manikin was at the end of its 10 year life and its manufacturer would no longer service it.
"It's so important for our students to get experience caring for patients, where they can make mistakes and learn from them, before they treat actual patients. This technology will have a ripple effect throughout our community as our graduates go out to area clinics and hospitals," said Helen A. Cox, KCC chancellor. "A huge mahalo to our community partners for helping to educate our next generation of nurses − HMSA; Wilcox Medical Center; the Nicholas H. & Margaret H. Carlozzi Charitable Foundation, Inc.; and the D.J. Hirschmann Family Foundation."
Teaching future health care providers demands a wide range of high-quality training tools. The new manikin will help nursing students on Kauai begin their education by offering practical training in realistic situations. After each training scenario, students and their instructors talk about what went well, what didn't go well, and what they'd do differently. Students learn from these experiences, which helps them to better anticipate and intervene in real clinical situations.
"We're always looking for ways to support our local residents," said Michael A. Gold, HMSA's president and chief executive officer. "We're fortunate that the students from the KCC nursing program will support the health care needs of Kauai's community members and we're honored to be given another opportunity to invest in the health and well-being of Kauai."
"We are proud to support this initiative and the advanced education and training it will provide for Kauai Community College's nursing students," said Jen H. Chahanovich, president and chief executive officer of Wilcox Medical Center. "Wilcox has had a longstanding partnership with KCC and many of our nurses are KCC graduates. Ultimately, our investment in their education as nursing students will benefit our entire community as they graduate and go on to work in our health care facilities with the skills and abilities needed to provide the best care possible for our patients."
Simulation manikin features
A key feature of the manikin is teaching students about safe medication administration, a top priority in the program's patient safety initiative. It recognizes the type and amount of medication given and reacts when medicine isn't given correctly. Since the manikin is wireless, instructors can also make it react to the students' care through physical responses like sweating, blinking, bleeding, and seizures.
The new manikin will be used for a variety of situations, including assessments, patient communication, cardiopulmonary resuscitation (CPR), and challenging scenarios such as childbirth with complications, chest pain, breathing problems, unstable blood sugar, and strokes.
"Simulation technology is the most revolutionary means of educating nursing students with critical thinking skills. The manikin will deliver realistic scenarios in a safe environment where nursing students can practice bridging the gap between training and clinical settings," said Tammie Napoleon, associate professor of Nursing and KCC's Health Education division chair.
PHOTO CAPTION:
Left to right: Kauai Community College Nursing Faculty Char Ono, Maureen Tabura, Sandra Knighton, Maria Fabro, Tammie Napoleon, Wilcox Health President & CEO Jen Chahanovich, HMSA Kauai Branch Manager Lili Bryan-Conant and Kauai Community College Chancellor Helen Cox.
About the Kauai Community College Nursing Program
Kauai Community College is part of the University of Hawaii's Hawaii Statewide Nursing Consortium that offers a B.S. in Nursing pathway from community college to the University of Hawaii at Manoa (UHM). In this program, students take their first three years of coursework at a community college then transfer to UHM, either on Oahu or via distance learning for Maui and Kauai students, for their final year.
About Wilcox Medical Center
Wilcox Health, which comprises Wilcox Medical Center and Kauai Medical Clinic, is an affiliate of Hawaii Pacific Health, one of the state's largest health care providers. In addition to Wilcox, Hawaii Pacific Health includes three other medical centers – Kapiolani, Pali Momi and Straub – as well as over 70 locations statewide.
Founded in 1938, Wilcox Medical Center is a not-for-profit hospital dedicated to providing the Kauai community with accessible, quality health care. The largest medical center on Kauai, it is a state-of-the-art acute care facility with a full suite of services offering 30 specialties and programs including cardiology, emergency, family practice, gastroenterology, health management, internal medicine, neurology, OB-GYN, oncology, orthopedics, pediatrics and urology. Its 20-bed emergency department is the first neighbor island facility to obtain a Level III Trauma designation and serves as the island's Primary Stroke Center. The medical center also has four birthing suites, seven intensive care beds and 20 same-day surgery beds. The American Heart Association has recognized Wilcox in three areas of excellence: stroke (S) – gold plus award and honor roll elite plus, heart failure (HF) – gold plus award, and atrial fibrillation (AFIB) – gold award. Wilcox has also received the Leapfrog Hospital Safety Award Grade A, the QUEST citation of merit for high-value health care, and is recognized as a Top Performer on Key Quality Measures by The Joint Commission.
Kauai Medical Clinic is the island's largest clinic and only multispecialty medical group. More than 85 physicians and midlevel providers offer primary and specialty care at clinic locations in Eleele, Kapaa, Koloa and Lihue. Kauai Medical Clinic also offers an Urgent Care clinic in Lihue that is open from 8 a.m. to 7 p.m., Monday-Sunday. Learn more at WilcoxHealth.org.
About HMSA
Caring for the people of Hawaii is our promise and our privilege. Working together with employers, partners, and physicians and other health care providers, we promote wellness; develop reliable, affordable health plans; and support members with clear, thoughtful guidance. HMSA is the most experienced health plan in the state, covering more than half of Hawaii's population. As a recognized leader, we embrace our responsibility to strengthen the health and well-being of our community. Headquartered on Oahu with centers and offices statewide to serve our members, HMSA is an independent licensee of the Blue Cross and Blue Shield Association.