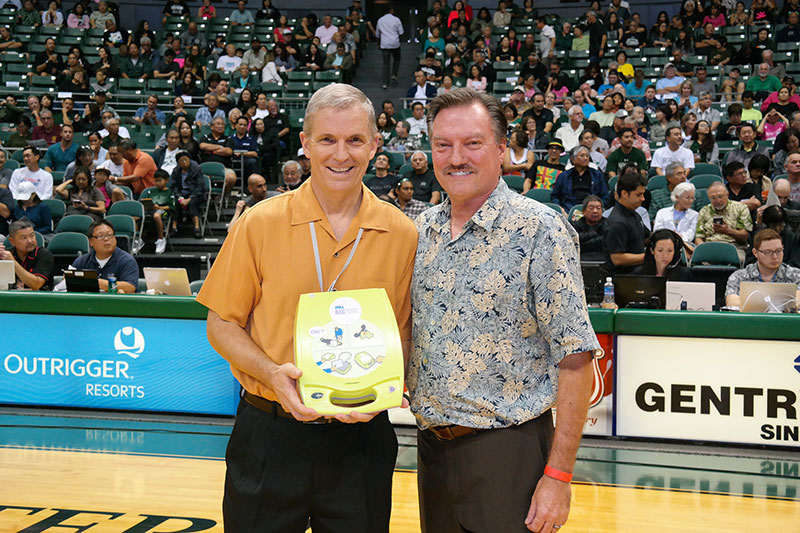 Pali Momi Medical Center, a member of the Hawaii Pacific Health family of medical centers, has donated seven automated external defibrillators, or AEDs, to the University of Hawaii Athletics Department for use throughout its men's and women's programs.
AEDs are common in most quality university athletic programs and the devices being donated by Pali Momi will supplement those already available to UH men's and women's athletes. The seven AEDs are valued at $12,000.
"As a proud health care partner of the University of Hawaii Athletics Program, we take our role of keeping our UH athletes healthier very seriously," said Art Gladstone, chief executive officer of Pali Momi Medical Center and Straub Medical Center. "These devices can be used during practices and games to provide real time, lifesaving help should the need arise."
"While we presently have AEDs available for our student athletes, these additional units will give us more coverage and care if necessary," said UH Athletics Director David Matlin. "I'd like to extend a sincere mahalo to Art and the rest of the Hawaii Pacific Health family, not only for this generous donation, but for supporting our program as a Diamond Corporate Partner, providing valuable resources to support our athletic physicians."
An AED is a portable device that monitors a heart's rhythm and sends an electric shock to the heart to try to restore a normal rhythm if there is distress. The units being donated by Pali Momi are actually AED Plus devices, which means that in addition to the electric shock, they can also monitor the quality of the CPR being administered to the patient and provide real-time feedback to the individual administering the care.
Gladstone is pictured above (right) presenting one of the seven AEDs to UH Associate Athletics Director Carl Clapp at the Jan. 25 men's basketball game versus UC Riverside.