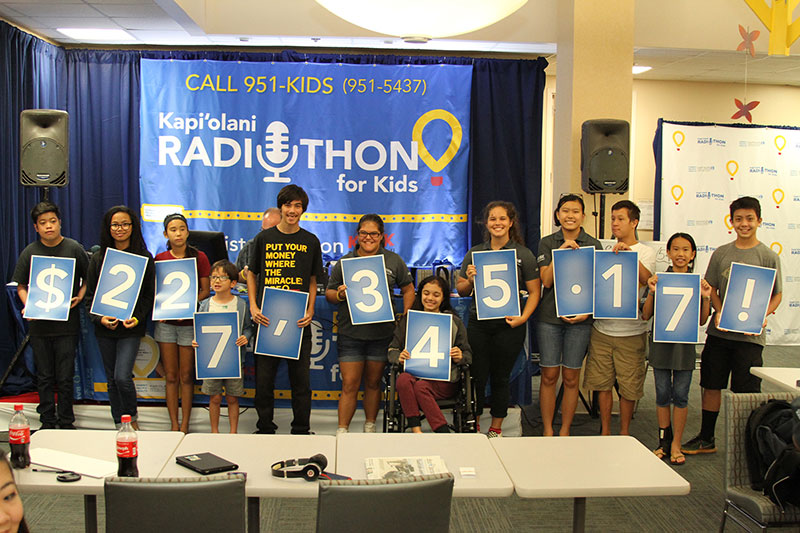 Coming off a record year, Radiothon for Kids exceeded it's 2017 goal by raising $227,345.17 for Kapiolani Medical Center for Women & Children over a two-day live broadcast on KSSK. More than 1,200 individual gifts from sponsors, community members and KSSK listeners led to the success of this annual fundraiser for Hawaii's only Children's Miracle Network Hospital.
"We never take this generosity for granted. It's heartwarming to have the continued support of our community to help our patients, their families and our staff," said Kapiolani CEO Martha Smith. "The money raised will certainly impact the care we provide and save lives."
Radiothon volunteer phone bank shifts and sponsorships made all the difference. Many organizations worked the phones, taking calls to accept gifts and making calls to friends and family. Marriott Oahu was one of the most successful fundraising groups who volunteered to man the phones, bringing in more than $28,000 in two hours. American Savings Bank, Central Pacific Bank, Coastal Windows, Egan's Fit Body Boot Camp and KumuKit also led the way in donations during their phone bank shifts by starting their efforts with a large company contribution. Sponsorship commitments were key to the outcome creating money matches to community gifts. The lead sponsor was Suehiro Electric followed by HMSA, AlohaCare, Holokai Catamaran, American Savings Bank, Central Pacific Bank, Egan's Fit Body Bootcamp and GEICO.
This year marked the 11th year of partnership between Kapiolani and KSSK. Since 2006, the two have been working together to bring awareness and funding to Hawaii's only full-service children's specialty hospital through Radiothon for Kids. This event really comes alive when KSSK transforms the medical center's dining room into an onsite radio station.
"KSSK has provided this unique experience to broadcast live at our facility and we see the energy from the DJs here and how they interact with our staff and our families," said Kapiolani Chief Nurse Executive Mavis Nikaido. "It's just been great to see their enthusiasm and support."
KSSK Radio Personality Scotty B. is always in awe of the experiences that Kapiolani's patients share. "A place of miracles exists here in Hawaii," he explains. "Sometimes it's not a baby, it's a teenager. A young man that we spoke to was hit by a baseball, had brain swelling and his life was in jeopardy in a matter of seconds, but Kapiolani is here and now he's headed to college and wants to be a doctor. It's amazing."
Radiothon for Kids has become a trademark event for patients, families and communities, but the moments that unfold over the broadcast are always a surprise. One of this year's highlights was when Grace Church, a Kapiolani cancer patient, shared that one of her favorite things to do while hospitalized was play video games. Grace shared with Michael W. Perry and Karen Keawehawaii that, "the game cart helps you get distracted from the pain, and if they don't get out of the room, the staff can bring the cart." Grace revealed that if she could donate anything to the playroom, it would be a game cart because there's usually a waitlist to use the games in the playroom. Live on air, KSSK surprised Grace with her dream game cart that would now be available to patients like her. The game cart was made possible by Children's Miracle Network donations and was fully loaded with an Xbox, television monitor and even her favorite game, Minecraft.
Grace said the game cart is just part of what makes Kapiolani special for kids who need specialized medical care. "I just feel they know what I'm going through so I feel comfortable here," said Grace.
Each year, this event connects patients, families, volunteers and donors for a shared cause – the health and well-being of the children of Hawaii. Radiothon for Kids features dozens of patients and caregivers who share their miracle stories live on air, showing what makes the lifesaving care provided by Kapiolani so extraordinary. The event turns Kapiolani's dining room into KSSK's studio for 30 broadcast hours over two days raising awareness and funds for Children's Miracle Network, which solely benefits Kapiolani as Hawaii's only Children's Miracle Network hospital. KSSK is in its 11th year of hosting this event and is proud of the fact that 100 percent of every dollar stays in the islands.
Online giving and more information about Kapiolani and Children's Miracle Network are available at Give2Kapiolani.org and KSSKRadio.com.