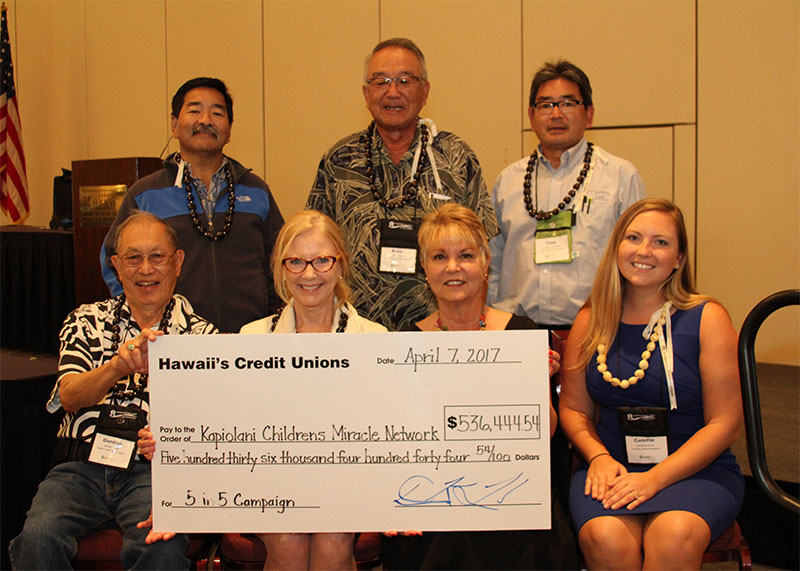 Hawaii's Credit Unions are celebrating sooner than expected after making a significant pledge of support to Kapiolani Medical Center for Women & Children in late 2013. The credit unions statewide created a fundraising initiative named "5 in 5" that represented the five-year goal to raise $500,000 for the Campaign for Hawaii's Children. Now less than four years later, Hawaii's Credit Unions have surpassed the goal and presented Kapiolani with a check for $536,444.
"It's a remarkable feat that even the members got involved in donating to Children's Miracle Network and Kapiolani Medical Center for Women & Children," said Dennis Tanimoto, president of the Hawaii Credit Union League (HCUL). "We have 61 credit unions that represents in the thousands of employees, but more importantly, we represent over 812,000 members throughout the state. We want to express our sincere thanks to all of the credit unions in Hawaii for their role in making this campaign successful."
Besides the record time, this gift is a record total for Hawaii's Credit Unions as a group!
"This is an astonishing fundraising feat," says Laurie Okawa Moore, HCUL communications officer and "5 In 5" coordinator. "To put it in perspective, it took the previous 15 years for Hawaii's credit unions to raise $650,000 for Kapiolani Children's Miracle Network. To raise over a half-million dollars in less than five years shows how committed Hawaii's credit unions are to the children in our community."
Individual credit unions and credit union chapters raised money through bake sales, craft fairs, golf and bowling tournaments, wine pull events and much more. With the help of CO-OP Financial Services "Miracle Match," credit union donations increased exponentially. In recognition of all these efforts, Kapiolani is honoring this gift in the medical center's new Diamond Head Tower by naming the rehabilitation reception area "Hawaii's Credit Union for Kids."
"We love the local community, we support what's here," said Tess Shimabukuro, president of Kauai Community Federal Credit Union. "Whatever we can contribute, whether that's man hours or financially, we'll do because that is our nature. Our community built us and that's why we want to give back."
The Children's Miracle Network at Kapiolani created special awards to spotlight the league for its overall 5 in 5 commitment and the individual efforts from each credit union to reach this goal.
Hawaii State Federal Credit Union received the Member Engagement Award.
The Credit Unions of Maui received the Collaboration Award.
Kauai Community Federal Credit Union received the Lifetime Achievement Award for its long standing golf tournament and record $110,000 raised in the last four years.
Pearl Hawaii Federal Credit Union received the Heart Award for showing love to Kapiolani all year long with ongoing fundraising activities including coin canisters, miracle jeans day and icon campaigns.
Aloha Pacific Federal Credit Union received the Innovation Award for introducing a new Children's Miracle Network credit card to its members.
"By offering to all of our members a special Children's Miracle Network credit card, we're able to give a portion of all proceeds to Children's Miracle Network on top of all the promotions we do throughout the year," said Vince Otsuka, president of Aloha Pacific Federal Credit Union. "Almost everyone in my generation in Hawaii was born at Kapiolani and now we have children that were born at Kapiolani, so it is such a natural partnership."
Since 1998, HCUL and the credit unions of Hawaii have embraced Children's Miracle Network Hospitals as its coordinated fundraising initiative. All money raised in Hawaii stays in Hawaii to help fund programs and services of Kapiolani Medical Center for Women & Children. Community support allows Kapiolani to provide specialty care and programs for women, infants and children like no other facility in the state and the Pacific Region. As a not-for-profit hospital, Kapiolani serves every patient regardless of their ability to pay.