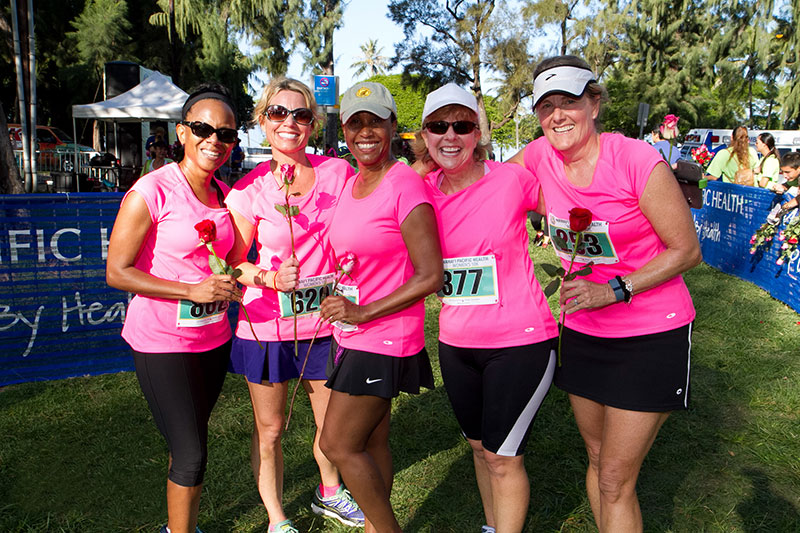 Hawaii Pacific Health celebrates women in the community with the 40th Annual Hawaii Pacific Health Women's 10K, to be held on Sunday, March 5, 2017 at 7 a.m. at Kapiolani Park. The 6.2-mile race begins at Kapiolani Park, goes through Diamond Head and Kahala and returns to the park for an awards ceremony at 8:45 a.m.
The Hawaii Pacific Health Women's 10K is Hawaii's first and only all-female sanctioned race that brings together women of all ages in an effort to create a healthier Hawaii. For the past 40 years, Hawaii Pacific Health has gone the distance to champion women while celebrating fitness and good health. Race participants include elite runners, senior runners, and recreational walkers. Other loyal participants including mothers and daughters, students, military members and visitors have made the Hawaii Pacific Health Women's 10K an annual tradition in the Hawaii community.
"All women should do this race because it was the first and is still the only all-female sanctioned race in Hawaii," said Straub Marketing Manager Claire Tong, who also coordinates and oversees the project for Hawaii Pacific Health. "It was established 40 years ago after Title IX was introduced. That groundbreaking legislation was championed and co-authored by Hawaii's U.S. Representative Patsy Mink who worked tirelessly for equal rights for women. Now, 40 years later, her work has produced major changes in American education, athletics for females, and positive changes in educational environments."
ENTRY FEES AND REGISTRATION
Entry fees are as follows:
$35 for students and military
$45 for regular online registration; deadline is March 3
$55 for mail-in registration with forms postmarked by February 24
$75 in person at packet pick-up location or on race day
Online registration and mail-in registration forms for download are available at HPHWomens10K.com.
PACKET PICK-UP
The Hawaii Pacific Health Women's 10K packet pick-up will be held from 10 a.m. to 2 p.m. on Saturday, March 4. Those who register will be notified of the specific details and location prior to the race. Packets will also be available for pick-up prior to the race on Sunday, March 5, from 5:30 to 6:45 a.m. at Kapiolani Park Bandstand.
POST-RACE ACTIVITIES AND AWARDS
Race participants will receive a rose, finisher's shirt and bag, refreshments, and open access to the finisher's area with activities, prize giveaways (must be present to win), health and wellness information, a costume contest and more. Awards are presented to the top three finishers in the following divisions: Overall, Stroller, School Challenge, Corporate Challenge, Hawaii Pacific Health Employees, Team and Age Division, which starts at "14 and under" and goes up to "80 and over."
RACE VOLUNTEERS
Volunteers are needed to assist with race course preparation on Saturday, March 4, as well as race day set-up and breakdown following the completion of the race. Course marshals are also needed to monitor the course during the race. Marshals will be stationed at various points along the course to ensure participant safety. Individuals or school and community groups interested in volunteering may contact race organizers at 535-7674 or email info@hawaiipacifichealth.org.
For more information, visit HPHWomens10K.com.