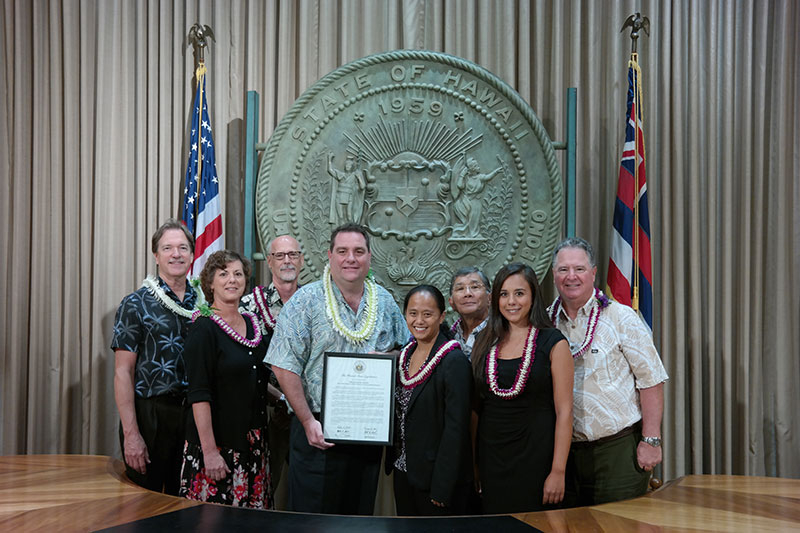 As part of National Health IT Week, the Hawaii-Alaska Chapter of the Healthcare Information and Management Systems Society (HIMSS), hosted a special Hawaii Health IT Day at the Hawaii State Capitol today. The events included a ceremony honoring Hawaii Pacific Health (HPH) as the most recent recipient of the HIMSS Enterprise Davies Award, a national award that recognizes outstanding achievement in health information technology (IT). HPH is only the second two-time winner nationwide of the Davies Enterprise Award of Excellence since the program's inception.
Representatives from HPH who were on hand for the ceremony, which included the Governor's declaration of Hawaii Health Information Technology Week, October 2-6, 2017, and a certificate presentation from the Hawaii State Legislature, included HPH President & CEO Ray Vara, HPH Executive Vice President and Chief Information Officer Steve Robertson and HPH Senior Vice President and Chief Quality Officer Melinda Ashton, MD. The ceremony was followed by a presentation by Ashton on the award-winning work by HPH using health IT to positively impact quality and patient care.
Established in 1994, the Davies Awards program promotes electronic health record-enabled improvement in patient outcomes through sharing of case studies and lessons learned across a wide range of efforts, including implementation strategies, workflow design, best practice development and adherence, as well as engagement that has improved care outcomes for patients.
"Substantially improving patient outcomes through health IT is only possible with a special kind of teamwork and trust between physicians, clinical staff and administration," said Robertson. "To win this honor a second time in five years is humbling, but it does validate how powerful these partnerships are in transforming patient care and creating a healthier Hawaii."
HPH submitted three case studies demonstrating how they have leveraged health IT to improve patient and business outcomes:
Improving outcomes for diabetic patients – HPH significantly reduced length of stay for diabetic patients through the implementation of a computer-directed insulin dosing system, the development of electronic health record order sets to support basal-bolus subcutaneous insulin dosing, and wireless glucometer integration.
Improving outcomes for sepsis patients – HPH developed a series of order sets and alerts using the best practices algorithms from the High Value Healthcare Collaborative. As a result, the length of stay for all sepsis patients improved from 11.32 days in 2012 to 9.74 days in 2016. Raw mortality for all sepsis patients decreased from 13.75 percent in 2012 to 9.89 percent in 2016. These improvements saved 275 lives over two years.
Improving population health management – HPH created a data warehouse, integrated ancillary technology to its electronic health records, and utilized electronic health records functionality to drive metrics, engage patients and improve population health management. These interventions resulted in a 20 percent increase of attributed lives with no net primary care physician additions, improvement of ambulatory quality metrics to the 90th percentile nationally, and a reduction in medical cost trends.