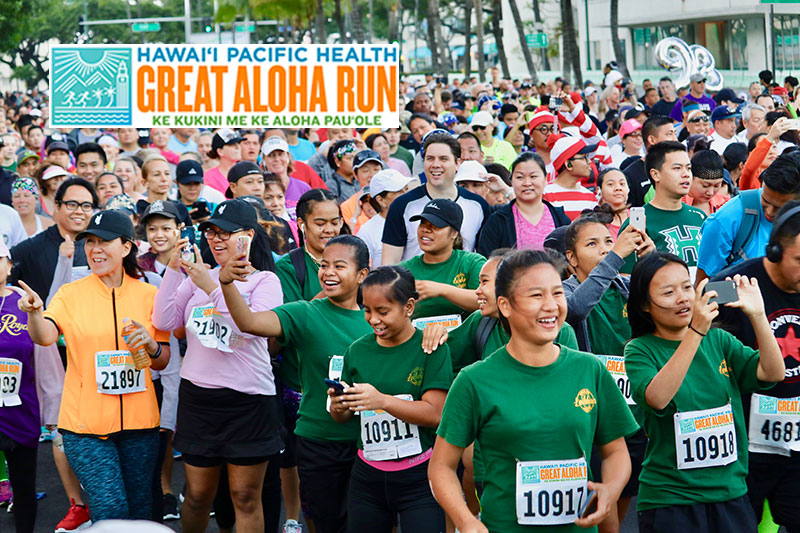 The Great Aloha Run today announced that Hawaii Pacific Health, one of the state's largest health care providers, is the new title sponsor of the event beginning in 2018. The Hawaii Pacific Health 34th Annual Great Aloha Run will take place on President's Day, February 19, 2018.
"We are pleased to begin this new partnership with Hawaii Pacific Health, a company that has a strong reputation for its support and investment in our local community," said Carole Kai Onouye, co-founder and president of the Great Aloha Run. "We look forward to a great partnership focused on promoting fitness and healthy lifestyles while raising funds that support more than 150 non-profit organizations in Hawaii."
"Hawaii Pacific Health is committed to our mission of creating a healthier Hawaii, and what better way to help further that mission than to support one of Hawaii's largest participatory runs," said Ray Vara, CEO of Hawaii Pacific Health. "The Great Aloha Run is a President's Day tradition in Hawaii that offers an opportunity for anyone at any fitness level to better their health. We hope to continue that tradition in 2018 and want to attract even more participants and raise even more money to benefit our community."
To generate early interest in the 2018 race, a special 48-hour discount on registration for individuals 13-64 years will be available beginning Tuesday, July 4, for $27. Register online at GreatAlohaRun.com.
Hawaii Pacific Health is a not-for-profit health care system anchored by four medical centers – Kapiolani, Pali Momi, Straub and Wilcox on Kauai – with more than 70 locations statewide. With nearly 7,000 employees and more than 1,600 physicians, Hawaii Pacific Health provides coordinated, team-based care centered around patients to help maintain their health and wellness as well as nationally recognized specialty care for the most complex diseases and conditions.
Since 1985, the Great Aloha Run has served as a fundraiser for Carole Kai Charities. The run has raised more than $12.4 million, which has been awarded to more than 150 non-profit organizations in Hawaii including the Boys and Girls Club of Hawaii, Boy Scouts of America Aloha Council, Girl Scouts of Hawaii, Leeward Special Olympics, MWR Facilities, United Cerebral Palsy of Hawaii, the Variety School of Hawaii, Palama Settlement, Hawaii High School Athletic Association and many more.
The Hawaii Pacific Health Great Aloha Run will kick off Presidents' Day weekend 2018 with four days of events including the three-day Sports, Health & Fitness Expo, the Silver Streaks Sunrise Walk and the 8.15-mile race.
For more information, visit GreatAlohaRun.com.