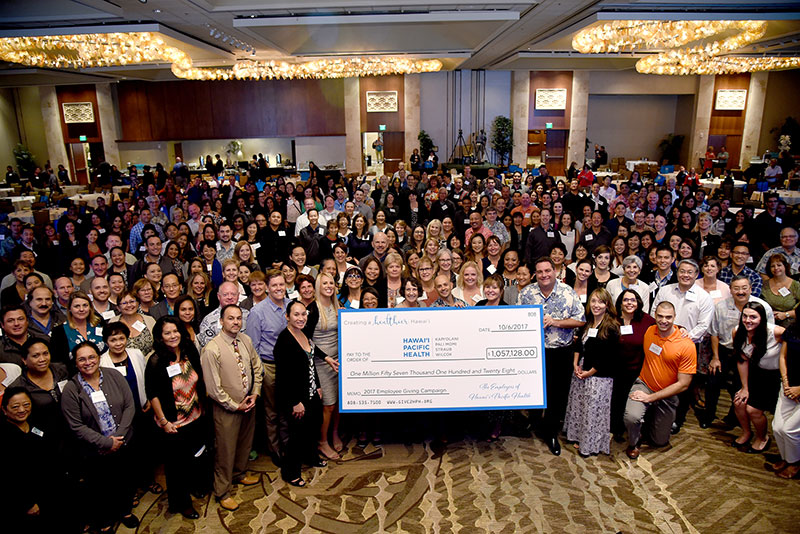 Hawaii Pacific Health employees generously donated their own money to help patients and their families, raising $1,057,128 for the 2017 Hawaii Pacific Health Employee Giving Campaign. The record amount surpassed the campaign's $1 million goal, and was raised over a one-month period through personal gifts and pledges by more than 4,100 staff members. This was Hawaii Pacific Health's 16th Employee Giving Campaign and the most successful in the organization's history.
"As a not-for-profit health care system, Hawaii Pacific Health relies on the support of our community and is extremely grateful for their generosity that helps fund numerous services and programs at our facilities," said Hawaii Pacific Health President & CEO Ray Vara. "It is truly inspiring when that generosity is demonstrated by our own employees. They have embraced our mission of creating a healthier Hawaii, and are making a difference for our patients, their families and the communities we serve."
For 30 days, employees were invited to make a gift in support of the philanthropic mission of each medical center. Employees from every department volunteered to be team leaders and helped to inspire peers to participate. There also were a number of creative fundraising events at each facility, ranging from plate lunch sales and karaoke contests to silent auctions, which raised more than $77,000 for the campaign.
This year, the majority of the campaign money will benefit the following programs and services at Hawaii Pacific Health's four medical centers, which would not be possible without the generous philanthropic support of employees and the community:
Kapiolani Medical Center's Animal Assisted Therapy Program, which provides emotional support for patients, their families and staff. Chief Canine Officer Winnie and Kapiolani's child psychologist work together to provide a vital source of healing, hope and comfort.
Patient emergency assistance funds at Pali Momi Medical Center and Straub Medical Center support out-of-pocket costs for patients that can be devastating when a medical crisis occurs. Gifts help fund medication, medical equipment, transportation and more for patients in need.
Wilcox Medical Center's new Chaplain Services Program offers spiritual and emotional healing. Spiritual care services help patients and families observe their own faith, cope with the health care experience, and support the needs of staff members, both personal and professional.
Staff members also had an opportunity to support the community in other ways. Employees also donated to Aloha United Way and Kauai United Way. There also were many gifts to Children's Miracle Network to maintain programs at Kapiolani and provide support for patient care, specialized medical equipment, emergency transport and preventive education for patients and their families.