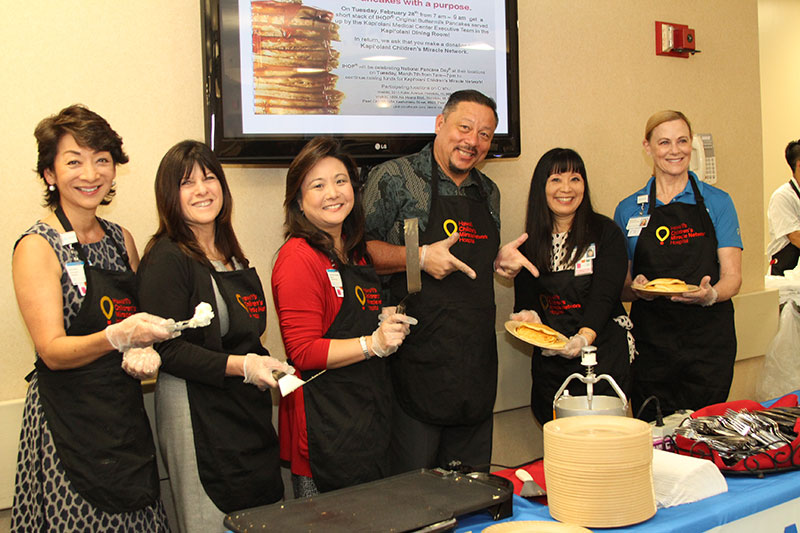 In anticipation of National Pancake Day when IHOP Hawaii restaurants will offer free pancakes to benefit Kapiolani Medical Center for Women & Children, the medical center held its own IHOP at Kapiolani day on Tuesday, Feb. 28. Kapiolani's executive team, including (l to r) Dawn Ching, Laura Bonilla, Carrie Ann Tsutsui, Joel Emperador, Mavis Nikaido and CEO Martha Smith, flipped and served more than 500 pancakes for medical center employees and visitors.
Voluntary donations raised at this special Kapiolani event will be added to the total collected on Tuesday, March 7, when IHOP Hawaii restaurants will celebrate National Pancake Day by offering each guest a free short stack of its famous buttermilk pancakes*. This annual family-friendly tradition aims to raise needed funds and awareness for Kapiolani Medical Center for Women & Children, Hawaii's only Children's Miracle Network Hospital.
For every short stack of buttermilk pancakes served on National Pancake Day between 7 a.m. and 7 p.m., IHOP guests are invited to make a voluntary donation to Kapiolani Medical Center. Since 2006, IHOP National Pancake Day has raised more than $18 million to provide life-saving treatment, programs and medical equipment for young patients at Children's Miracle Network Hospitals nationwide, including Kapiolani Medical Center.
The most anticipated Breakfastarian event of the year, IHOP National Pancake Day is the brand's signature day of giving and underscores its longstanding commitment to helping families create more moments together. This year, IHOP expects to serve a record-breaking five million pancakes in a single day.
"We are grateful for our continued partnership with IHOP in celebration of National Pancake Day," said Martha Smith, chief executive officer of Kapiolani Medical Center. "This event raises funds to support programs and services to care for all of Hawaii's children, and we thank the community for their support."
Stop in at the following IHOP Hawaii locations on Tuesday, March 7, to take advantage of National Pancake Day and make a donation to Kapiolani Medical Center:
OAHU
Waikiki – Ohana Malia Hotel
2211 Kuhio Ave
808-921-2400
Open 24 hours
Waikiki – Aqua Palms Hotel
1850 Ala Moana Blvd
808-949-4467
Opens at 6 a.m.
Pearl City – Times Plaza
98-1254 Kaahumanu Street
808-486-4467
Opens at 7 a.m.
MAUI
Kahului – Maui Mall
70 E Kaahumanu Ave
808-871-4000
Opens at 6 a.m.
BIG ISLAND
Hilo – Prince Kuhio Plaza
111 E. Puainako Street
808-959-2600
Opens at 6 a.m.
Kailua Kona
75-5595 Palani Road
808-327-4467
Opens at 6 a.m.
Since launching in 2006, IHOP National Pancake Day has become a pop-culture phenomenon with millions of guests and communities helping IHOP and its franchisees raise $24 million to-date for youth health and wellness organizations. All of the money raised on IHOP National Pancake Day stays local and directly helps children in need. At Kapi'olani, money raised helps support programs and services such as the Child Life Program, chaplaincy, critical care transport services and more.
To further amplify IHOP National Pancake Day efforts, the brand has joined with leading global service organization, Kiwanis International, and has inked an agreement that makes the non-profit the official volunteer partner for this year's event. Thousands of Kiwanis Club and Key Club members, along with local hospital volunteers, are expected to turn out at IHOP restaurants on event day to support fundraising efforts.
For more information or to make an online donation to Kapi'olani Medical Center, visit IHOPPancakeDay.com.
*Guests can receive one free short stack of buttermilk pancakes at participating IHOP Restaurants nationwide on Tuesday, March 7, 2017 (National Pancake Day) from 7a.m.-7p.m.; some locations hours may vary. Please check with your local IHOP for exact hours of participation. Limit one offer per guest. Dine-in only.
ABOUT KAPIOLANI MEDICAL CENTER FOR WOMEN & CHILDREN
Kapiolani Medical Center for Women & Children is Hawaii's only maternity, newborn and pediatric specialty hospital. It is well recognized as Hawaii's leader in the care of women, infants and children. With 243 beds, the not-for-profit hospital delivers 6,000 babies a year, and is also a medical teaching and research facility. Specialty services for patients throughout Hawaii and the Pacific Region include intensive care for infants and children, 24-hour emergency pediatric and adult care, critical care air transport and high-risk perinatal care. Over 1,500 employees and more than 630 physicians provide specialty care at Kapiolani. The hospital is home to the Kapiolani Women's Center and the Women's Cancer Center, and offers numerous community programs and services, such as specialty pediatric clinics, the Kapiolani Child Protection Center and the Sex Abuse Treatment Center. Kapiolani is an affiliate of Hawaii Pacific Health, one of the state's largest health care providers and a not-for-profit health care system with over 70 locations statewide including medical centers, clinics, physicians and other caregivers serving Hawaii and the Pacific Region with high quality, compassionate care. In addition to Kapiolani, Hawaii Pacific Health includes Pali Momi Medical Center, Straub Medical Center and Wilcox Medical Center. Learn more at Kapiolani.org.
ABOUT INTERNATIONAL HOUSE OF PANCAKES, LLC
For 58 years, IHOP has been a leader, innovator and expert in all things breakfast, any time of day. The chain offers 65 different signature, fresh, made-to-order breakfast options, a wide selection of popular lunch and dinner items as well as meals under 600 calories. IHOP restaurants offer guests an affordable, everyday dining experience with warm and friendly service. Today, there are more than 1,700 IHOP restaurants worldwide, including locations in all 50 states and the District of Columbia, Puerto Rico and Guam as well as Canada, Mexico, Guatemala, the Kingdom of Saudi Arabia, Kuwait, the United Arab Emirates, Bahrain, Qatar, The Philippines, and Panama. IHOP restaurants are franchised and operated by Glendale, Calif.-based DineEquity, Inc. (NYSE: DIN) and its affiliates.
ABOUT CHILDREN'S MIRACLE NETWORK HOSPITALS
Children's Miracle Network Hospitals® raises funds and awareness for 170 member hospitals that provide 32 million treatments each year to kids across the U.S. and Canada. Donations stay local to fund critical treatments and healthcare services, pediatric medical equipment and charitable care. Since 1983, Children's Miracle Network Hospitals has raised more than $5 billion, most of it $1 at a time through the charity's Miracle Balloon icon. Its various fundraising partners and programs support the nonprofit's mission to save and improve the lives of as many children as possible. Find out why children's hospitals need community support, identify your member hospital and learn how you can Put Your Money Where the Miracles Are, at CMNHospitals.org and Facebook.com/CMNHospitals.