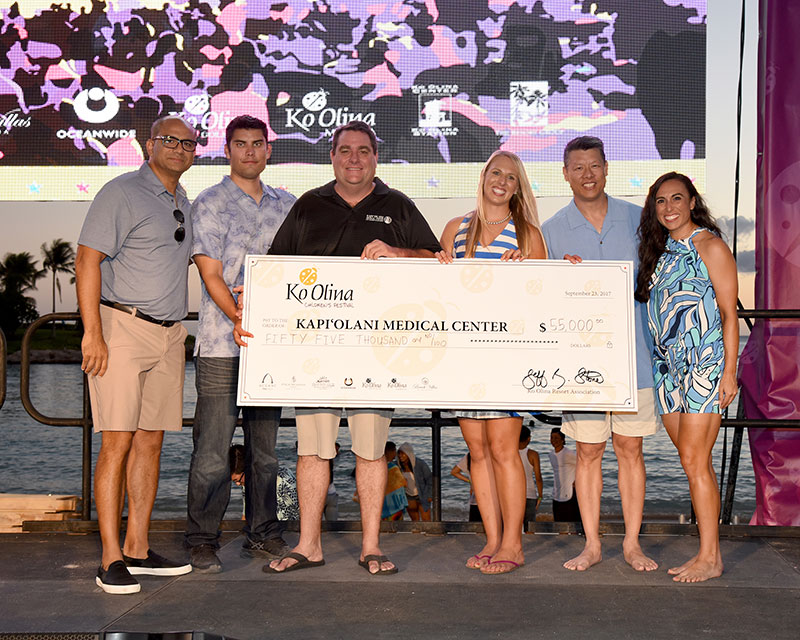 A giant sand sculpture, a sunset movie feature on the beach and activities promoting sun safety made for a memorable day at the fourth annual Ko Olina Children's Festival. The benefit event for Kapiolani Medical Center for Women & Children was held Saturday, Sept. 23, drawing more than 2,000 people for a day of family-friendly movies from Disney•PIXAR and special live performances by talented keiki, including Miss Hawaii Outstanding Teen Maia Mayeshiro.
Ticket sales and contributions from the Ko Olina Resort Association resulted in a $55,000 donation to Kapiolani, which was presented at the event. Funds from this annual event support Kapiolani's efforts to provide health care services and specialized programs for women and children regardless of their ability to pay. Over the past four years, a total of $210,000 has been raised by the Ko Olina Children's Festival for Kapiolani to help care for the children of Hawaii.
"The Ko Olina Children's Festival was created to inspire and celebrate the creativity in our children," said Jeffrey R. Stone, president of Ko Olina Resort Association and CEO of The Resort Group. "Kapiolani Medical Center for Women & Children strives to provide the best medical care possible for our keiki and their ohana, and we share their commitment to our community. We thank the attendees for their support of this festival and making this significant gift possible."
A Beauty and the Beast-inspired sand sculpture helped generate excitement for the sunset viewing of the latest version of the Disney fairytale starring Emma Watson. Live performances by the Nanakuli High Performing Arts Center and the Hawaii Youth Percussion Ensemble, followed by the Beauty and the Beast film, topped off a spectacular afternoon of fun and excitement. It was quite a sight to see families enjoying the movie on the beach while wearing their souvenir glow wrist bracelets.
Throughout the day, festival-goers were also able to enjoy film screenings at Aulani, A Disney Resort & Spa, of fan-favorites like "Moana," "Rogue One: A Star Wars Story" and "Pete's Dragon."
"We are extremely grateful to Jeff Stone, the Ko Olina Resort Association, and especially the community, who make this event an incredible success each year," said Kapiolani CEO Martha Smith. "As a not-for-profit organization, we rely on community support to help us fulfill our mission to create a healthier Hawaii and to provide local families with specialized medical care and other programs that would otherwise not be available."
Photo Caption:
Pictured on stage for the check presentation are (left to right):
Sanjiv Hulugalle, General Manager, Four Seasons Resort Oahu at Ko Olina
Sean Stone, Ko Olina Charities
Ray Vara, President & CEO, Hawaii Pacific Health
Amanda Price, Director of Annual Giving, Kapiolani Medical Center for Women & Children
Dr. Douglas Kwock, Board Chair, Kapiolani Medical Center for Women & Children
Nikki Moreno, Public Affairs Director, Aulani, A Disney Resort & Spa