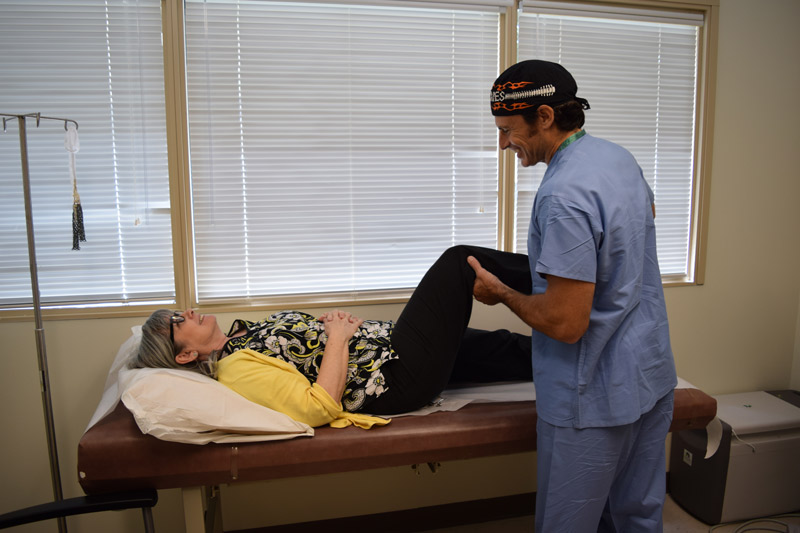 Dr. David Rovinsky, orthopedic surgeon with the Wilcox Bone & Joint Center at Kauai Medical Clinic, now offers the bi-cruciate sparing total knee replacement procedure. This is the first artificial knee implant that reportedly acts and feels like a "normal" knee. 
The knee resurfacing technique preserves all of the patient's ligaments, which function to stabilize the knee and are critical to many activities, such as surfing and running. The components of the artificial joint are computer designed to restore the natural shape of the knee, leading to normal function and stability. The procedure can be done with a muscle-sparing approach (not cutting through muscle) and involves minimal removal of bone. The result is a knee that works and feels real with a much quicker recovery for patients. 
"These types of advanced procedures are normally only offered in large, academic medical centers, so it's especially rewarding to be able to offer these options to our patients right here on Kauai," said Rovinsky. "We want our patients to be as active as they want to be for as long as possible, and these procedures provide our patients with the benefits of less pain, quicker recovery and the opportunity to return to the active lifestyle they desire." 
The Wilcox Bone & Joint Center also offers other advanced hip and knee replacement procedures, such as anterior hip resurfacing and partial knee resurfacing. Hip resurfacing involves putting a cap on the end of the femur (thigh bone) to mate with a metal socket in the pelvis, retaining the patient's own hip bones. The result is a hip that has a full range of motion and can withstand the rigors of high impact activity, such as running. Partial knee resurfacing – medial, lateral or patellofemoral resurfacing – replaces only some of the surface of the knee joint. This procedure is recommended for those with less advanced arthritis. 
Until recently, younger patients with hip and knee arthritis are usually advised to wait until they are older or less active before considering joint replacement surgery. The rationale for this being that the total joint replacement may only last 15-20 years and does not enable a return to high level activities, such as surfing or running. 
These advanced, innovative procedures are excellent options for young, active patients due to the shortened recovery time and the high level of function patients can expect after surgery. Patients are successfully continuing their active lifestyles – surfing, running, playing tennis – without the pain and limitation they had prior to surgery. For both procedures, the optimal plan is to operate in the morning, help the patient to get up walking within hours and discharged home that evening.
Currently, these innovative procedures are only available in Hawaii at the Wilcox Bone & Joint Center. Patients have traveled to Kauai from Oahu, the Big Island, Maui and the mainland for these procedures. 
For more information about these procedures and other services available through the Wilcox Bone & Joint Center, visit WilcoxHealth.org/BoneandJoint.