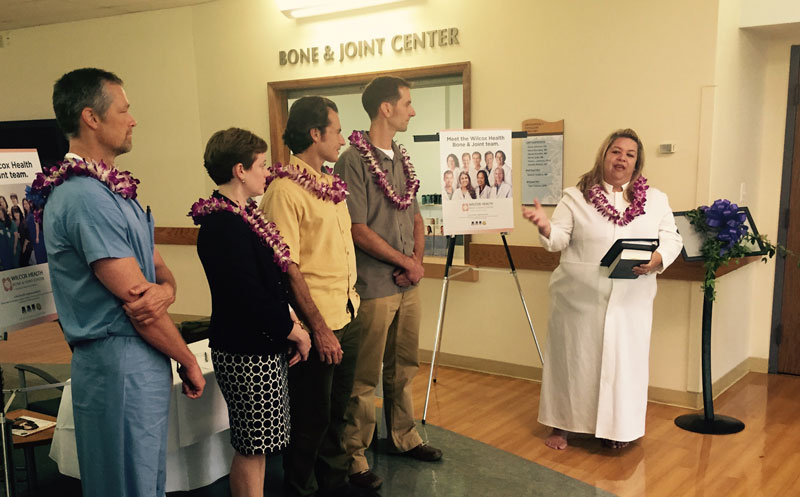 Wilcox Health recently unveiled the newly-expanded Bone & Joint Center at Kauai Medical Clinic to offer the only comprehensive orthopedic center on Kauai.
"Our new Bone and Joint Center offers eight new patient rooms, including a state-of-the-art procedure room, for a total of 22 rooms dedicated to patient care," said Jen H. Chahanovich, President and CEO of Wilcox Memorial Hospital. "We are very proud to have this new and expanded space that allows our team of physicians to continue to provide quality orthopedic care right here at home for our Kauai community."
Physicians at the Bone & Joint Center are board certified and have special expertise in the areas of sports medicine, pediatrics, foot and ankle, hand and upper extremity, arthritis, joint replacement, fracture care, and bone density evaluation and treatment. The Bone & Joint Center is home to Kauai's only podiatrist (foot doctor) and physiatrist (rehab/non-surgical care). A physician assistant, nurse practitioners and wound care specialist also round out the Wilcox Health Bone & Joint team.
The Bone & Joint Center works closely with nursing staff, physical therapists, wound care specialists, occupational therapists and other professionals to diagnose and treat conditions.
"This approach is important to manage the symptoms of an orthopedic condition, especially as many symptoms are chronic and change over time," said Derek Johnson, DO, an orthopedic surgeon with the Wilcox Health Bone & Joint Center.
From the management of complex joint, muscle, and ligament disorders to sprains and strains, the Wilcox Health Bone & Joint team understands the importance of training, conditioning, and surgical and non-surgical treatment. To learn more or to schedule an appointment, visit wilcoxhealth.org/boneandjoint or call 245-1523.