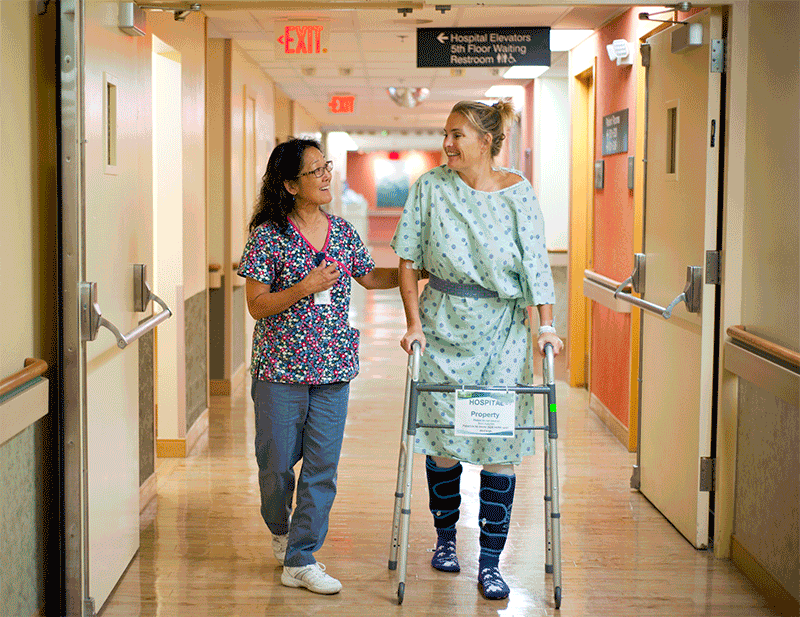 Straub Clinic & Hospital was recently recognized as the only hospital in the state of Hawaii to have achieved straight A's since 2013 in the Hospital Safety Scores, an initiative of The Leapfrog Group that assigns letter grades to more than 2,500 U.S. hospitals, assessing medical errors, accidents, injuries and infections.
Straub is one of only 153 hospitals nationwide to have achieved this milestone, which calls attention to hospitals who have consistently received an A grade for safety in the last three years of the program.
"We're extremely proud to be recognized among the safest hospitals in the United States," said Straub CEO Art Gladstone. "Our physicians, nurses and staff are committed to working together as a team, and this award recognizes their hard work and dedication to providing the safest care in Hawaii for our patients and our community."
The Hospital Safety Scores assign A, B, C, D and F letter grades to hospitals nationwide and provide the most complete picture of patient safety in the U.S. health care system.
"Avoidable deaths in hospitals should be the number one concern of our health care leaders. Hospitals that earn an 'A' from Leapfrog are leaders in saving lives, and we commend them and urge their continued vigilance," said Leah Binder, president and CEO of The Leapfrog Group.
Developed under the guidance of Leapfrog's Blue Ribbon Expert Panel, the Hospital Safety Score uses 30 measures of publicly available hospital safety data to assign letter grades to more than 2,500 U.S. hospitals twice per year. It is calculated by top patient safety experts, peer-reviewed, fully transparent and free to the public.
For the first time, the Hospital Safety Score includes five measures of patient-reported experience with the hospital as well as two of the most common infections, C. diff (Clostridium difficile) and MRSA (Methicillin-resistant Staphylococcus aureus). To see Straub's full score, and to access consumer-friendly tips for patients and loved ones visiting the hospital, visit hospitalsafetyscore.org.
About Straub Clinic & Hospital
Founded in 1921, Straub Clinic & Hospital is a fully integrated, not-for-profit health care system with a 159-bed hospital in Honolulu, a network of neighborhood clinics and a visiting specialist program that reaches throughout the state of Hawai'i. With over 200 employed or contracted physicians who are leaders in their fields, Straub provides its patients with expert diagnoses and treatments for more than 32 different medical specialties, including bone and joint, heart, cancer, endocrinology/diabetes, family medicine, gastroenterology, geriatric medicine, internal medicine, vascular and urology. Straub is home to the Pacific Region's only multi-disciplinary burn treatment center. The hospital consistently brings new technologies and innovative medical practices to Hawai'i, such as minimally invasive cardiac surgery and total joint replacement. Straub is an affiliate of Hawai'i Pacific Health, one of the state's largest health care providers. In addition to Straub, Hawai'i Pacific Health includes Kapi'olani Medical Center for Women & Children, Pali Momi Medical Center and Wilcox Memorial Hospital. Learn more at straubhealth.org.
About The Leapfrog Group
Founded in 2000 by large employers and other purchasers, The Leapfrog Group is a national nonprofit organization driving a movement for giant leaps forward in the quality and safety of American health care. The flagship Leapfrog Hospital Survey collects and transparently reports hospital performance, empowering purchasers to find the highest-value care and giving consumers the lifesaving information they need to make informed decisions. Hospital Safety Score, Leapfrog's other main initiative, assigns letter grades to hospitals based on their record of patient safety, helping consumers protect themselves and their families from errors, injuries, accidents, and infections.