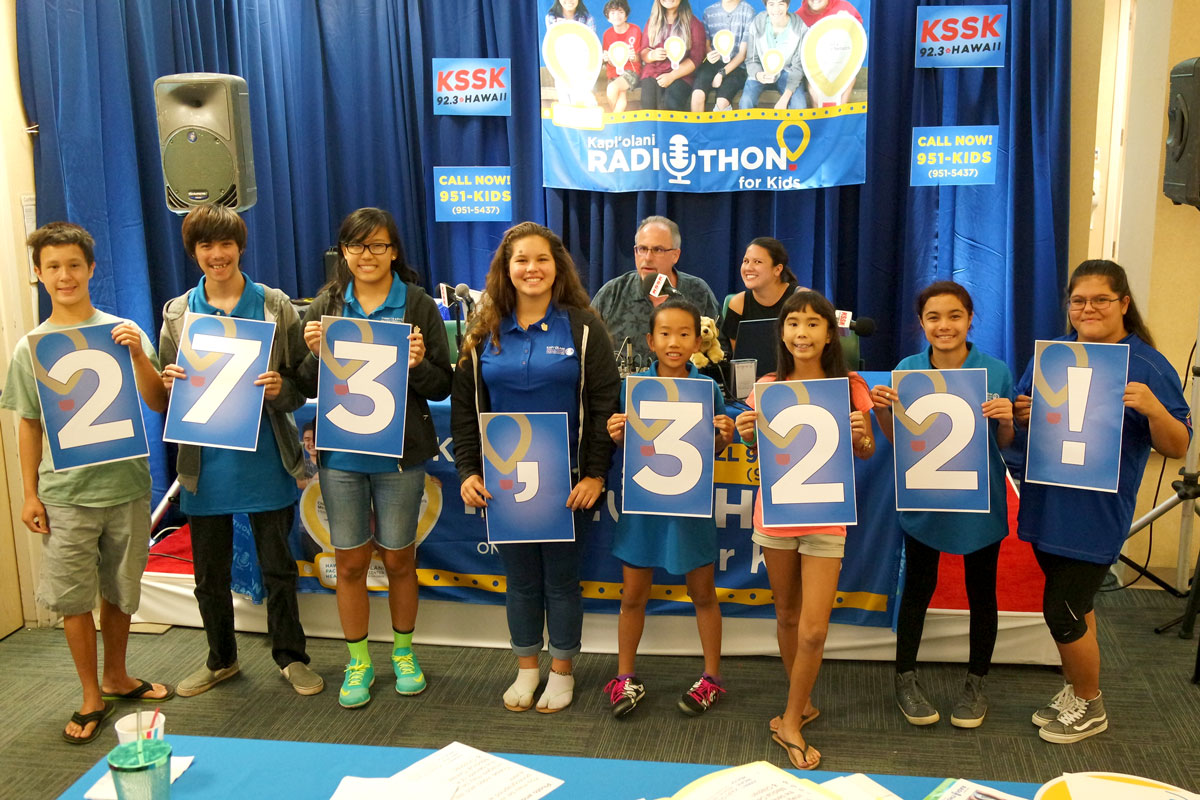 A record-breaking $273,322 was the total raised at the 10th annual Kapiolani Radiothon for Kids.
Through the partnership of Kapiolani Medical Center for Women & Children, Children's Miracle Network Hospitals and KSSK 92.3FM to support Hawaii's keiki, the two-day fundraiser drew the most donations in Kapiolani Radiothon history.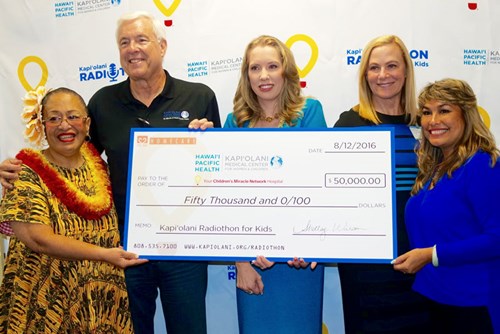 The big boost in the 2016 results came from Wilson Homecare with a $50,000 donation. Wilson Homecare's gift is another record for the event, as the largest individual donation in the decade history of Radiothon.
Other top sponsors adding to this year's success are AlohaCare, D. Suehiro Electric, HMSA, Egan's Training Center, Sodexo and Honolulu Ford. 
Each year this event brings the community together by connecting patients, families, volunteers and donors for the health and well-being of all of Hawaii's keiki. This year, the Kapiolani Radiothon for Kids hit the airwaves Aug. 11-12. 
Kapiolani Radiothon for Kids featured dozens of patients, caregivers and local Children's Miracle Network Hospitals' Champions, who shared their Kapiolani miracle stories live on air, demonstrating what makes the lifesaving care provided by Hawaii's only Children's Miracle Network hospital so special.
This year there also were live performances by Henry Kapono and Jake Shimabukuro. 
This annual event turns the hospital's dining room into KSSK's studio for 30 broadcast hours over two days. In its 10th year as a dedicated partner, KSSK has raised more than $1.2 million for Hawaii's keiki treated at Kapiolani, with 100 percent of every donation staying in the islands. 
Martha Smith, CEO of Kapiolani, is always inspired by the energy this event brings to the hospital.
"From the moment KSSK went on the air, the response was overwhelming," Smith said. "We are incredibly honored to have the community's support for these past 10 years. Our staff and patients are sincerely grateful to all of the donors and corporate sponsors of Kapiolani Radiothon for Kids." 
Event organizer KSSK stresses the importance of the Kapiolani Radiothon for Kids and keeping all of these donations here in Hawaii, where keiki can receive dedicated medical care without the need of traveling to the mainland.
KSSK Radio Personality Michael W. Perry, along with the entire KSSK ohana, are moved by the event.
"All of Hawaii is touched by Kapiolani in some way and this event is a reminder of how much our community relies on the medical expertise that only this children's hospital can offer," Price said. "This year is a milestone for both Kapiolani and KSSK as we celebrate a decade of making miracles happen." 
Listeners tuned in from 5 a.m. to 7 p.m. on both Thursday and Friday to hear inspirational patient stories and the work Kapiolani is doing in the community. Phone lines were manned by community and hospital volunteers, and corporate teams who raised funds for Kapiolani year-round.