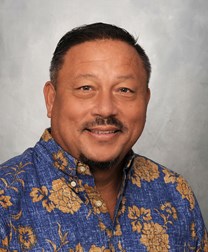 Kapiolani Medical Center for Women & Children has promoted Joel Emperador, RN, MSN, CCRN, from director to vice president of hospital operations.
In his new position, he is responsible for all inpatient pediatric services, which includes Kapiolani's Neonatal Intensive Care Unit, Pediatric Intensive Care Unit, and the Carter and Wilcox units, the hospital's two inpatient nursing units for pediatric patients. In addition, Emperador oversees Kapiolani's Pediatric Ambulatory Unit and its associated programs, such as the Hematopoietic Cell Transplant Program, as well as the hospital's inpatient pharmacy and respiratory care departments.
"With over 25 years of experience in nursing, pediatrics and leadership, Joel has become a valued member of our patient care and leadership teams at Kapiolani," said Kapiolani CEO Martha Smith. "We look forward to him stepping into this new role to continue to provide outstanding care for our patients and their families."
Emperador has 26 years of nursing experience, 20 of which have been in nursing management. He joined Kapiolani in 2011 as director of pediatrics and critical care.
About Kapiolani Medical Center for Women & Children
Kapiolani Medical Center for Women & Children is well recognized as Hawaii's leader in the care of women, infants and children. With 207 beds, the not-for-profit hospital is Hawaii's only maternity, newborn and pediatric specialty hospital. It delivers 6,000 babies a year, and is also a medical teaching and research facility. Specialty services for patients throughout Hawaii and the Pacific Region include intensive care for infants and children, 24-hour emergency pediatric and adult care, critical care air transport and high-risk perinatal care. Over 1,500 employees and more than 630 physicians provide specialty care at Kapiolani. The hospital is home to the Kapiolani Women's Center and the Women's Cancer Center, and offers numerous community programs and services, such as specialty pediatric clinics, the Kapiolani Child Protection Center and the Sex Abuse Treatment Center. Kapiolani is an affiliate of Hawaii Pacific Health, one of the state's largest health care providers and a not-for-profit health care network of hospitals, clinics, physicians and other caregivers serving Hawaii and the Pacific region with high quality, compassionate care. In addition to Kapiolani, Hawaii Pacific Health includes Pali Momi Medical Center, Straub Medical Center and Wilcox Medical Center. Learn more at Kapiolani.org.