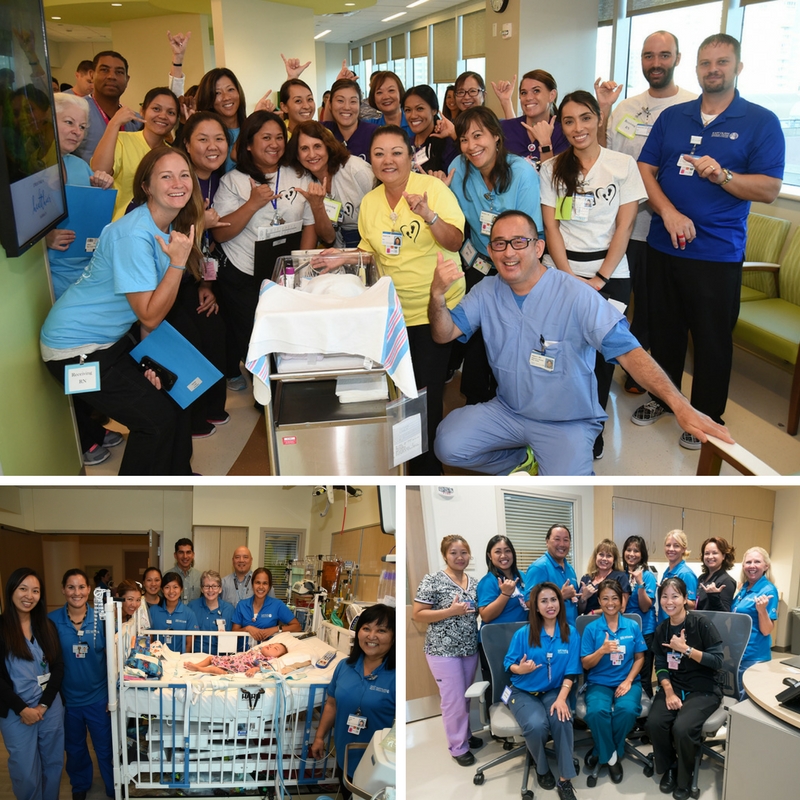 Kapiolani Medical Center for Women & Children celebrated a milestone that has been years in the making as its Medical Surgical Unit, Pediatric Intensive Care Unit and Neonatal Intensive Care Unit recently completed their moves into the new Diamond Head Tower.
"Our team went through extensive training to ensure a smooth and seamless transition into the new facility," said Kapiolani CEO Martha Smith. "This is something that we have been talking about and planning for years, and it's exciting to see it finally come to fruition. This new, state-of-the-art facility is providing our team with the tools to be able to offer the best possible care for the women and children of Hawaii."
The transition of the Medical Surgical, Pediatric and Neonatal Intensive Care Units to their new spaces in the Diamond Head Tower required a yearlong training program for nurses and other support staff to become familiar with the new spaces and technology. All three units feature large, private rooms with advanced equipment to support patient care and safety, including wireless communication features, digital screens, nurse call systems, decentralized nursing stations, and emergency power and data for patient monitoring systems.
These larger, private intensive care rooms also promote family-centered care by allowing parents and caregivers to stay overnight. Research shows that patients heal better and faster when families are involved in their care.
The Medical Surgical Unit is located on the fifth floor of the Diamond Head Tower and now offers 12 private rooms for adult patients. Each room is equipped with telemetry monitoring capabilities for central monitoring at the nurses station. The Medical Surgical Unit services oncology patients by providing in-patient chemotherapy, post-surgical patients, orthopedic patients, pregnant patients less than 20 weeks gestation with medical surgical needs, and postpartum mothers in need of specialized care.
The Pediatric Intensive Care Unit (PICU) also is located on the fifth floor of the Diamond Head Tower and now features 14 private rooms with centralized monitoring. The PICU serves nearly 500 children per year ranging in age from 1 week to 21 years of age, with an average daily census of 11 patients. Pediatric patients with life-threatening illnesses or those who need intensive care to recover from major surgery are admitted to the PICU.
The Neonatal Intensive Care Unit (NICU) cares for approximately 1,000 of the tiniest and most vulnerable infants per year. The new NICU is now a 40,000-square foot unit on the fourth floor of the Diamond Head Tower. It is five times larger than the former 8,000-square-foot space, and has 24 more beds than the previous NICU with a total of 70 private rooms. The NICU services premature infants, micro preemies or premature infants with extremely low birthweight born below 2 pounds and as early as 24 weeks gestation, and premature and full-term newborn infants requiring specialized care.
For more information about the services and programs housed in the new Diamond Head Tower, including 360-degree virtual tours of select rooms in the building, visit Kapiolani.org/DiamondHeadTower.